Ocean State Star Awards
Overview
The Providence Performing Arts Center is pleased to announce that high schools in the state of Rhode Island and within a 25-mile radius of the Performing Arts Center into Massachusetts are invited to participate in the 2nd annual Ocean State Star Awards during our 2023-24 season!
The Ocean State Star Awards is part of the Providence Performing Arts Center's Education initiative which recognizes, honors, and encourages excellence in all aspects of musical theatre performance and production among area high school students.
Musicals of participating schools are reviewed by a panel of educators, theatre experts, and industry professionals. Based on tabulations, productions and individuals receive awards in specific categories at a ceremony that will be held each year at the Providence Performing Arts Center in the late Spring. Our panel of judges will select one male and one female Ocean State Star Awards winner to represent the state of Rhode Island in the National High School Musical Theatre Awards® competition held in New York City at the end of June.

Purpose
The Ocean State Star Awards program is designed to celebrate, support, and advocate for high school musical theatre education throughout Rhode Island. The program celebrates high school musicals, students, and teachers by formally recognizing the extraordinary achievements of our state's high school productions. The Providence Performing Arts Center supports participating high schools by providing high-quality learning, performing, and creative experiences for students.
Goals of the Ocean State Star Awards
To recognize, honor, and encourage excellence in high school students' musical theatre performances through a constructive review process.
To provide additional opportunities to high school students through the touring Broadway shows that come through our venue.
To provide professional development and networking opportunities for students, directors, and school programs.
To further develop audiences for the Providence Performing Arts Center
For more information, please refer to the Ocean State Star Awards Handbook, which outlines the program in detail.
Click here to see the list of participating schools!
2023-24 OCEAN STATE STAR AWARDS PARTICIPATING SCHOOLS SHOW LIST
JOSEPH CASE HIGH SCHOOL
URINETOWN
October 13, 2023 @ 7:30 PM
October 14, 2023 @ 2:00 PM & 7:30 PM
October 15, 2023 @ 2:00 PM & 7:30 PM
---
BISHOP HENDRICKEN HIGH SCHOOL
THE DROWSY CHAPERONE
November 17, 2023 @ 7:00 PM
November 18, 2023 @ 7:00 PM
November 19, 2023 @ 2:00 PM
---
FRANKLIN HIGH SCHOOL
LEGALLY BLONDE
November 17, 2023 @ 7:30 PM
November 18, 2023 @ 7:30 PM
November 19, 2023 @ 2:00 PM
---
COVENTRY HIGH SCHOOL
LITTLE SHOP OF HORRORS
December 7, 2023 @ 7:00 PM
December 8, 2023 @ 7:00 PM
December 9, 2023 @ 7:00 PM
---
JOSEPH CASE HIGH SCHOOL
SEUSSICAL
CAST A
December 7, 2023 @ 7:30 PM
December 9, 2023 @ 2:00 PM & 7:30 PM
CAST Z
December 8, 2023 @ 7:30 PM
December 10, 2023 @ 2:00 PM & 7:30 PM
---
EAST GREENWICH HIGH SCHOOL
DISNEY'S DESCENDENTS: THE MUSICAL
ISLE CAST
December 8, 2023 @ 7:00 PM
December 9, 2023 @ 1:00 PM
AURADON CAST
December 9, 2023 @ 7:00 PM
December 10, 2023 @ 1:00 PM
---
ST. MARY ACADEMY – BAY VIEW
THE LITTLE MERMAID
January 18, 2024 @ 6:30 PM
January 19, 2024 @ 6:30 PM
January 20, 2024 @ 12:00 PM & 6:30 PM
---
WEST WARWICK HIGH SCHOOL
THE 25TH ANNUAL PUTNAM COUNTY SPELLING BEE
January 19, 2024 @ 7:00 PM
January 20, 2024 @ 7:00 PM
January 21, 2024 @ 2:00 PM
---
SOUTH KINGSTOWN HIGH SCHOOL
9 TO 5: THE MUSICAL
February 8, 2024 @ 6:30 PM
February 9, 2024 @ 6:30 PM
February 10, 2024 @ 6:30 PM
February 11, 2024 @ 1:00 PM
---
WEST WARWICK HIGH SCHOOL
MEAN GIRLS
March 8, 2024 @ 7:00 PM
March 9, 2024 @ 7:00 PM
March 15, 2024 @ 7:00 PM
March 16, 2024 @ 7:00 PM
March 17, 2024 @ 2:00 PM
---
SEEKONK HIGH SCHOOL
MAMMA MIA
March 22, 2024 @ 7:00 PM
March 23, 2024 @ 7:00 PM
March 24, 2024 @ 2:00 PM
---
SOMERSET BERKLEY REGIONAL HIGH SCHOOL
MEAN GIRLS
April 25, 2024 @ 7:00 PM
April 26, 2024 @ 7:00 PM
April 27, 2024 @ 2:00 PM & 7:00 PM
---
Congratulations to all the winners of
The 2023 Ocean State Star Awards!
Callista DeFeo and Thomas Jaques were selected as nominees for the National High School Musical Theatre Awards® (The Jimmy Awards®) competition held in New York City at the end of June! Callista and Thomas were honored along with other extraordinary High School performers at the Ocean State Star Awards held on the PPAC stage on June 4, 2023.
Outstanding Leading Female Performer: Callista DeFeo - Bishop Feehan High School - Penelope Pennywise in URINETOWN
Outstanding Leading Male Performer: Thomas Jaques - Bishop Hendricken High School - Minstrel in ONCE UPON A MATRESS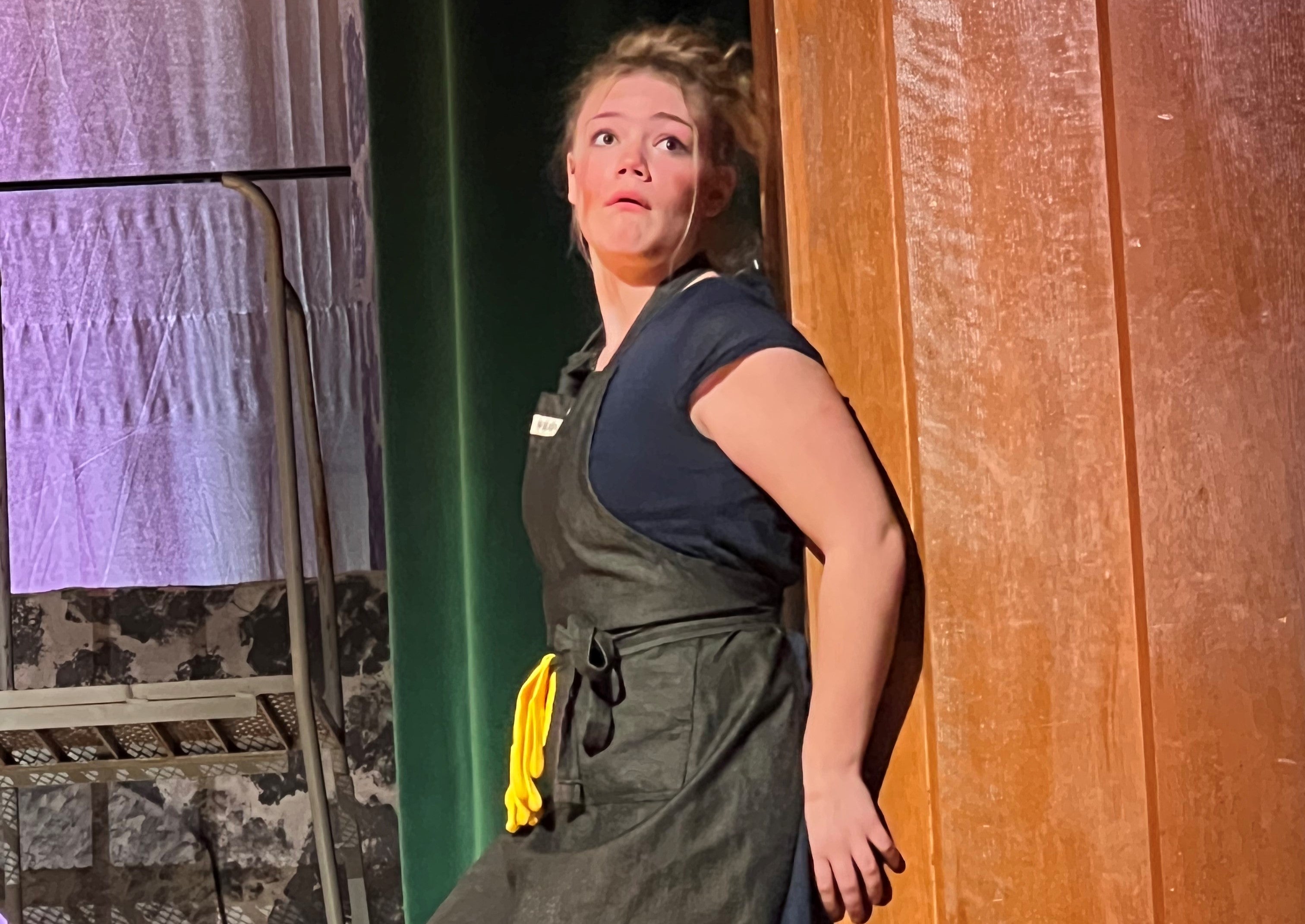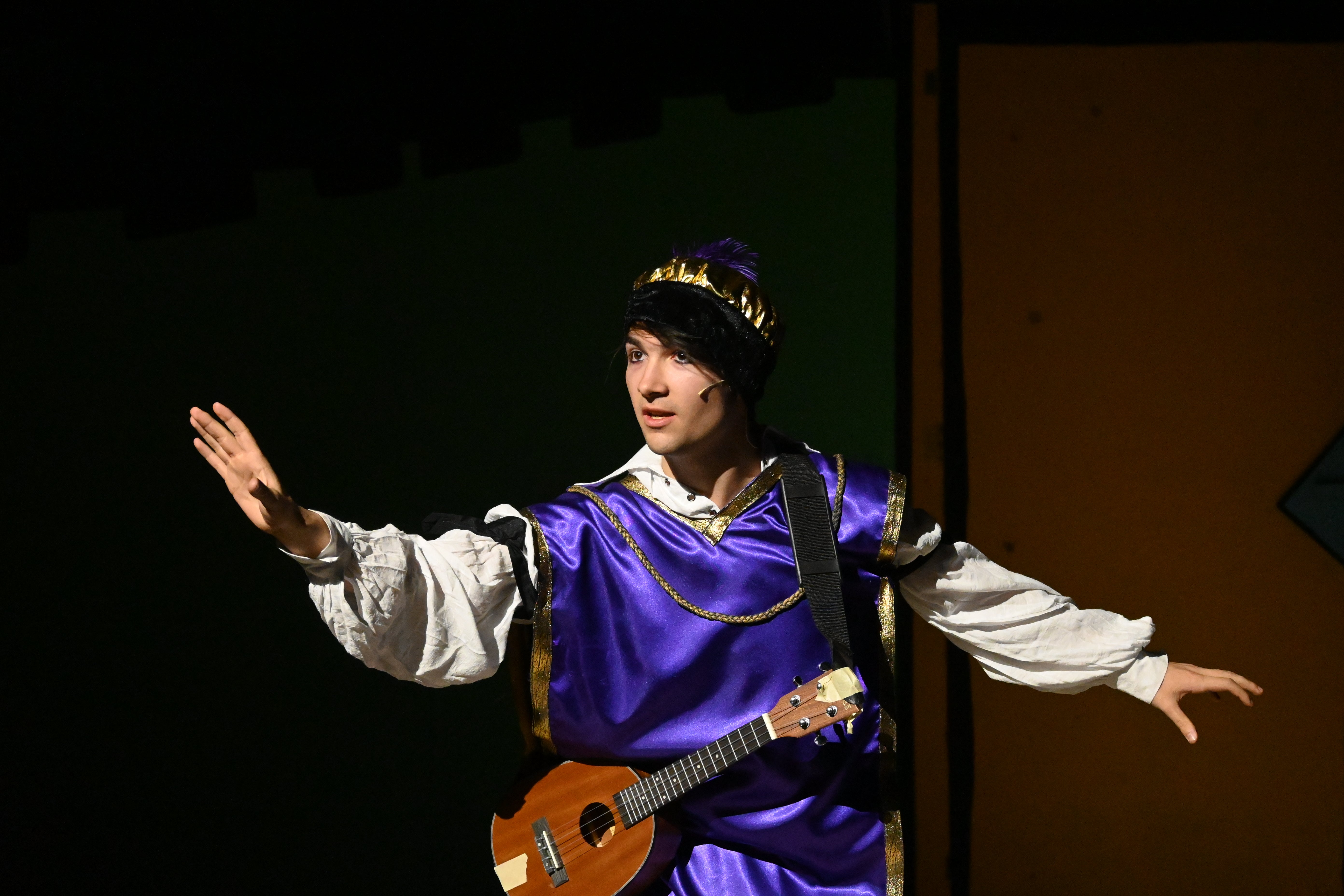 Check out the full 2023 Ocean State Star Awards performance!
---
Highlights from the 2023 Ocean State Star Awards
All photos by CJ Perrone.
Check out this season's reviews by Nicole Labresh!
Review of the Saint Raphael Academy production of Mary Poppins Jr
In every job that must be done, there is an element of fun, and in the feat of taking on roles made iconic by the likes of Julie Andrews and Dick van Dyke, there is plenty of fun to be had. As daunting as the task may be, the leads in Saint Raphael Academy's production of Mary Poppins Jr. have taken in stride the chance to fill those monumental shoes.
Few audience members will be unfamiliar with Disney's take on P.L. Travers' stories about a magical nanny who upends the life of a well-to-do British family and reminds them of what truly matters. Multiple generations have grown up watching Julie Andrews getting upstaged by her own reflection and Dick van Dyke abusing animated penguins. The challenge in taking on such roles is paying homage to the giants whose shoulders you stand upon without trying to beat those giants at their own game. As Mary Poppins and Bert respectively, Calista Aguinaldo and Nathan Corbett have struck the "practically perfect" balance. Corbett radiates charisma as the lovable jack of all trades who also serves as narrator with his recurrent refrains of "Chim Chim Cher-ee." He sets the stage audience-side before the curtain rises on the Banks family, posed solemnly as though for a family portrait. The image of propriety is immediately shattered as yet another nanny is driven to quit by the antics of the children, Jane and Michael (Emily Panas and Brennan Carraher). In this brief exchange, Haley Jackson quickly proves herself to be a standout as the fierce and opinionated maid Mrs. Brill, and she continues to be a joy to watch throughout, from bossing around the eager but incompetent butler, Robertson Ay (Joe Donatelli), to her indignant rage at the disrespect of Mr. Banks's former "holy terror" of a nanny, Miss Andrew (Jennifer Rodrigues).
Enter Mary Poppins in a whirlwind, securing the position of nanny much to the bewilderment of the family (Mrs. Brill: "She passed her interview, then?" Winifred: "Or I did."). It is clear from Aguinaldo's performance that she is having the time of her life in this role. Her Mary has a winning albeit enigmatic smile and no-nonsense confidence: her claim to be "practically perfect in every way" is not a brag so much as a simple statement of fact. She brings such a commanding presence to this role, as well as vocals as sweet as a spoonful of sugar and some dancing chops as well–including tap dancing with the chimney sweep ensemble in "Step In Time."
As the uptight George Banks, Joshua Greenberg does a fantastic job of showing his transformation, gradually revealing the chinks in the armor that hides a tender heart. The pivotal moment wherein the audience first glimpses his secret sentimentality comes when he makes the risky decision to invest in a kindhearted man's factory rather than a German businessman's soulless venture–a decision that may cost him his job.
Michaela Clark beautifully delivers a nuanced performance of Winifred Banks, a woman torn between what she believes in and Edwardian societal expectations for women. She struggles to be the wife she is supposed to be to George, to be dainty and submissive and host tea for fellow upper crust ladies, when in reality, she is headstrong and capable. One of the triumphs of the stage version over the film is the expansion of her character to allow her to harness her fiery personality to help her husband, even negotiating with his boss on his behalf (though with a performance like Clark's, it seems a shame that the junior version cuts out her solo, "Being Mrs. Banks"). By the end, it is clear who wears the bloomers in this relationship.
On the subject of bloomers, the costumes (designed by director Moira Costigan Carraher and production jack-of-all-trades Heather Gaffney-Hsu) add to the vibrancy and whimsy Mary Poppins brings. Particularly impressive is the dress worn by shopkeep Mrs. Corry (Sophia Patino), which opens to reveal a cage of shelves containing various knick knacks and letters out of which Mary constructs the word "Supercalifragilisticexpialidocious" (seamstress Joan Hepburn receives her own credit in the program for this feat of engineering).
Heather Gaffney-Hsu's choreography features a few stand out moments, including the elaborate and rapid-fire gestures that accompany the spelling of "Supercalifragilisticexpialidocious," the tapping chimney sweeps in "Step in Time," and unexpectedly, the deceptively simple but nonetheless impressive-looking podium work in "Precision and Order" (which indeed must have taken some precision and order to avoid collisions). Vocally, the cast is solid overall (musical direction by Ray Santos, assisted by Tess Heinrichs). The family unit in particular sounds great together, particularly in "Anything Can Happen." The accompaniment is provided by a backing track, which, although the most practical option for a high school production, comes with its own pitfalls. For the most part, the cast does well with it, with only a few instances of falling out of sync, especially if the ensemble is singing from backstage. The climax of "Feed the Birds" does unfortunately get a bit drowned out by the church bells on the track.
Overall, St. Ray's production of Mary Poppins Jr. is a joyful, heartwarming nostalgia trip featuring some highly talented young performers who successfully put their own spin on some iconic characters.
Saint Raphael Academy's production of Mary Poppins Jr. runs Nov. 17-20 at the Saint Raphael Academy Coutu Theater.
Review of West Warwick's production of FROZEN
When I arrived for opening night of the West Warwick High School Players' latest production, the parking lot was almost at capacity. Now, that may be a natural consequence of having a whopping cast of 50. It may also be the unique circumstances around this particular production that is packing the auditorium. While productions of Frozen Jr. are all the rage among schools, West Warwick High got to skip the "junior" part after winning a nationwide contest for the exclusive rights to put on the full, unshortened edition of Frozen, rights that will not be made widely available for another few years, making this a once-in-a-lifetime opportunity for all involved. The contest involved submitting a vision for the production pertaining to the theme "Love is an Open Door," in other words, inclusivity and community. With the sheer number of students involved with the production, several of whom had never been in a show before, it seems that vision was upheld.
Audiences will be familiar with the 2013 smash hit Disney film about two sisters, magical ice powers and a sentient snowman (especially if all of the little girls wearing Elsa dresses in the audience are anything to go off of). The stage version expands on the film by adding some new songs to the familiar ones, like "What Do You Know About Love," a fun, upbeat duet expanding on the meeting of Anna and Kristoff as he first criticizes her decision to marry a man she just met and then learns to respect her bravery, "Dangerous to Dream" in which Elsa makes it through coronation and considers a future in which she and Anna can be close once again, and "Hygge," the comedic second act opener that provides a bit of education on Danish culture, connecting the story back to its Nordic origins.
A stage filled with a huge cast can be a spectacle in itself, especially when adorned with some fabulous costuming provided by Emerald City Theatrical Costumes; the ensemble sounds solid together, especially in the pretty choral number "Queen Anointed," but with their manpower, their vocals could pack more of a punch and really blow the roof off of the place in numbers like the opening and the finale. This production is also lucky enough to have live orchestral accompaniment–something of a rarity in amateur theatre. The big concern that comes with the benefit of a live orchestra is the sound balance: it can be easy for the instrumentalists to overpower the vocalists. In this case, however, sound engineer Jill Fisher kept everything in check.
Disney has never been known to do anything by halves, and when it comes to creating ice magic on stage, no one is better prepared to supply the pixie dust. Naturally, on a high school budget, the magic isn't quite what you would see on Broadway (or on the incoming national tour hitting PPAC next season), but there are still some impressive tech feats, including a few snow effects
and Elsa's glove flying away in the wind. Most of the magic is provided digitally through projections. Broadway-level or not, these effects still wow the audience.
In bringing Frozen to the stage, Disney borrowed from their most popular stage show to date, The Lion King, in bringing its anthropomorphic characters to life through puppetry. The Sven puppet (brought to life by Robert Williams and senior Lucas Gallaher with help from Minio Pinque of Big Nazo, and operated in the show by Gallaher) is particularly reminiscent of the giraffe puppet, with just a touch of the endearing charm that launched the latest Broadway production of Into the Woods' Milky White into bovine stardom. The Olaf puppet (crafted by Zachariah Clarke) looks appropriately soft and cuddly. The huggable snowman is played and puppeteered by senior Korina Daniels, who brings across Olaf's lovable charm without directly mimicking the film version.
Rounding out the main cast, we have junior Sebastian Rosa as the deceptive Prince Hans of the Southern Isles. Rosa has a great voice, and his duet with Anna, "Love is an Open Door," is the epitome of "adorkable," especially their quirky dance break, though the sinister plot twist is played a bit more casually than one might expect from a Disney villain. Our actual good guy is senior Nicolas Meier as the somewhat socially inept mountain man Kristoff. Meier excels in background acting, particularly in reacting to the antics of Olaf and his found troll family.
Speaking of the trolls, one of the standouts in the cast is senior Kayla Carlson as Bulda. Both her stage presence and vocals are out of this world, and she is a delight to watch in both the opening and "Fixer Upper," which in terms of choreography (Rikki Spelman) and energy is a highpoint of the show.
But the night truly belongs to the Abigails: senior Abigail Saccone as Elsa and junior Abigail Tuchon as Anna. Both have stellar, strong voices and are well up to the challenges of vocal behemoths "Let It Go," "Monster," and their lovely, heartfelt duet "I Can't Lose You" (the first of these, of course, being the crowd favorite; there was audible excitement at the familiar tinkling of the piano intro and awe at the stage magic of Elsa's blink-of-an-eye costume change). The chemistry between the sisters is fantastic, and that goes for their younger counterparts, 4th graders Aubrey Cordeiro and Alexandra Anglin, as well, as best befits the real love story at the center of the show. Saccone beautifully brings out Elsa's inner conflict and her anguish any time she hurts her sister, while Tuchon supplies Anna's awkward charm and plucky determination.
The excitement around this production and its truly unique circumstances is palpable, and not just among the cast, but it extends to the audience, too–and with Frozen's astronomical popularity, it's no wonder the audience is hanging on every moment, wildly enthusiastic from start to end. For everyone involved–audience, cast and crew alike, and particularly the seniors– this show is truly an unforgettable experience.
WWHS Players' production of Frozen runs through March 19.