Box Office: (401) 421 - ARTS (2787) Administration Office: (401) 421 - 2997
Direct Response: (401) 574-3136 Group Sales: (401) 574 - 3162
The Taco/White Family Foundation Broadway Series

HAMILTON will play its premiere Providence engagement during the 2018/2019 Season and will anchor the Taco/White Family Foundation Broadway Series. Three National Tours will launch at PPAC as part of the Broadway Series: MISS SAIGON, CATS, and THE BAND'S VISIT. ANASTASIA, Roald Dahl's CHARLIE AND THE CHOCOLATE FACTORY, Andrew Lloyd Webber's new high-octane hit SCHOOL OF ROCK, and WAITRESS THE MUSICAL round out the Taco/White Family Foundation Broadway Series.
For more information please call the Box Office at (401) 421 - ARTS (2787) or Sharon Corcoran, Direct Response at (401) 574 - 3136.

May 28 – June 2, 2019
---

June 25 - 30, 2019

---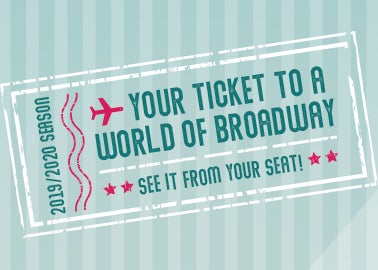 Announcing our 2019/2020
Broadway Series!
J.L. "Lynn" Singleton, President of the Providence Performing Arts Center (PPAC), is pleased to announce PPAC's 2019/2020 Season!
"Many of the productions in our 2019/2020 Season share a similar theme of travel, so with that in mind, we believe that this Season is 'your ticket to a world of Broadway!'" Singleton said.
"Broadway offers audiences an opportunity to travel and broaden their horizons," said Joseph W. Walsh, Esq., Chairman of PPAC's Board of Directors. "We are pleased to continue bringing top flight Broadway productions to the state of Rhode Island, so that people can experience the very 'Best of Broadway,' right here in Providence!"
Subscribe today! Call Sharon Corcoran at (401) 574-3136 or the PPAC Box Office at (401) 421-ARTS (2787) for more information!
THE TACO/WHITE FAMILY FOUNDATION BROADWAY SERIES

September 29 - October 5, 2019
National Tour Launches at PPAC!
---

October 29 - November 10, 2019
TWO WEEK ENGAGEMENT!
---

December 3 - 8, 2019
---

February 11 - 16, 2020
---

March 3 - 8, 2020
---

March 31 - April 5, 2020
---

May 12 - 17, 2020
---

May 26 - 31, 2020
---