Wonders of The Wurlitzer
Learn More About Our "Mighty Wurlitzer"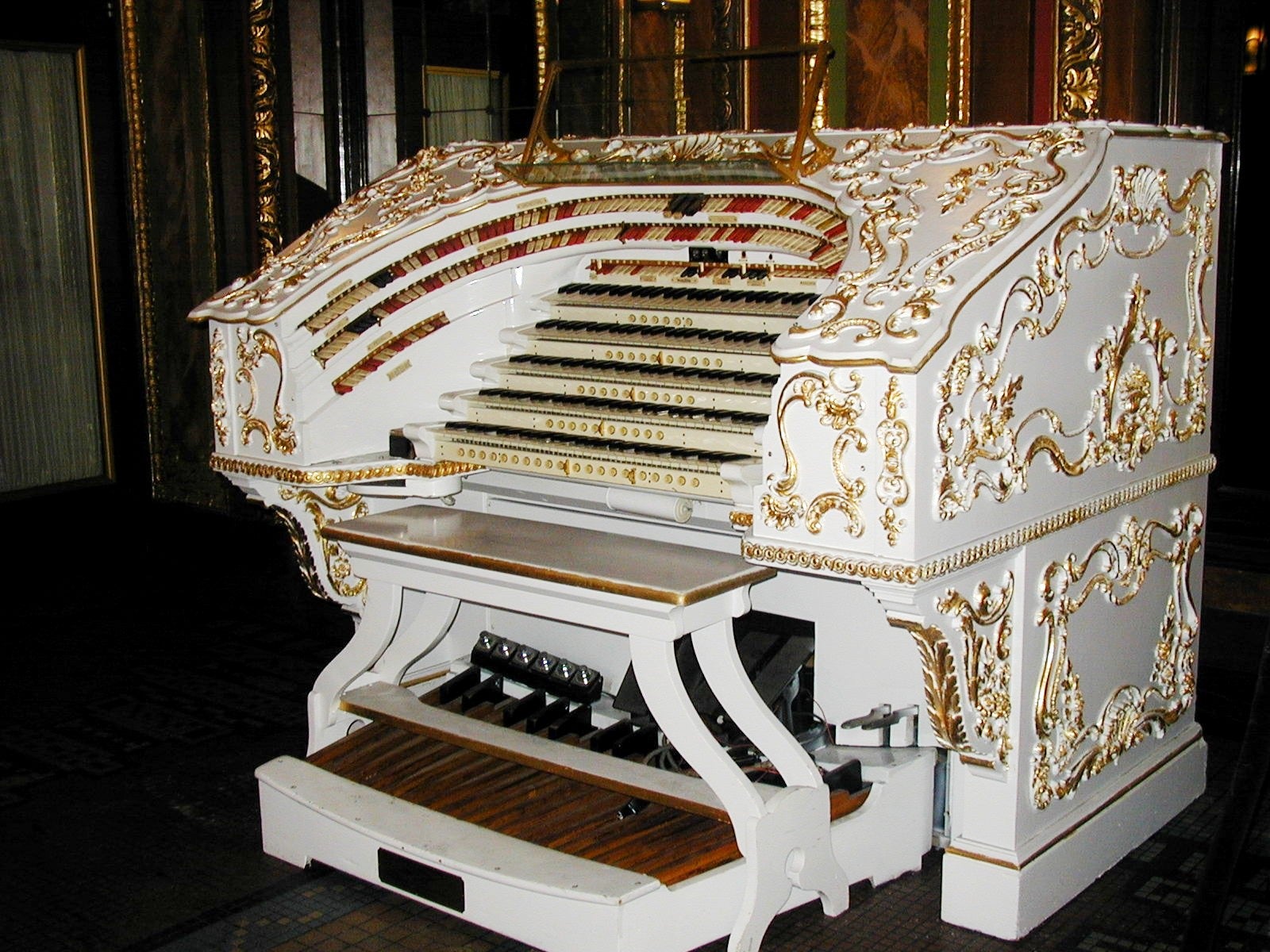 PPAC's "Mighty Wurlitzer" was built in 1927 and has five keyboards, twenty-one ranks, and percussion that can produce many orchestral sounds, as well as sound effects that can be utilized when accompanying silent films. The PPAC "Mighty Wurlitzer" is one of only three five-manual keyboard consoles built by Wurlitzer. Lincoln W.N. Pratt assisted a small team of PPAC Trustees in finding the 5/21 Wurlitzer organ which was privately owned; the organ was purchased by PPAC in 1982 and has held a special place of honor at the theatre ever since.

Lincoln W.N. Pratt was the PPAC House Organist from 1982 until his passing in 1998; Mr. Pratt played the organ prior to many Broadway shows and he helped create the first, free Wednesdays at the Wurlitzer series which has now become the Wonders of the Wurlitzer series; these concerts are still free and open to the public. The console of the Mighty Wurlitzer was posthumously dedicated to Mr. Pratt.

World-renowned organist and silent film accompanist Peter Edwin Krasinski has been PPAC's House Organist since the fall of 2020. Mr. Krasinski performed a free concert during PPAC's special 90th Anniversary Celebration in October 2018 and has performed for the Wurlitzer concert series and for other PPAC events.
PPAC and Mr. Krasinski began the virtual Wurlitzer concert series in October 2020, when PPAC recorded him performing his own unique, improvised accompaniment on the Mighty Wurlitzer to the 1925 silent film The Phantom of The Opera.
PPAC has also recorded Mr. Krasinski performing a holiday season concert and Valentine's Day concert on the Mighty Wurlitzer; these videos remain free to view and can be accessed at any time on PPAC's YouTube Channel. He also recorded a virtual Wurlitzer concert for PPAC's Arts Showcase this season.

Mr. Krasinski will perform pre-show Wurlitzer concerts and more; please join our e-list to receive PPAC news on upcoming Wurlitzer concerts, Broadway shows and other events.
---
The Wonders of PPAC's "Mighty Wurlizer"
Free pre-recorded concerts performed by House Organist Peter Edwin Krasinski
Lyrics to "Holiday Magic at the Mighty Wurlitzer"
"Rudolph the Red-Nosed Reindeer"
(Lyrics: Johnny Marks)

You know Dasher and Dancer and Prancer and Vixen,
You know Comet and Cupid and Donner and Blitzen,
But do you recall
The most famous reindeer of all?

Rudolph the Red-Nosed Reindeer
Had a very shiny nose.
And if you ever saw it
You would even say it glows.

All of the other reindeer
Used to laugh and call him names.
They never let poor Rudolph
Join in any reindeer games.

Then one foggy Christmas Eve,
Santa came to say,
"Rudolph with your nose so bright,
Won't you guide my sleigh tonight?"

Then how all the reindeer loved him,
As they shouted out with glee,
Rudolph the red-nosed Reindeer
You'll go down in history!
(Lyrics: Robert Wells and Mel Tormé)
Chestnuts roasting on an open fire,
Jack Frost nipping at your nose,
Yuletide carols being sung by a choir
And folks dressed up like eskimos.

Everybody knows a turkey and some mistletoe
Help to make the season bright.
Tiny tots with their eyes all aglow
Will find it hard to sleep tonight.

They know that Santa's on his way.
He's loaded lots of toys and goodies on his sleigh
And ev'rymother's child is gonna spy
To see if reindeer really know how to fly.
And so I'm offering this simple phrase
To kids from one to ninety-two
Though it's been said many times, many ways:
"Merry Christmas to you."
Lyrics: James S. Pierpont

Dashing through the snow
In a one-horse open sleigh
O'er the fields we go
Laughing all the way!

Bells on bobtail ring
Making spirits bright
What fun it is to ride and sing
A sleighing song tonight!

Oh, jingle bells, jingle bells
Jingle all the way
Oh, what fun it is to ride
In a one-horse open sleigh, hey! (x2)
Lyrics: Walter Rollins and Steve Nelson
Frosty the snowman was a jolly happy soul
With a corncob pipe and a button nose
And two eyes made out of coal.

Frosty the snowman is a fairy tale, they say.
He was made of snow but the children know
that he came to life one day.

There must have been some magic
in that old silk hat they found
For when they placed it on his head
He began to dance around

Frosty the snowman
Was alive as he could be
And the children say he could laugh and play
just the same as you and me


Lyrics: Sammy Cahn

Oh! the weather outside is frightful,
But the fire is so delightful,
And since we've no place to go,
Let it snow! Let it snow! Let it snow!

It doesn't show signs of stopping,
And I brought some corn for popping;
The lights are turned 'way down low.
Let it snow! Let it snow! Let it snow!

When we finally kiss goodnight,
How I'll hate going out in the storm!
But if you'll really hold me tight,
All the way home I'll be warm.

The fire is slowly dying,
And my dear, we're still good-bye-ing.
But as long as you love me so,
Let it snow! Let it snow! Let it snow!
"Santa Claus is Coming to Town"
Lyrics/Music: J. Fred Coots and Haven Gillepsie

You better watch out
You better not cry
You better not pout
I'm telling you why
Santa Claus is coming to town
He's making a list,
He's checking it twice,
He's going to find out who's naughty or nice
Santa Claus is coming to town
He sees you when you're sleeping
And he knows when you're awake
He knows if you've been bad or good
So be good for goodness sake!

You better watch out
You better not cry
You better not pout, I'm telling you why
'Cause Santa Claus is coming to town
"We Wish You a Merry Christmas"
We wish you a merry Christmas
We wish you a merry Christmas
We wish you a merry Christmas and a Happy New Year!
Good tidings we bring to you and your kin
We wish you a merry Christmas and a Happy New Year!