Box Office: (401) 421 - ARTS (2787) Administration Office: (401) 421 - 2997

2020 ARTS SCHOLARSHIPS APPLICATIONS ARE NOW AVAILABLE!!

The Providence Performing Arts Center's Community Outreach Committee is requesting applications to the 2020 ARTS Scholarships program. The ARTS Scholarships program, sponsored by The Textron Charitable Trust and PPAC's Annual Fund donors with support from Ocean State Charities Trust, awards up to $500 in financial assistance to each of 30 winning Rhode Island students (15 from Providence, 15 from other Rhode Island communities) for summer arts education programs.
To be eligible, a student must:
be aged 11 - 14 by June 1, 2020
reside in and attend school in Rhode Island
demonstrate artistic ability and interest
demonstrate financial need
submit a completed application
All applications must be filled out completely and correctly, signed by the student, the parent or guardian, and the student's sponsor and submitted with supporting materials no later than 4:00 p.m. on Friday, February 28, 2020.
Applications, guidelines, and summer arts program lists are available through the links below or can be picked up at the PPAC Administrative Office at 220 Weybosset Street, 2nd Floor, Monday through Friday 9:00 a.m. to 6:00 p.m. For questions or further information, contact Cynthia Goldsmith at 401-574-3105.

Congratulations to the 2019 ARTS Scholarships Winners pictured below!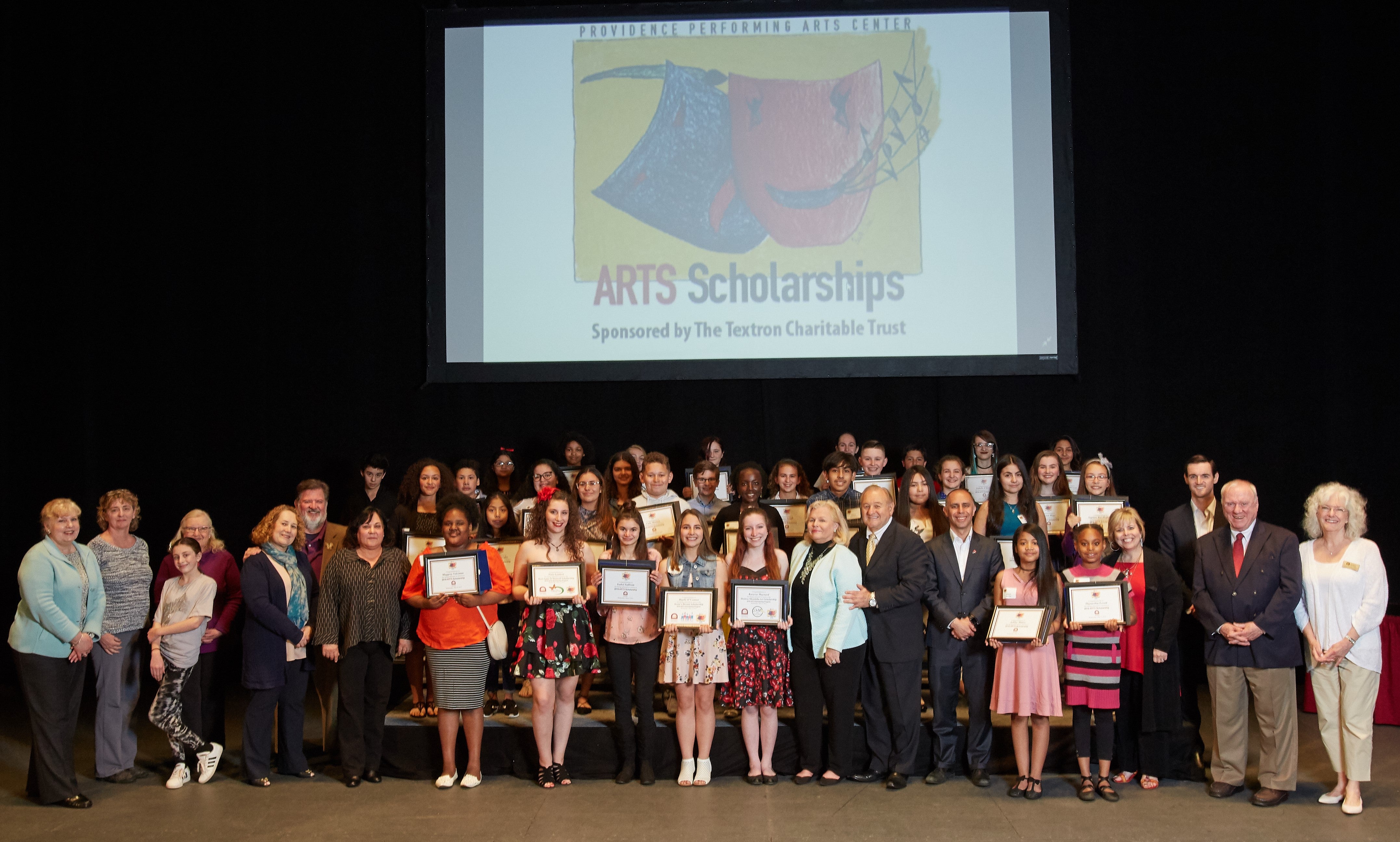 2019 ARTS SCHOLARSHIPS RECIPIENTS

Kayloni Almonte – Sophia Academy, Providence
Riley Barrio – Gov. Christopher DelSesto Middle School, Providence
Alexis Belanger – Joseph L. McCourt Middle School, Cumberland
Bailey Brennan – Frank E. Thompson Middle School, Newport
Asniel Cruzeta – Carl G. Lauro Elementary School, Providence
Claire Cunningham – Lincoln School, Providence
Joseph Davis – Sarah Dyer Barnes Elementary School, Johnston
Isabella D'Errico – Nicholas A. Ferri Middle School, Johnston
Tatiana DiCecco – Western Hills Middle School, Cranston
Cristofer Flores – Gov. Christopher DelSesto Middle School, Providence
Mia Gomez – Carl G. Lauro Elementary School, Providence
Cadence Koenig – Western Hills Middle School, Cranston
Zachary Leone – Hope Highlands Middle School, Cranston
Avery Lough – Saint Philip School, Greenville
Thynashia Lovett – Esek Hopkins Middle School, Providence
Camden Lussier – Western Hills Middle School, Cranston
Delia Macedo – Francis J. Varieur Elementary School, Pawtucket
Ashley Matos – Hugh B. Bain Middle School, Cranston
Payton Mays – Western Hills Middle School, Cranston
Alayna Medina – Warwick Veterans Memorial Middle School, Warwick
Bilma Morales – Carl G. Lauro Elementary School, Providence
Migdalia Morales – Segue Institute for Learning, Central Falls
Cain Morton – John F. Deering Middle School, West Warwick
Ashley Muchiri – Barrington Christian Academy, Barrington
Paolo Ordinola – Nathanael Greene Middle School, Providence
Wendy Panadero Dubon – Esek Hopkins Middle School, Providence
Shaily Quiroa – Gov. Christopher DelSesto Middle School, Providence
Saphire Rai-Hoffman – French American School, Providence
Fabricio Reyes – Carl G. Lauro Elementary School, Providence
Isabel Sullivan – Saint Margaret School, Rumford
Xyarrah Tejeda – Carl G. Lauro Elementary School, Providence
Maggrey Volcimus – Gov. Christopher DelSesto Middle School, Providence
2019 Keri Anne O'Donnell Scholarship Recipient:
Nina Lautieri – Nicholas A. Ferri Middle School, Johnston
Funded by the Keri Anne O'Donnell Memorial Fund
2019 Jessie's Dream Scholarship Recipient:
Haylie O'Connor – John F. Deering Middle School, West Warwick
Funded by Jessie's Dream Scholarship Fund
2019 Desiree Mesolella Art Scholarship Recipient:
Karyssa Maynard – Ponaganset High School, North Scituate
Funded by Desiree Mesolella Art Scholarships