ARTS Scholarships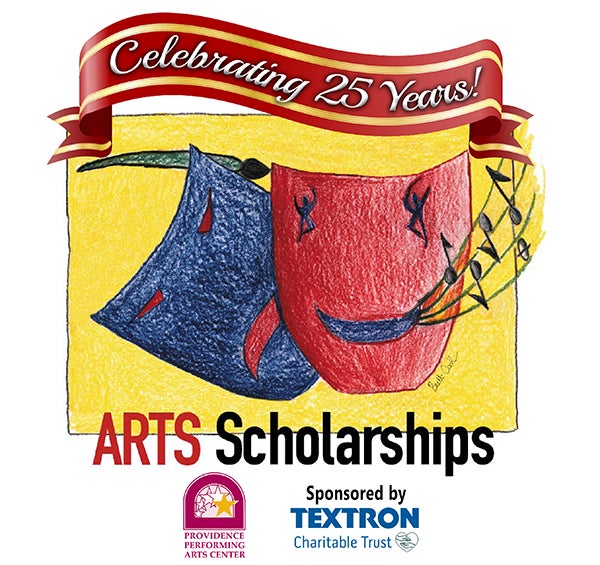 About ARTS SCHOLARSHIPS
[ Pautas de aplicación (en español)]

Since 1996, PPAC's ARTS Scholarships program has opened doorways to the arts for talented Rhode Island students by providing up to $600 in financial assistance to enroll in summer education programs spanning the breadth of artistic pursuits. Each year, a minimum of 30 scholarships are awarded to middle school-aged students. By providing opportunity when many students' interests and capacities are rapidly evolving and coalescing, the Scholarships program provides critical access to the cultivation of creative thinking, confidence, and self-awareness unique to artistic endeavors. Since the program's inception, PPAC has granted almost $300,000 in scholarships to over 600 students and counting!

ARTS Scholarships are made possible by the generous support of The Textron Charitable Trust and PPAC's Annual Fund donors with support from WPRI-TV.

To be eligible, you must:
be in middle school (grades 6-8 or the equivalent) at the time of application,
reside in and be being schooled in Rhode Island,
demonstrate artistic ability and interest, and
demonstrate financial need.

Applications typically open February 1 and close April 1, annually. Applications have four components: an application to be completed by the student, a recommendation by a sponsor (typically a teacher, advisor, coach, minister, etc.), a statement of financial need submitted by parents or guardians, and samples of artistic work.
If you are a past ARTS Scholarship or special memorial scholarship recipient, CONGRATULATIONS, and please be reminded that you may not be awarded another scholarship. Thank you.

Have any questions or would like more information? Please contact Ricky Gresh at scholarships@ppacri.org or 401-574-3105
---
About the Community Outreach Committee
and the Selection Process
The Community Outreach Committee is a standing committee of the Providence Performing Arts Center's Board of Directors and is comprised of PPAC Directors and Rhode Island educators and community leaders with an interest in youth. Its mission includes developing arts education opportunities for Rhode Island's young people and making the Providence Performing Arts Center accessible to Rhode Island's diverse populations.
The ARTS Scholarships sub-committee is comprised of a panel of judges who review and select the recipients. The panel will consider the students' written statements, samples of artwork or talent, the sponsors' comments, and the indication of financial need. The judges' decisions will be final. All applicants will be notified of the judges' decisions by the end of March.
Scholarships will cover up to $600 of approved expenses (tuition and supplies). Payments will be made directly to the approved arts programs, not to the winning students. After completing the program, students will be asked to complete a brief questionnaire regarding their experience.
---
CONGRATULATIONS TO THE 2022 CLASS OF
ARTS SCHOLARSHIPS!!
With special appreciation to their families and sponsors for their ongoing support of their artistic dreams.
ARTS Scholarships
Made possible by the generosity of the Textron Charitable Trust
and PPAC's Annual Fund Donors

Photo by CORE Photography

Aanvi Aggarwal – Western Hills Middle School, Cranston
Emelie Regalado Carrasco – Leviton Dual Language School, Providence
Rosanna Ceballos – Leviton Dual Language School, Providence
Marissa Cabral – Kickemuit Middle School, Warren
Jeckslynn Delvalle – Achievement First Providence Mayoral Academy, Providence
Alice Yvonne DiDonato – St. Augustine School, Providence
Raegan Garcia – Warwick Veterans Memorial Middle School, Warwick
Daphne Gates – Curtis Corner Middle School, Wakefield
Francisco Santos Godinez – The Learning Community Charter School, Central Falls
Ryan Gomes – The Learning Community Charter School, Central Falls
Ayden Gonzalez – Achievement First Providence Mayoral Academy, Providence
Tierney Heath – St. Mary Academy - Bay View, East Providence
Judah Hoyle – Home School, Providence
Bijou Leger – Barrington Christian Academy, Barrington
Lily Lessard – John F. Deering Middle School, West Warwick
Sammie Lin – Western Hills Middle School, Cranston
Isabella Lopez – Robert L. Bailey, IV Elementary School, Providence
Unity MacNeill – Hope Highlands Middle School, Cranston
Paige Mahon – Good Shepherd Catholic Regional School, Woonsocket
Isabelle Rose Maxim – Curtis Corner Middle School, Wakefield
Solange Suarez Mejia – Leviton Dual Language School, Providence
Rowan Moniz – Lyman B. Goff Middle School, Pawtucket
Madisyn Montgomery – Edward R. Martin Middle School, East Providence
Andrea Morales – The Learning Community Charter School, Central Falls
Alexandra Neary – Curtis Corner Middle School, Wakefield
Almely Polanco – Blackstone Valley Prep Mayoral Academy, Cumberland
Rebecca Puii – Western Hills Middle School, Cranston
October Rafuse – Lyman B Goff Middle School, Pawtucket
Jaydielle Rivera – Webster Avenue Elementary School, Providence
Daniel Ramon Rodriguez – Robert L. Bailey, IV Elementary School, Providence
Kayleigh Rousseau – Winman Middle School, Warwick
Yanisley Lacan Ruiz – Leviton Dual Language School, Providence
Melanie Sánchez – Leviton Dual Language School, Providence
Hannah Sanchez-Marrero – Achievement First Providence Mayoral Academy, Providence
Sedra Smith – Tiverton Middle School, Tiverton
William Stringfellow – Riverside Middle School, East Providence
Zoe Teixeira – Western Hills Middle School, Cranston
Allison Vinas – Blackstone Valley Prep Mayoral Academy, Junior High, Central Falls
Brenna Zolli – Western Hills Middle School, Cranston
Jo-Ann Ragosta Memorial Scholarship
Natalie Lux Perez – Del Sesto Middle School, Providence
Ivy Rivera – Del Sesto Middle School, Providence
Made possible by the generosity of the Ragosta Family
Desiree Lee Mesolella Scholarships
Paige Costa – Portsmouth Middle School, Portsmouth
Brea Wood – Archie R. Cole Middle School, East Greenwich
Made possible by the generosity of the Mesolella Family
Keri Anne O'Donnell Scholarship
Lucy Little – Home School, Providence
Made possible by the generosity of the O'Donnell Family

Keri Anne O'Donnell Scholarship, in memory of Nick Cardi
Diesel Doris – Good Shepherd Catholic Regional School, Woonsocket
Made possible by the generosity of the O'Donnell Family
Andrew DePietro Memorial Scholarships
Ryleigh Peixoto – Winman Middle School, Warwick
Jiliani Sanchez-Marrero – Achievement First Providence Mayoral Academy, Providence
Made possible by the generosity of the DiPietro Family
---