ARTS Scholarships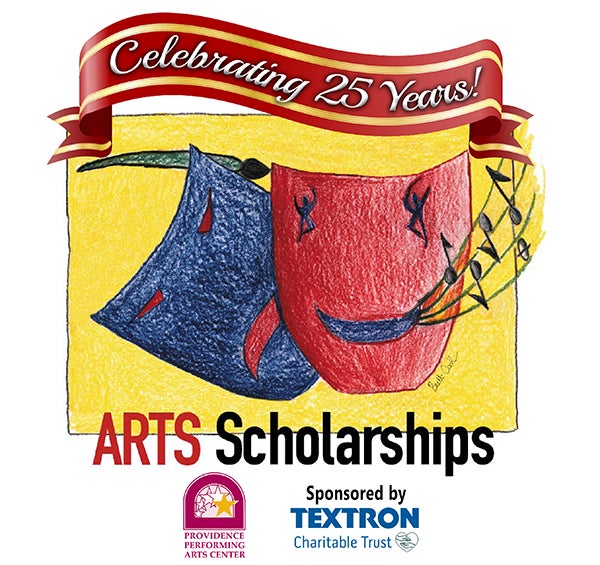 [ Pautas de aplicación (en español)]

Calling all Rhode Island artists and aspiring artists in 6th, 7th, or 8th grade and their mentors, teachers, and parents/guardians!!!

The Providence Performing Arts Center's Community Outreach Committee is pleased to invite you to apply for a Summer 2023 ARTS Scholarship!
Since 1996, PPAC's ARTS Scholarships program has opened the door to the arts for more than 650 of Rhode Island's middle-school aged-youth. Scholarship recipients are awarded up to $600 to enroll in summer education programs spanning the breadth of artistic pursuits.
By providing opportunity when many students' interests and capacities are rapidly evolving and coalescing, the Scholarships provide critical access to the cultivation of creative thinking, confidence, and self-awareness unique to artistic endeavors. ARTS Scholarships are made possible by the generous support of The Textron Charitable Trust and PPAC's Annual Fund donors with support from WPRI-TV.


To be eligible, you must:
be a 6th, 7th, or 8th grader or the home school equivalent at the time of application,
live in Rhode Island,
have an interest in art, and
demonstrate need (financial or otherwise)
If you are a past ARTS Scholarship or special memorial scholarship recipient, CONGRATULATIONS, and please be reminded that you may not be awarded another scholarship. Thank you.

Have any questions or would like more information? Please contact Ricky Gresh at scholarships@ppacri.org or 401-574-3105
How to Apply
The application has four parts. All four parts must be received no later than 12 PM on Saturday, April 1, 2023. Applications are generally submitted on-line. If you need assistance or would like a paper application, please contact Ricky at scholarship@ppacri.org as early as possible in the application cycle.
Decisions will be announced by Wednesday, April 12, 2023, and recipients will be celebrated at a ceremony at PPAC on Wednesday, May 24, 2023 at 6 PM.

To be completed by the 6th, 7th, or 8th Grader. In order to complete this form, you will need the name of the adult you asked to write your recommendation. We also recommend you review our list of summer opportunities or do some research about potential summer programs on your own.
#2 – PARENT OR GUARDIAN FORM / FORMULARIO DE PADRE O TUTORA
To be completed by an adult who knows the applicant from school, activities, or a community organization (such as a teacher, coach, religious leader, counselor, etc.)
#4 - UPLOAD SAMPLES OF ARTISTIC WORK
Please upload NO MORE THAN THREE sample pieces of your original work. We are looking for you to show us your interest in art more than of your talent or past experiences. Examples might include a photograph or scan of a painting or drawing, a copy of a piece of writing, a photograph of a sculpture of piece of textile, a screen shot or download of a graphic or computer design, a video or audio recording, etc. If there are others in the video or audio recording, please be sure to notify us of which one is you.
---
CONGRATULATIONS TO THE 2022 CLASS OF
ARTS SCHOLARSHIPS!!
With special appreciation to their families and sponsors for their ongoing support of their artistic dreams.
ARTS Scholarships
Made possible by the generosity of the Textron Charitable Trust
and PPAC's Annual Fund Donors

Photo by CORE Photography

Aanvi Aggarwal – Western Hills Middle School, Cranston
Emelie Regalado Carrasco – Leviton Dual Language School, Providence
Rosanna Ceballos – Leviton Dual Language School, Providence
Marissa Cabral – Kickemuit Middle School, Warren
Jeckslynn Delvalle – Achievement First Providence Mayoral Academy, Providence
Alice Yvonne DiDonato – St. Augustine School, Providence
Raegan Garcia – Warwick Veterans Memorial Middle School, Warwick
Daphne Gates – Curtis Corner Middle School, Wakefield
Francisco Santos Godinez – The Learning Community Charter School, Central Falls
Ryan Gomes – The Learning Community Charter School, Central Falls
Ayden Gonzalez – Achievement First Providence Mayoral Academy, Providence
Tierney Heath – St. Mary Academy - Bay View, East Providence
Judah Hoyle – Home School, Providence
Bijou Leger – Barrington Christian Academy, Barrington
Lily Lessard – John F. Deering Middle School, West Warwick
Sammie Lin – Western Hills Middle School, Cranston
Isabella Lopez – Robert L. Bailey, IV Elementary School, Providence
Unity MacNeill – Hope Highlands Middle School, Cranston
Paige Mahon – Good Shepherd Catholic Regional School, Woonsocket
Isabelle Rose Maxim – Curtis Corner Middle School, Wakefield
Solange Suarez Mejia – Leviton Dual Language School, Providence
Rowan Moniz – Lyman B. Goff Middle School, Pawtucket
Madisyn Montgomery – Edward R. Martin Middle School, East Providence
Andrea Morales – The Learning Community Charter School, Central Falls
Alexandra Neary – Curtis Corner Middle School, Wakefield
Almely Polanco – Blackstone Valley Prep Mayoral Academy, Cumberland
Rebecca Puii – Western Hills Middle School, Cranston
October Rafuse – Lyman B Goff Middle School, Pawtucket
Jaydielle Rivera – Webster Avenue Elementary School, Providence
Daniel Ramon Rodriguez – Robert L. Bailey, IV Elementary School, Providence
Kayleigh Rousseau – Winman Middle School, Warwick
Yanisley Lacan Ruiz – Leviton Dual Language School, Providence
Melanie Sánchez – Leviton Dual Language School, Providence
Hannah Sanchez-Marrero – Achievement First Providence Mayoral Academy, Providence
Sedra Smith – Tiverton Middle School, Tiverton
William Stringfellow – Riverside Middle School, East Providence
Zoe Teixeira – Western Hills Middle School, Cranston
Allison Vinas – Blackstone Valley Prep Mayoral Academy, Junior High, Central Falls
Brenna Zolli – Western Hills Middle School, Cranston
Jo-Ann Ragosta Memorial Scholarship
Natalie Lux Perez – Del Sesto Middle School, Providence
Ivy Rivera – Del Sesto Middle School, Providence
Made possible by the generosity of the Ragosta Family
Desiree Lee Mesolella Scholarships
Paige Costa – Portsmouth Middle School, Portsmouth
Brea Wood – Archie R. Cole Middle School, East Greenwich
Made possible by the generosity of the Mesolella Family
Keri Anne O'Donnell Scholarship
Lucy Little – Home School, Providence
Made possible by the generosity of the O'Donnell Family

Keri Anne O'Donnell Scholarship, in memory of Nick Cardi
Diesel Doris – Good Shepherd Catholic Regional School, Woonsocket
Made possible by the generosity of the O'Donnell Family
Andrew DePietro Memorial Scholarships
Ryleigh Peixoto – Winman Middle School, Warwick
Jiliani Sanchez-Marrero – Achievement First Providence Mayoral Academy, Providence
Made possible by the generosity of the DiPietro Family
---