Show Signatures

When someone goes backstage at PPAC, he or she is often surprised and intrigued by the numerous murals that cover the backstage walls. As part of a Theatre tradition, individual artists in the productions that perform at PPAC will each draw a mural representing the show, and cast and company members will sign, forever leaving their mark on the Theatre.

We invite you to peruse the photos of these extraordinary murals!

Please note: shows are listed in alphabetical order. Artwork does not represent all engagements at PPAC.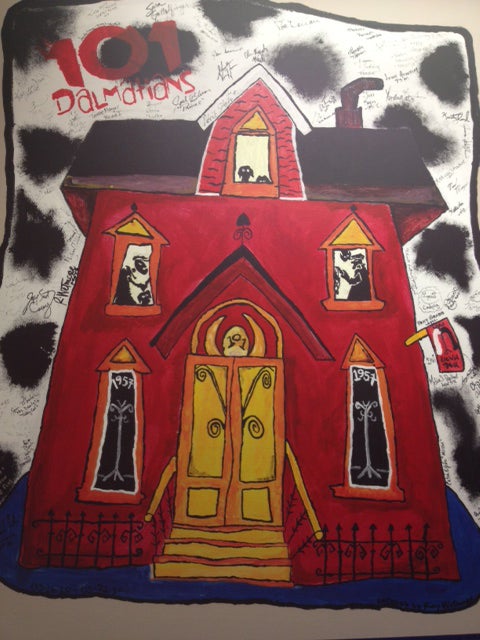 The 101 Dalmatians Musical March 16 - 21, 2010
The 101 Dalmatians Musical left a truly memorable paw print at PPAC during its North American tour in 2010. In these 8 performances, Broadway star Sarah Gettlefinger played the wickedly comic Cruella De Vil. This production also starred a dozen rescued Dalmatians, delighting those in attendance.
1-2-3 Imagine! With Elmo and Friends
March 9 - 11, 2012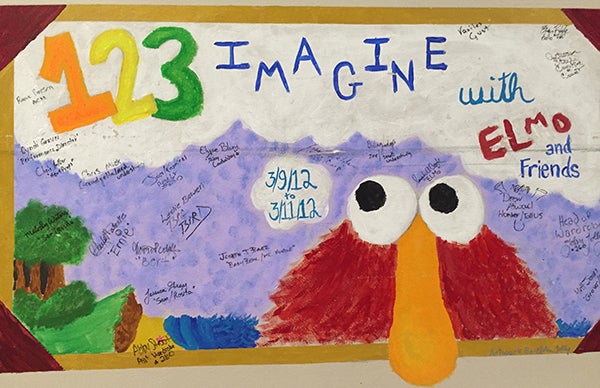 1-2-3 Imagine! With Elmo and Friends was originally created in 1996. In 2009, 1-2-3 Imagine! went back on tour to celebrate the 30th anniversary of Sesame Street Live. The tour stopped by in 2012 and told audiences about the Muppet's mail carrier, Samantha ("Sam"), as she convinces the Muppets that they can rely on their imagination to take them to visit their pen pals.

The 25th Annual Putnam County Spelling Bee
November 13 - 18, 2007
This one-act musical comedy treated audiences with an air of the unexpected; The 25th Annual Putnam County Spelling Bee is a traditional musical with improvisation added throughout the show. Audiences eagerly follow six young school children and their encounters during the final rounds of a middle school spelling bee. The show was nominated for several Tony Awards and won for Best Score.
42nd Street
January 4 - 9, 2005
March 24 - 26, 2017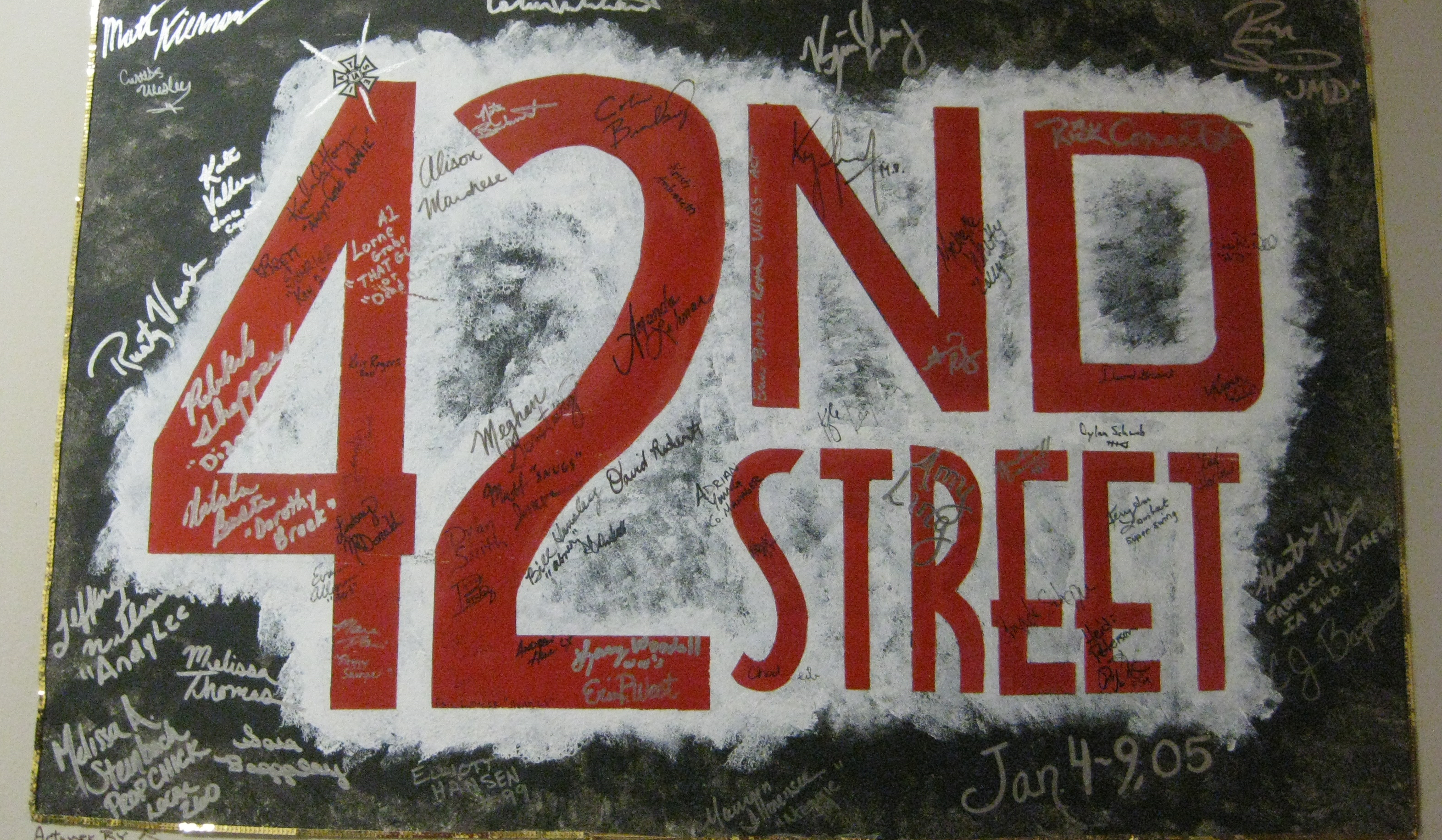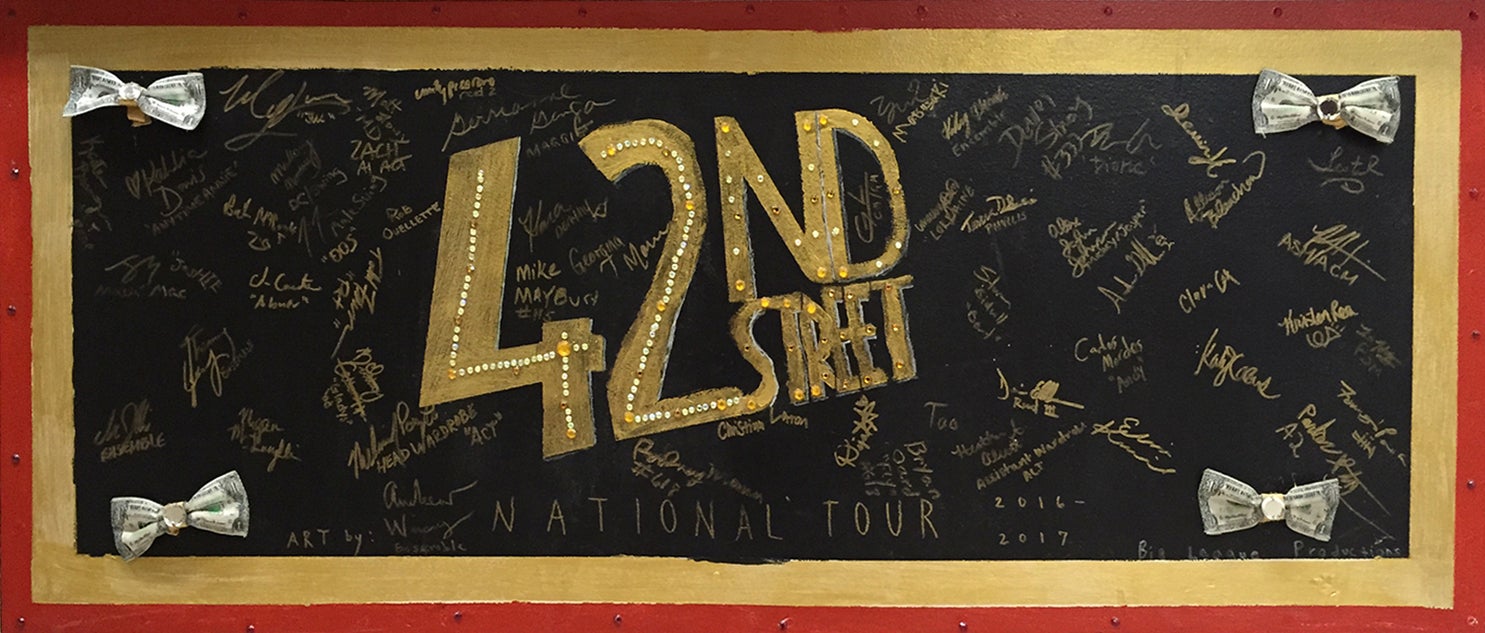 The quintessential backstage musical comedy classic, 42nd Street is the song and dance fable of Broadway with an American Dream story and includes some of the greatest songs ever written, such as "We're In The Money," "Lullaby of Broadway," "Shuffle Off To Buffalo," "Dames," "I Only Have Eyes For You" and of course "42nd Street."
Based on a novel by Bradford Ropes and Busby Berkeley's 1933 movie, 42nd Street tells the story of a starry-eyed young dancer named Peggy Sawyer who leaves her Allentown home and comes to New York to audition for the new Broadway musical Pretty Lady. When the leading lady breaks her ankle, Peggy takes over and becomes a star. With a book by Michael Stewart and Mark Bramble, music by Harry Warren and lyrics by Al Dubin, this sparkling new production will be directed by co-author Mark Bramble and choreographed by Randy Skinner, the team who staged the 2001 Tony Award-winning Best Musical Revival.
42nd Street tapped its way back to PPAC March 24 – 26, 2017 as part of the 2016/2017 Encore Series.

A Chorus Line
March 31 - April 5, 2009
A Pulitzer Prize and Tony Award-winning musical, A Chorus Line follows seventeen Broadway dancers auditioning for spots on a chorus line, and takes the audience through a relatable and unforgettable journey of self-discovery. An outstanding musical for everyone who has ever had a dream and put it all on the line. Part of the 2008/2009 Citizens Bank Broadway Series, the show had an eight-show engagement.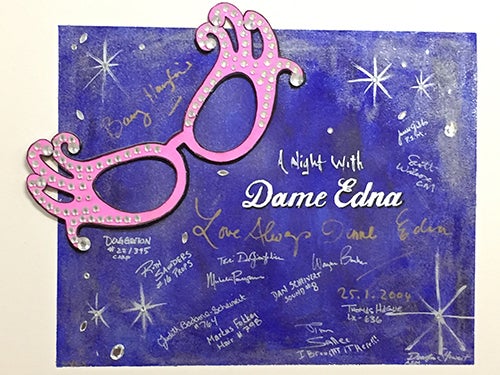 A Night With Dame Edna
January 25, 2004
Dame Edna, a celebrated Australian comedic character, came to Providence during her tour in 2004. Dame Edna is famous for her marked appearance, purple hair, and large cat-eyed glasses, as well as her boisterous personality. Australian Barry Humphries created the character in 1955; since her creation, Edna has toured and made appearances world-wide.
Addy: An American Girl Story May 3, 2008
Addy: An American Girl Story, based on the American Girl Doll, was an engrossing, emotional, and quick-moving tale. This family show handled some of the harder topics of the Civil War with tact and sensitivity, and never wavered on the truthful yet painful setting of the Civil War period.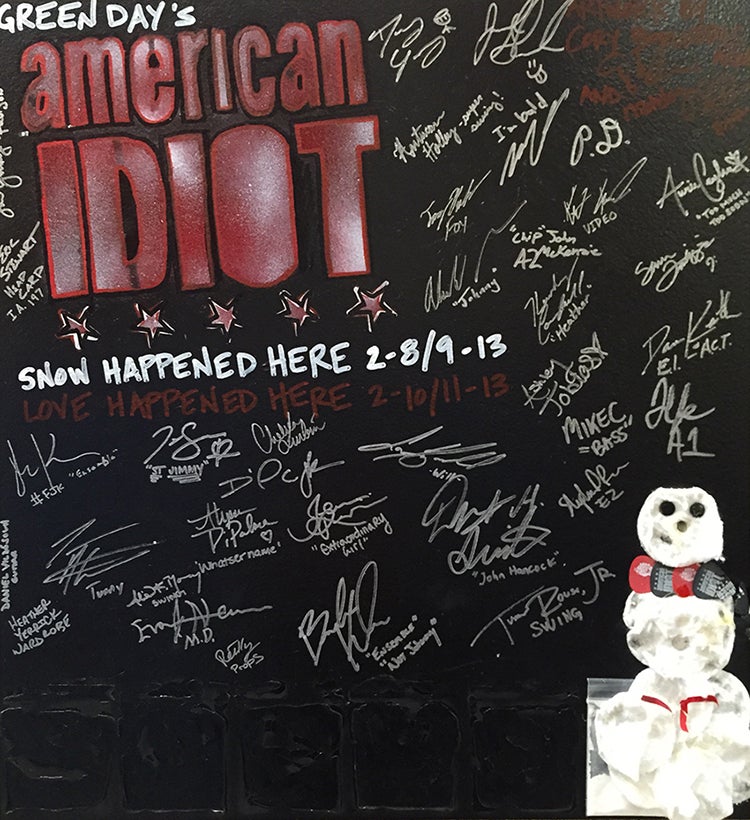 American Idiot
February 8 - 10, 2013
American Idiot was at PPAC during a tremendous snowstorm, which resulted in a flurry of cancelled and rescheduled shows (hence the snowman and the quote "Snow Happened Here"). The show won two Tony Awards and a Grammy Award for Best Musical Show Album. This new musical stunned audiences with its emotional journey, told exclusively through Green Day's songs from their eponymous 2004 album.

An American In Paris
March 13 - 18, 2018
The winner of four Tony Awards, 2015 musical An American in Paris recounts a complicated romance involving an American ex-soldier, an alluring French woman, and the post-war passions of the City of Lights. With some bumps along the way, everyone just tries to find some love and a new beginning.
An American in Paris was a part of the Taco/White Family Foundation Broadway Series.
Annie
February 23 - 25, 2001
May 30 - June 4, 2006
December 29, 2015 - January 3, 2016

​

Annie's story begins in a dingy Depression-era orphanage; Annie and fellow orphans fear their director Miss Hannigan and long for families of their own. As the story unfolds, Annie escapes from the orphanage and finds her own, unpredictable happy ending. This well-known musical features favorite songs such as "It's a Hard Knock Life," "You're Never Fully Dressed Without A Smile," and "Tomorrow."
PPAC was honored to have renowned animal trainer and rescuer Bill Berloni visit the Theatreduring the 2015 engagement of ANNIE. Berloni helped acclimate cast members who had recently joined the production with the canine stars of the show. Berloni trained the original Sandy when the show opened at the Goodspeed Opera House in 1976.

Avenue Q
October 20 - 25, 2009
Avenue Q is the smash-hit Broadway musical about real life in New York City, as told by a cast of people and puppets. This three-time Tony Award-winning musical, including 2003 Best Musical, preformed eight shows at PPAC. The show was was noted for its racy material and vulgar humor, and was especially a hit with the younger Broadway demographic. The musical took the audience through remarkable and hilarious situations of adulthood in unique ways.
Bear in the Big Blue House Live! Surprise Party
May 13 - 16, 2004
At PPAC as part of Metal Recycling LLC Family Fun Series, these eight shows performed on the PPAC stage were a full ninety minutes of fun! Based on the Disney Channel hit TV series created by Mitchell Kriegman, this show followed a lovable bear and his friends planning a surprise party. The show taught children about the lasting importance of friendship through singing and dancing.
Beautiful - The Carole King Musical
September 15 - 20, 2015 National Tour Launch!
February 27 – March 4, 2018

The National Tour Launch of Beautiful – The Carole King Musical starred Abby Mueller as Carole King. Ms. Mueller's sister, Jessie Mueller, won a Tony Award for her portrayal of Carole on Broadway. Becky Gulsvig, who previously played Elle Woods in the National Tour Launch of Legally Blonde, The Musical at PPAC, played Cynthia Weil.

Beautiful tells the inspiring true story of Carole King's remarkable rise to stardom, from being part of a hit songwriting team with her husband Gerry Goffin, to her relationship with fellow writers and best friends Cynthia Weil and Barry Mann, to becoming one of the most successful solo acts in popular music history. Along the way, she made more than BEAUTIFUL music, she wrote the soundtrack to a generation.

Beautiful was a part of the Taco/White Family Foundation Broadway Series.
Beautiful returned to PPAC February 27 – March 4, 2018, as a Broadway Special.

Disney's Beauty and the Beast
April 8 - 13, 2003
October 3 - 8, 2006
February 9 - 14, 2010 National Tour Launch!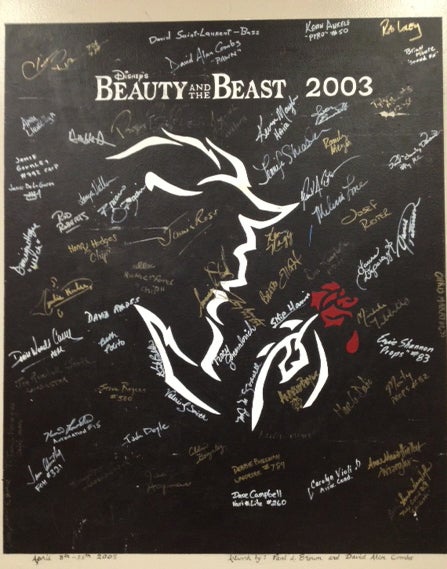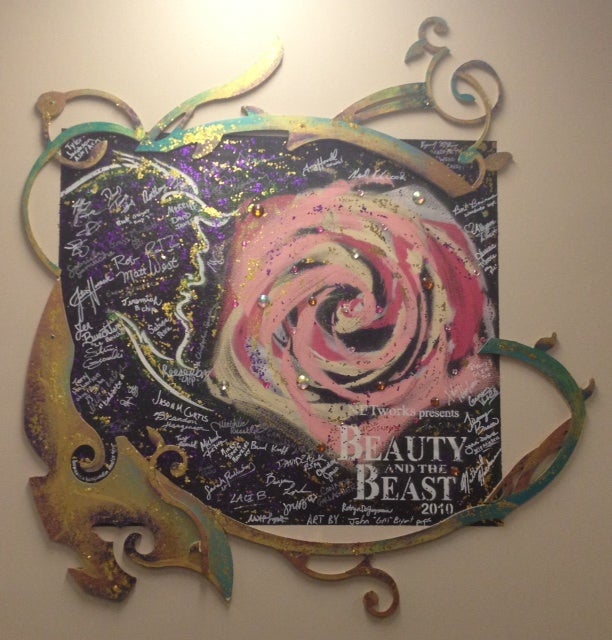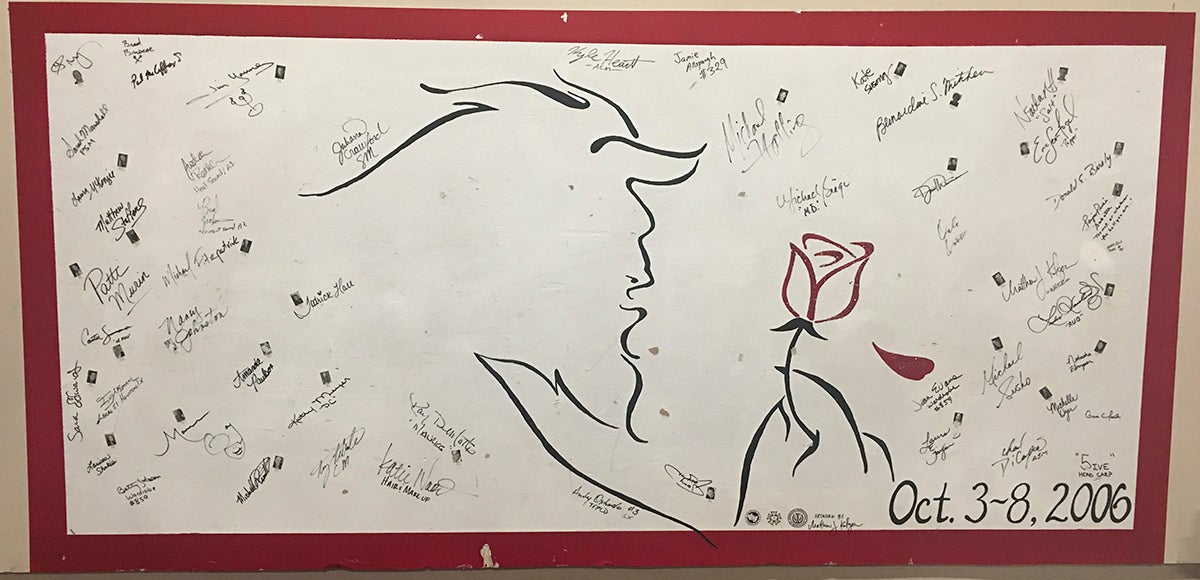 Beauty and the Beast is a Disney musical based on the film of the same name, with music by Alan Menken and lyrics by the late Howard Ashman. Additional songs were written for the Broadway production by Alan Menken and Tim Rice.
The revitalized National Tour of Beauty and the Beast launched at PPAC February 9 - 14, 2010.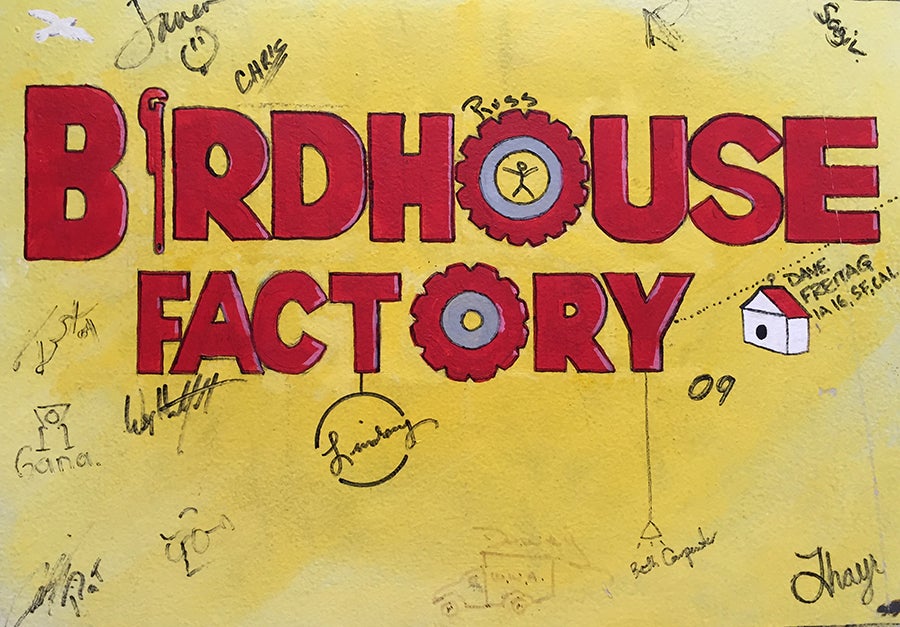 Bird House Factory
November 14, 2009
Bird House Factory is set in a 1930s Depression-era factory and is considered a modern interpretation of the traditional circus revue. The factory may be closing due to management problems but in the meantime the workforce continues to chug onwards. The show includes many of the traditional circus elements: mime, clowns, and acrobatics. This production was presented by FirstWorks.

Blast
September 29 - October 4, 2009 January 13 - 15, 2016
Created by Jason Mason, BLAST! could best be described as a theatrical marching band, featuring brass & percussion instruments, moving formations, and choreographed color guards. BLAST! originated as the Star of Indiana Drum and Bugle Corps and has performed in London, on Broadway, and in multiple national and international tours. BLAST! is the 2001 Tony Award winner for "Best Special Theatrical Event" and a 2001 Emmy Award winner for "Best Choreography."
Blue's Clues Live! Blue's Birthday Party
April 23 - 27, 2003
It's Blue's Birthday and she's celebrating it with her best friends Joe, Tickety Tock, Slippery Soap, Magenta, and Periwinkle. This interactive show engaged young audiences to help search for clues to discover what Blue wants for her birthday.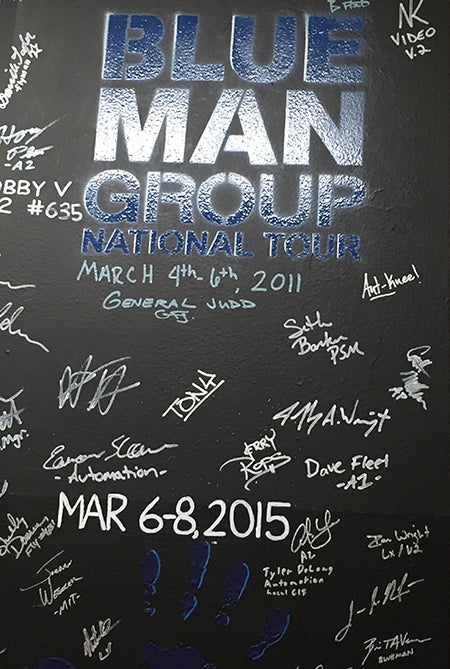 Blue Man Group
March 4 - 6, 2011
Although it is impossible to describe, BLUE MAN GROUP is an intensely exciting and wildly outrageous show that leaves the entire audience in a blissful, euphoric state. They are best known for their wildly popular theatrical shows and concerts which combine comedy, music, and technology to produce a totally unique form of entertainment.
​

Bring It On
April 24 - 29, 2012
Based upon the film of the same name, BRING IT ON is a stunt-filled musical about the dramatic world of high school cheerleading. The story follows Campbell Davis who is a high school senior expecting to be appointed captain of the cheerleading squad. Music and lyrics by Lin Manuel-Miranda, Tom Kitt, and Amanda Green with a book by Jeff Whitty.
Bullets Over Broadway
May 31 - June 5, 2016
Part of the Encore Series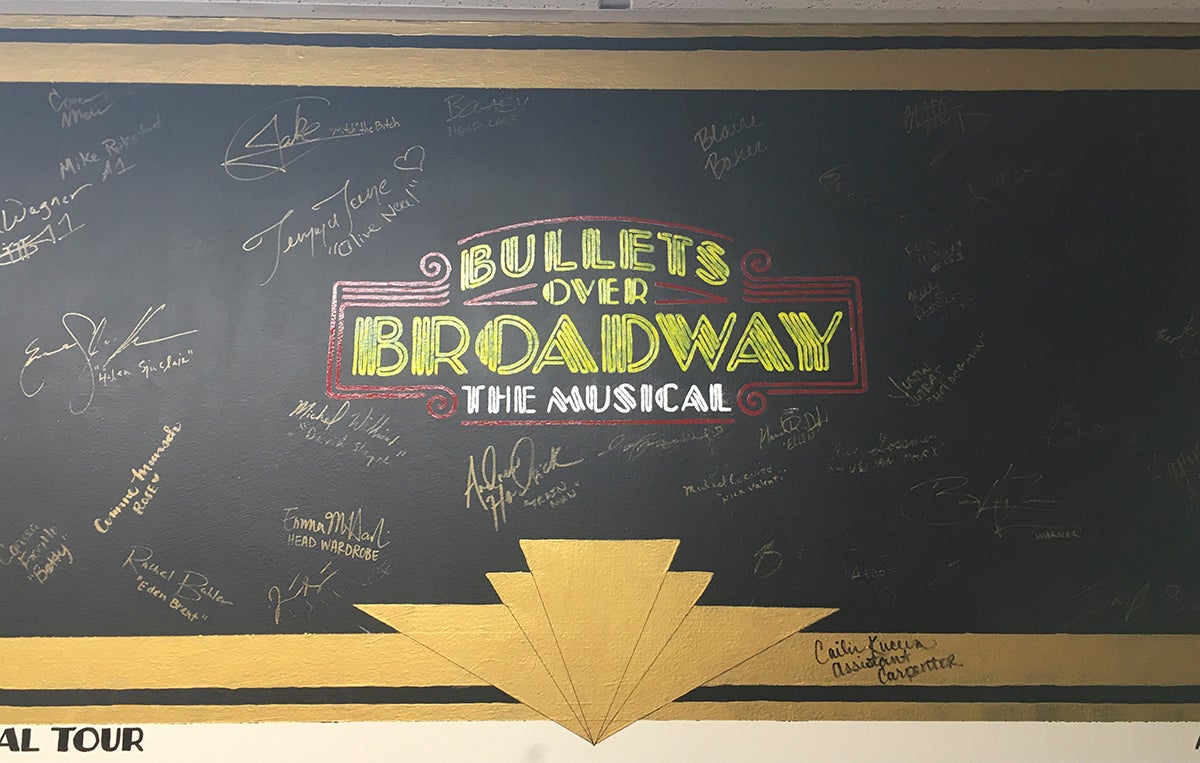 Based on the screenplay of the acclaimed film, BULLETS OVER BROADWAY brought the talents of Woody Allen and Tony Award-winner director/choreographer Susan Stroman together for the first time. This musical comedy is loaded with big laughs, colorful characters, and the songs that made the 1920's roar. Struggling playwright David Shayne is finally getting his first play staged on Broadway. However, there's a hitch: wealthy gangster backer Nick Valenti demands that his untalented girlfriend, Olive Neal, star as one of the leads. Capers ensue!
Roundabout Theatre Company's Cabaret
January 26 - 31, 2016 National Tour Launch!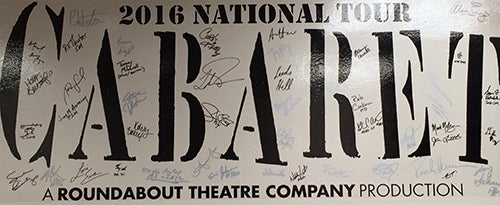 Randy Harrison, best known for his portrayal of Justin in the Showtime drama "Queer as Folk", starred as the Emcee in the 50th Anniversary production of Roundabout Theatre Company's CABARET. Andrea Goss, a veteran of Roundabout's CABARET, reprised the role of Sally Bowles.

John Kander, Fred Ebb and Joe Masteroff's Tony-winning musical features some of the most memorable songs in theatre history, including "Cabaret," "Willkommen" and "Maybe This Time." CABARET is set in the infamous Kit Kat Klub, where the Emcee, Sally Bowles and a raucous ensemble take the stage nightly to tantalize the crowd––and to leave their troubles outside. Roundabout Theatre Company's 50th Anniversary tour of CABARET features original Broadway direction by Sam Mendes and original co-direction & choreography by Rob Marshall.

Cabaret was a part of the Taco/White Family Foundation Broadway Series.
Camelot
March 4 - 9, 2008
December 9 -14, 2014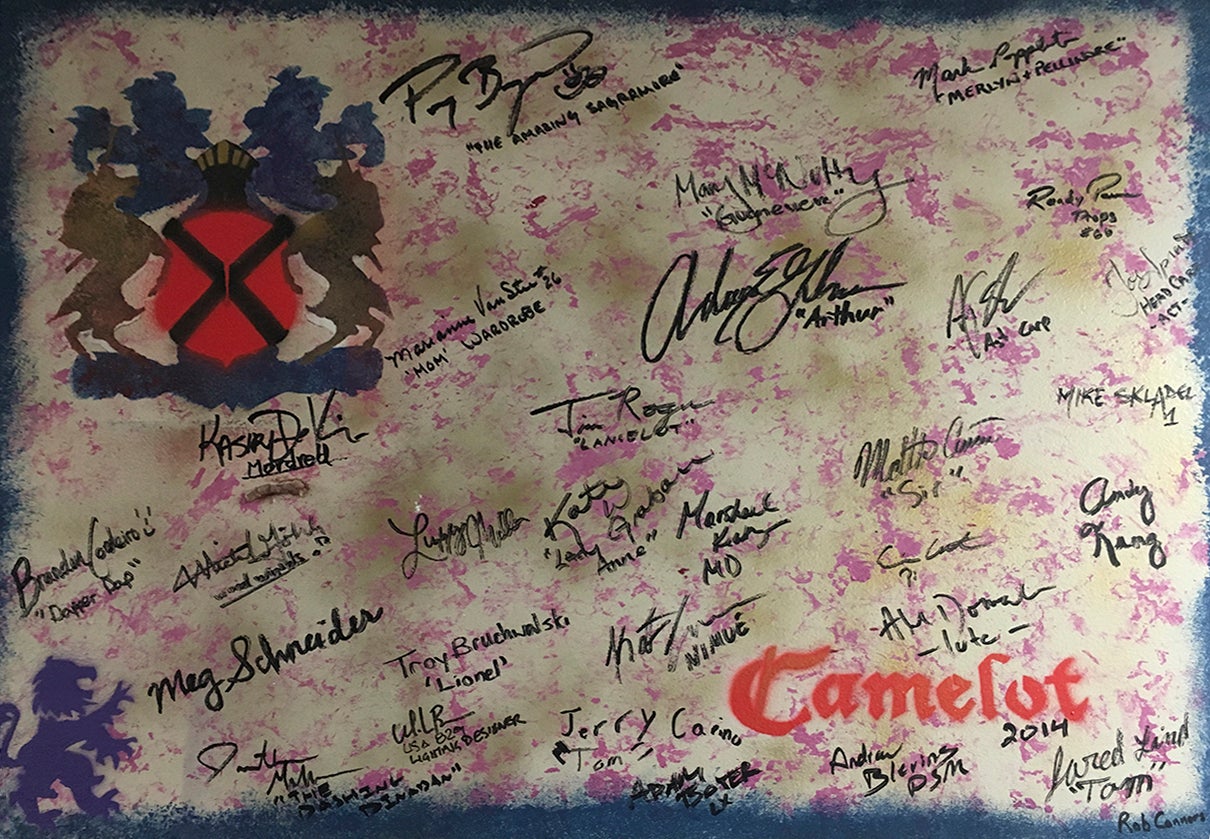 A Lerner and Loewe classic, CAMELOT tells the story of the legend of King Arthur who rules his kingdom with new ideals, bringing peace to a troubled land. But when his beautiful new Queen Guinevere and the dashing Sir Lancelot, his most trusted knight, give in to their passion for one another, one of the most fabled love triangles of all time ensues. When Mordred, King Arthur's illegitimate son, catches on and sees a kingdom in chaos, he attempts to destroy all that is Camelot!
The original 1960 Broadway cast featured Julie Andrews in the leading role of Guinevere. The show was revived multiple times on Broadway and was broadcast on HBO in 1980.
Catch Me If You Can
October 7 - 14, 2012
National Tour Launch!
The National Tour of CATCH ME IF YOU CAN debued in Providence in October 2012 and played 8 performances. The true story, also based on the 2002 film, follows con man Frank Abagnale, Jr. across the country as he flees from the FBI while indulging in a glamorous life. During this time, Abagnale poses as a lawyer, teacher, pilot, and doctor. This musical is known for its high energy and flashy dance numbers. The real Abagnale came to the Theatre to speak following one of the show's performances.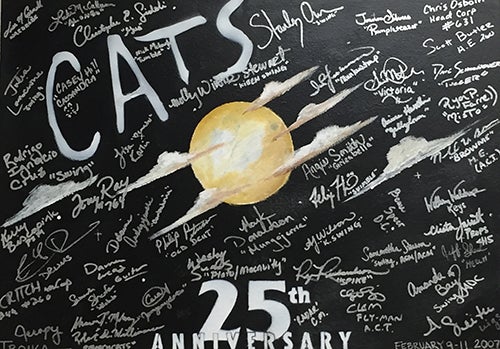 Cats
February 9 - 11, 2007
CATS is based on Old Possum's Book of Practical Cats by T. S. Elliot. The show is a collection of vignettes following the story of each poem. The music by Andrew Lloyd Webber is very well known, and includes favorites such as "Memory' and "Jellicle Cats." The show was a success on Broadway and won many awards including the Tony Award for Best Musical; for many years CATS held the title of Longest Running Show on Broadway.
Chicago
April 28 - May 3, 1998
May 2 - 7, 2017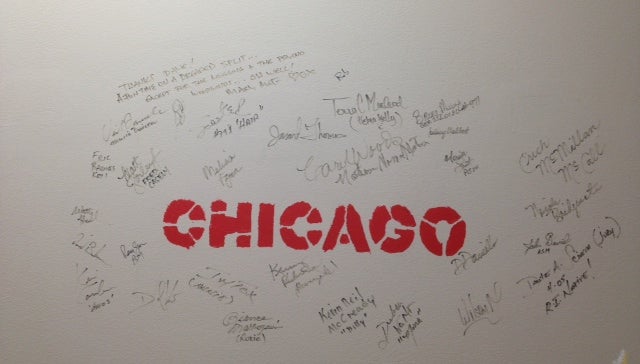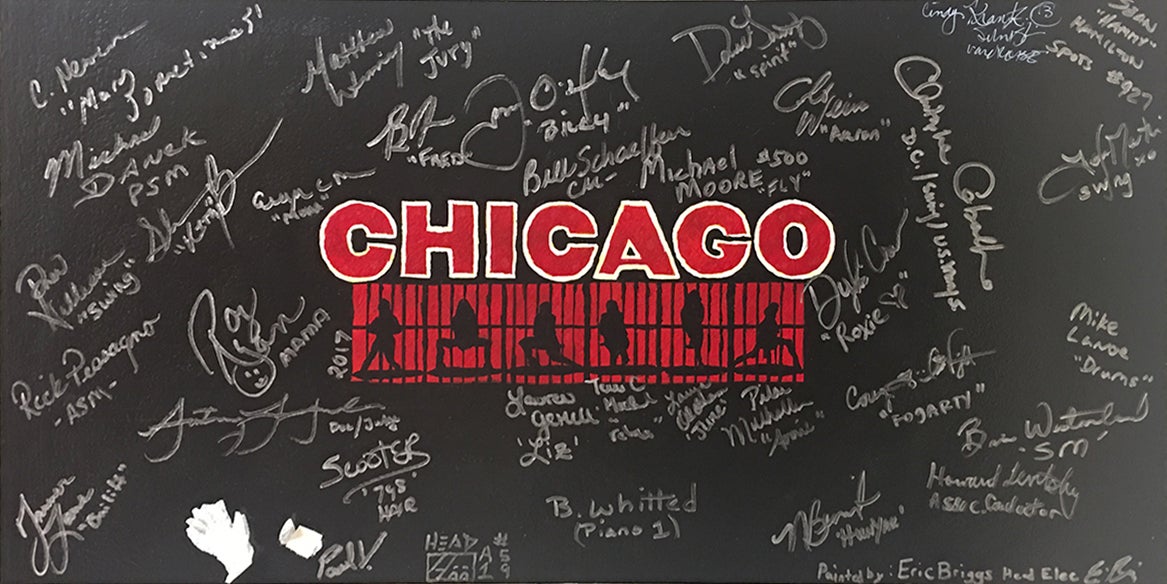 This cellblock classic tells the stories of Roxie Hart and Velma Kelly, two rival murderesses. CHICAGO's original creative team is considered a musical theatre powerhouse; the book is by famous duo Kander and Ebb and original choreography was by Bob Fosse. The musical first premiered on Broadway in 1975 and holds the record for the longest running revival of a Broadway show in American history. The show stopped in Providence in 1998 for a six-day run. For the May 2 – 7, 2017 run, TV & film actor and Providence College alum John O'Hurley reprised the role of Billy Flynn.
Chita Rivera: The Dancer's Life
May 15 - 20, 2007
Chita Rivera: The Dancer's Life celebrates two-time Tony Award winner Chita Rivera's career as a musical dancer. Written by four-time Tony Award winner Terrence McNally, directed by Tony Award nominee Graciela Daniele, and featuring an amazing cast and crew, this musical was simply stunning. Newsweek hailed Chita Rivera as "the greatest musical dancer ever!" This musical featured the popular songs and dance numbers that were some of Rivera's biggest hits.
Chitty Chitty Bang Bang
March 19 - 22, 2009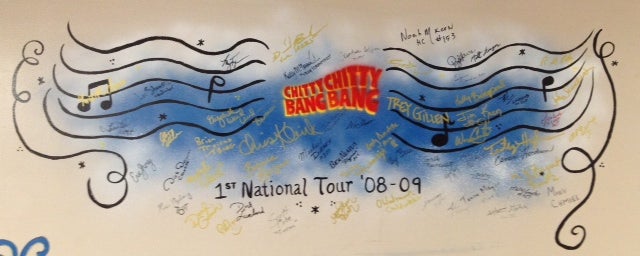 The First National Tour of Chitty Chitty Bang Bang arrived on the PPAC stage in the spring of 2009. As part of the Contemporary Classics Series sponsored by CVS Caremark, this beloved story entranced the whole audience. This show was based on the timeless novel by Ian Fleming, creator of the James Bond franchise, with music composed by the legendary Sherman brothers (composers of Mary Poppins) and had an original script for the National Tour freshly adapted by Ray Roderick.
Rodgers & Hammerstein's
CINDERELLA
October 10 - 18, 2014 National Tour Launch!



With its fresh new take on the beloved tale of a young woman who is transformed from a chambermaid into a princess, this hilarious and romantic Rodgers & Hammerstein's CINDERELLA combines the story's classic elements – glass slippers, pumpkin, and a beautiful ball along with some surprising twists. More than just a pretty face with the right shoe size, this Cinderella is a contemporary figure living in a fairytale setting. She is a spirited young woman with savvy and soul who doesn't let her rags or her gowns trip her up in her quest for kindness, compassion, and forgiveness. She longs to escape the drudgery of her work at home and instead work to make the world a better place. She not only fights for her own dreams, but forces the prince to open his eyes to the world around him and realize his dreams too.
Rodgers & Hammerstein's CINDERELLA was a part of the Taco/White Family Foundation Broadway Series.
Come Fly Away
March 2 - 4, 2012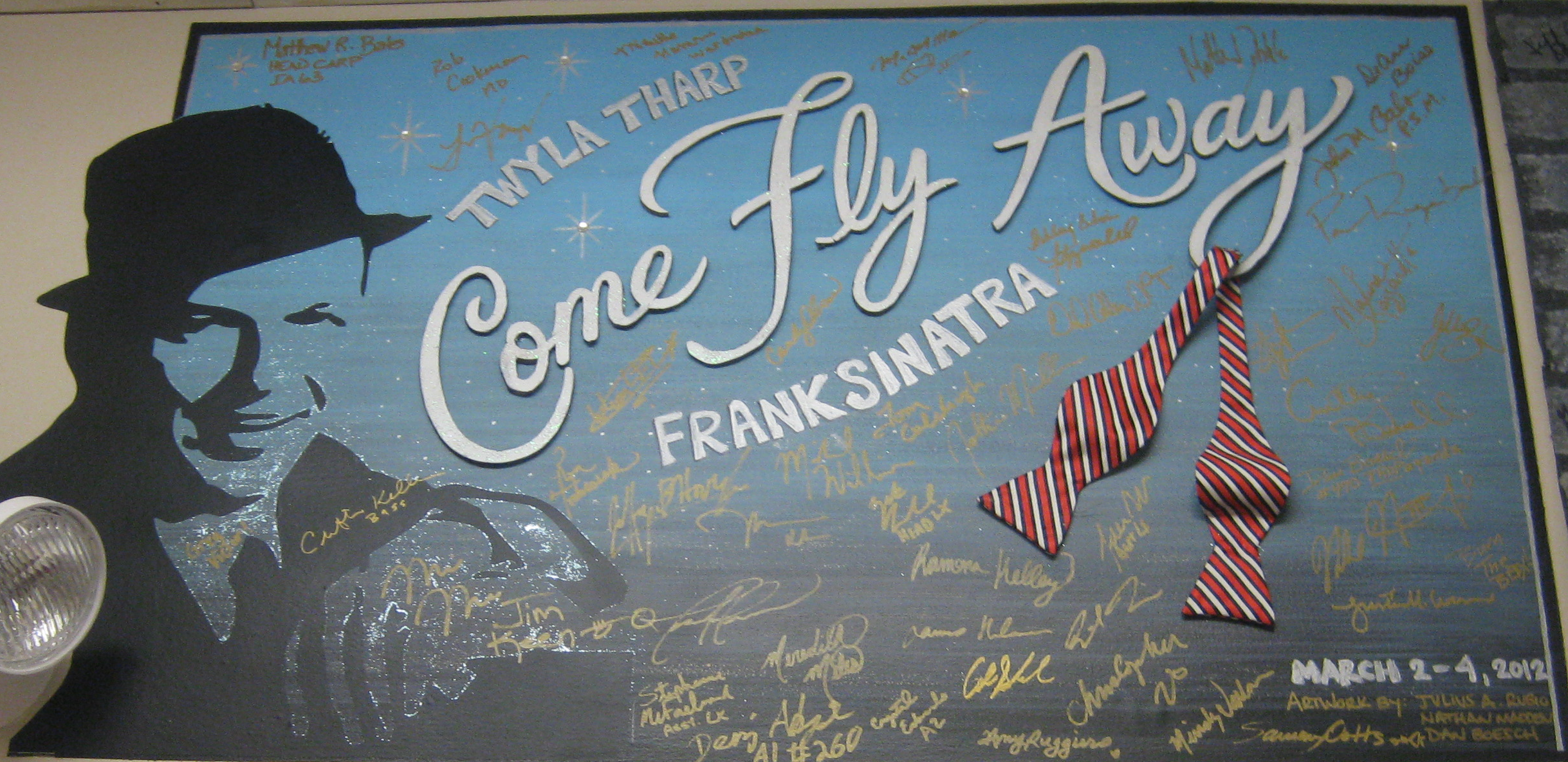 COME FLY AWAY is a dance revue directed and choreographed by the famous Twyla Tharp. Centering on the music of Frank Sinatra, the show follows four couples as they maneuver through the ups and downs of love. The National Tour, which stopped in Providence for three nights in March 2012, featured cast members from the previous Broadway and Las Vegas runs of the show.

Crazy For You
April 12 - 13, 2005
Adapted from the Gershwin's musical Girl Crazy, CRAZY FOR YOU received the Tony Award for Best Musical in 1992. The show follows rich banker Bobby Child and his affairs in Deadrock, Nevada in 1930 as he deals with a struggling theatre. The show is composed of all of Gershwin's classics such as "Nice Work if You Can Get It," "I Got Rhythm," and "Someone to Watch Over Me."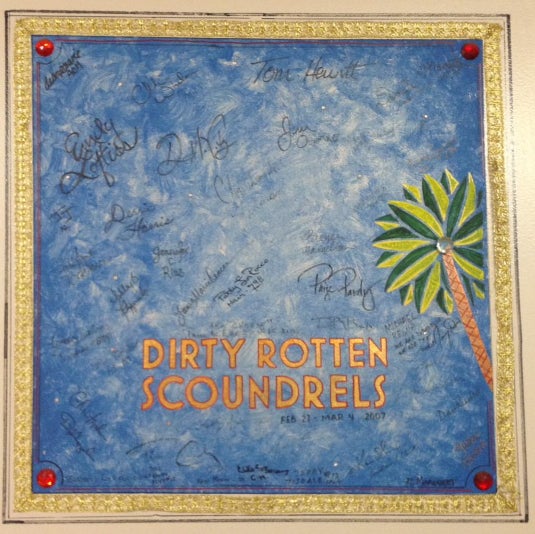 Dirty Rotten Scoundrels
February 22 - March 4, 2007
This comedic musical debuted on Broadway in 2005 and has toured nationally and internationally. The show is based on the 1988 eponymous film. Audiences laugh along as they watch con artists Lawrence and Freddy discover the best ways to swindle money and the implications that follow.

Disney Live!
November 6 - 7, 2009
With an engagement of four performances at PPAC, families were entranced by the amazing performances of Disney Live!, created and dedicated to all the things that Disney has done.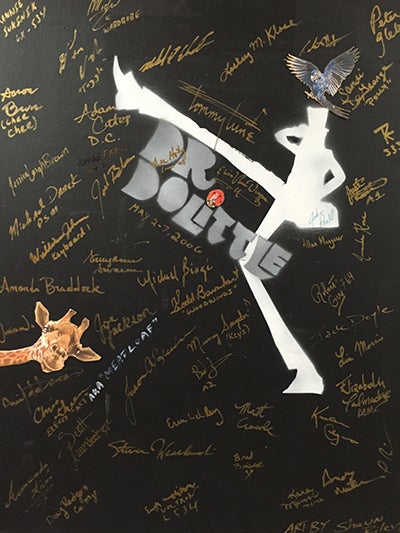 Doctor Doolittle
May 2 - 7, 2006
The captivating production of DOCTOR DOOLITTLE was the sixth and final show in the 2005/2006 Citizens Bank Broadway Series at PPAC. Multiple Tony winner Tommy Tune starred in the title role. In addition, three-time Tony Award nominee Dee Hoty played Emma Fairfax. With its charming story and enchanting score, this family friendly show fully entertained the wide range of audience members. This film version of Doctor Doolittle won an Academy Award for the song "Talk to the Animals."

Dolly
November 1, 2008
Dolly Parton performed at PPAC as part of the 2008 Annual Gala. Ms. Parton's concert was part of a tour for her 40th studio album, Backwoods Barbie. This tour, Dolly Parton's ninth, reached fans across the US, UK, Netherlands and many other countries and was considered to be her most successful to the date.
Dora The Explorer Live!
October 21 - 22 2003
In 2003, preschoolers were delighted to see their favorite characters, Dora, Boots, and Swiper take the PPAC stage. This live version of the hit children's show continued its focus on interactive learning moments; kids in the audience solved puzzles and shouted answers throughout Dora and Boot's adventures.
Dora the Explorer Live! Search for the City of Lost Toys
February 6 - 8, 2009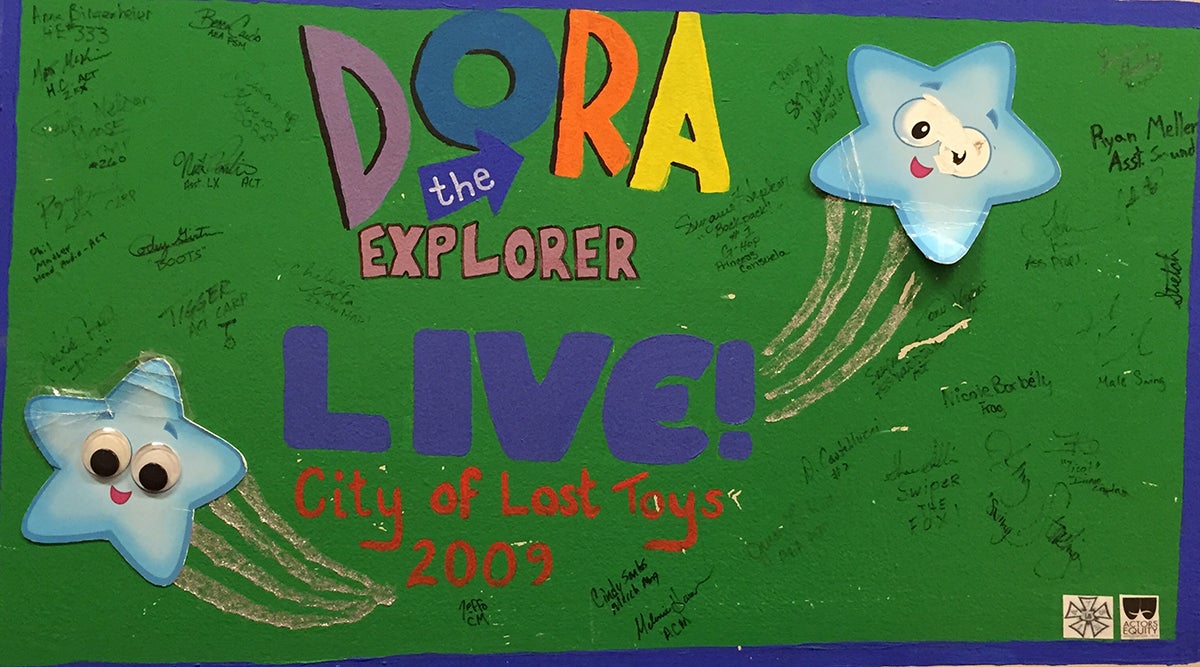 ​This Dora the Explorer Live! show finds Dora and her circle of friends searching for Dora's missing teddy bear. This adventure is full of twists and turns, thanks to their pesky follower, Swiper. Young audiences helped Dora and her friends on their search.
Dora's Pirate Adventure
March 31 - April 2, 2006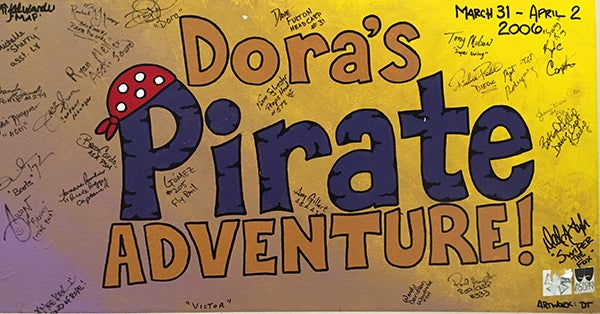 Dora and friends set out on an exciting adventure in search of valuable pirate treasure. Children interacted with their favorite explorer as they solve all of the puzzles needed to find the treasure trove!
Doubt
April 10 - 15, 2007

DOUBT, A PARABLE is a Pulitzer Prize and Tony Award winning play set in the 1960s. The story follows Sister Aloysius and her pursuit of finding the truth within matters at her parish school. This production starred Cherry Jones as Sister Aloysius.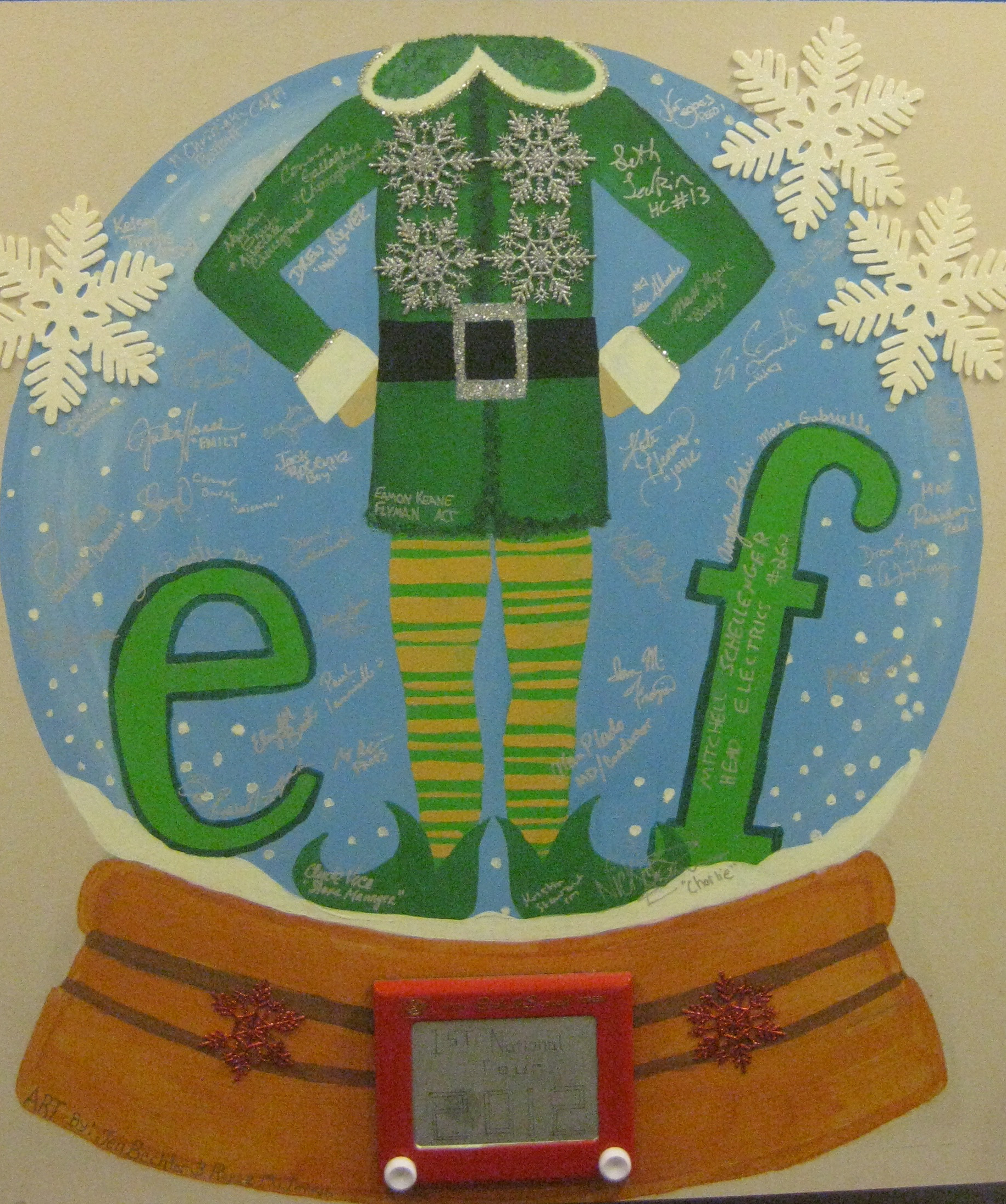 Elf
November 2 - 10, 2012 National Tour Launch!
Based on the movie of the same title, ELF THE MUSICAL follows Buddy the Elf, an orphan who mistakenly ends up in the North Pole with Santa's helpers. When Buddy returns to NYC, he is determined to spread the Christmas spirit and find his true identity. This hilarious musical features famous songs, such as "There is a Santa Claus," celebrates the spirit of Christmas.
Evita
January 3-8, 2006
September 8 - 15, 2013 National Tour Launch!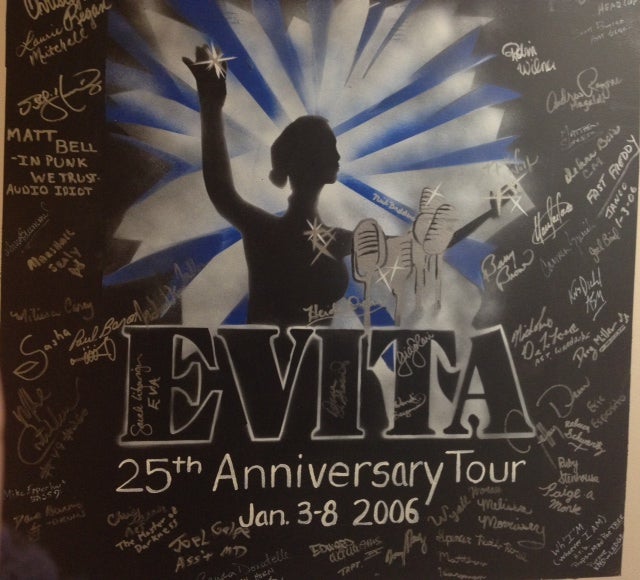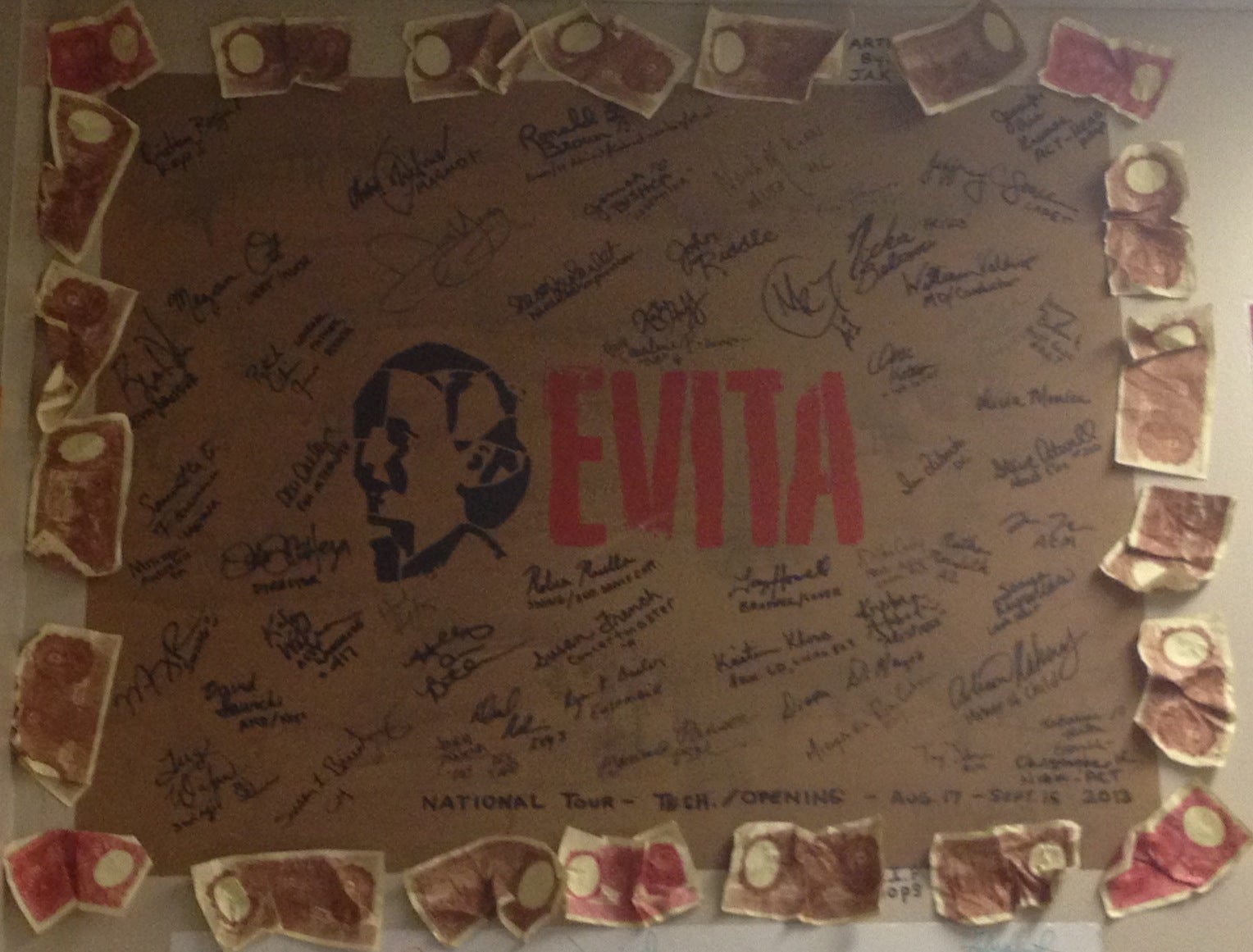 A Tim Rice and Andrew Lloyd Webber collaboration, EVITA became the first British musical to be awarded Best Musical at the Tony Awards. The story follows the life of Eva Peron, first lady of Argentina from 1946 until her death in 1952.
Fiddler on the Roof
February 4 - 6, 2005
November 23 - 25, 2012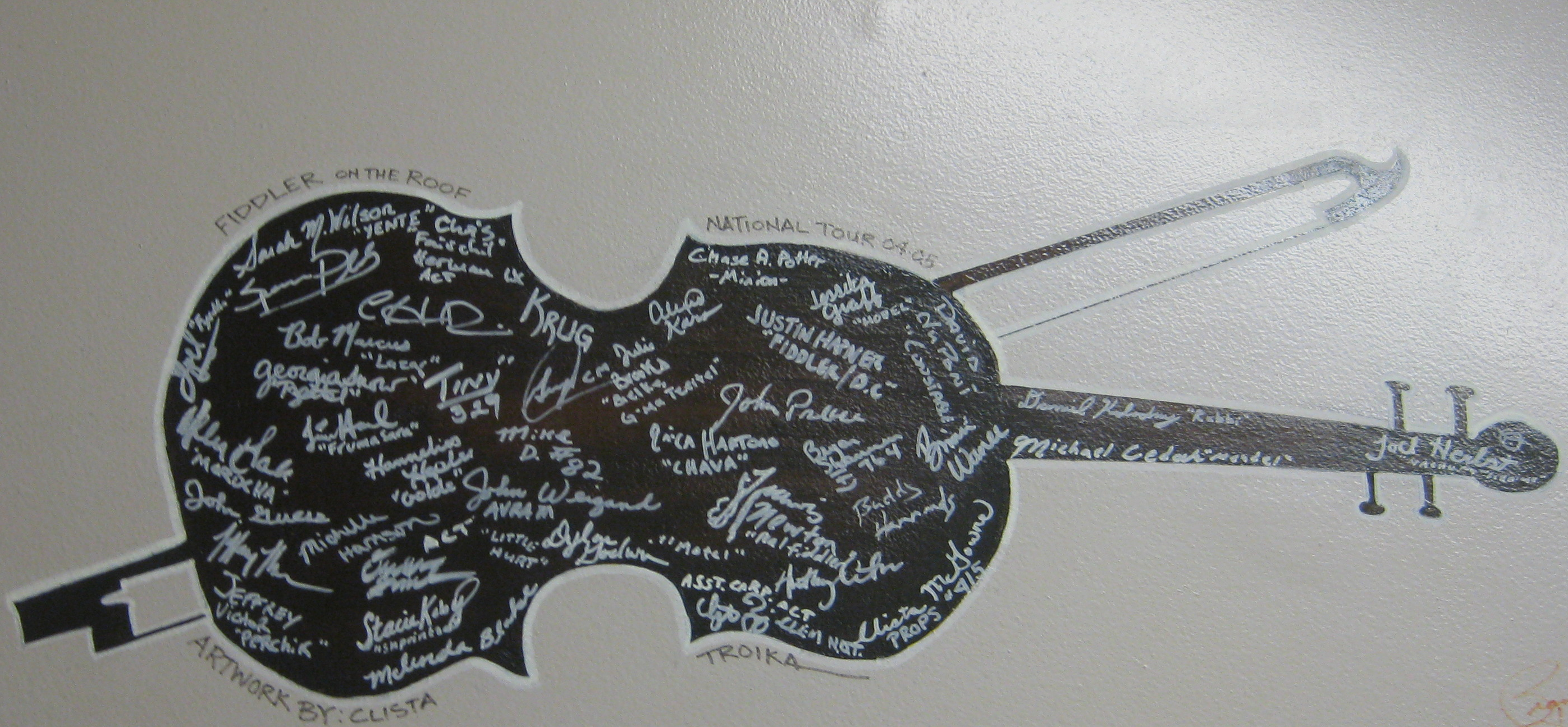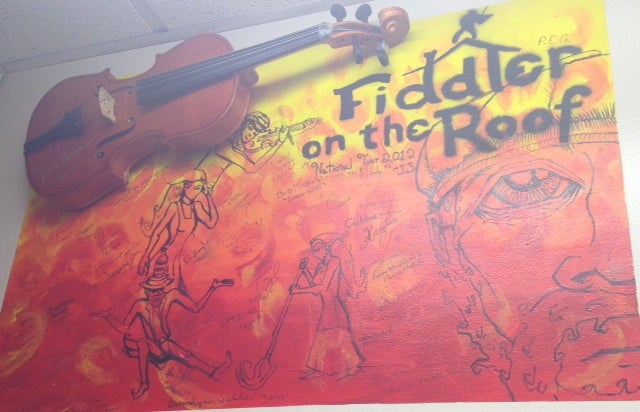 Opening on Broadway in 1964, FIDDLER ON THE ROOF has captured the hearts of audiences all over the world.

FIDDLER ON THE ROOF is the winner of ten Tony Awards, and has been nominated for three others, as well as winning and being nominated for multiple Oscars and Golden Globes.

Part of the Contemporary Classic Series in 2012, its five performances at PPAC were filled with heartwarming songs. Broadway star Jimmy Ferraro effectively captivated and wowed audiences with his portrayal of Tevye, making the shows even more captivating. These performances magically weaved music, dance, sorrow and laughter into an electrifying and unforgettable experience.

Fiddler on the Roof Starring Topol
February 10 - 16, 2009
Chaim Topol starred in the 2009 National Tour of FIDDLER ON THE ROOF. Topol played Tevye in the 1971 film of the same name and has played the role more times than any other actor.

Finding Neverland
November 28 - December 3, 2017
FINDING NEVERLAND, a Broadway musical adapted from the Academy Award-winning film of the same name, tells the magical tale of struggling playwright J.M. Barrie who finds inspiration in widow Sylvia and the make believe adventures of her four young sons. A nostalgic fantasy, Neverland invites us to keep the inner child spirit alive, getting older but never growing up.
Renowned animal trainer and rescuer Bill Berloni trained the two dogs (Sammy and Bailey) who played and understudied as J.M. Barrie's dog Porthos in FINDING NEVERLAND.
Flashdance - The Musical
March 25 - 30, 2014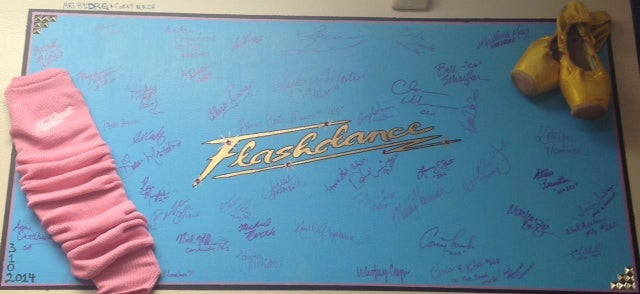 This musical was the most recent stage adaptation of the 1983 hit film Flashdance that defined a generation. Part of Taco/ White Family Foundation Broadway Series, this musical graced the PPAC stage with its unforgettable songs and dances.

Fun Home
November 7 - 12, 2017
Based on Alison Bechdel's award-winning graphic memoir, Fun Home follows young cartoonist Alison at three different ages, navigating the surprising memories and mysteries of childhood and self. Dysfunctional family relationships resonate with audiences in this comedic, tragic, and ultimately honest coming-of-age tale.

In the National Tour of Fun Home, adult Alison was played by Kate Shindle, who has served as President of the Actors' Equity Association since 2015. A groundbreaking production, Fun Home is the winner of five 2015 Tony Awards including Best Musical.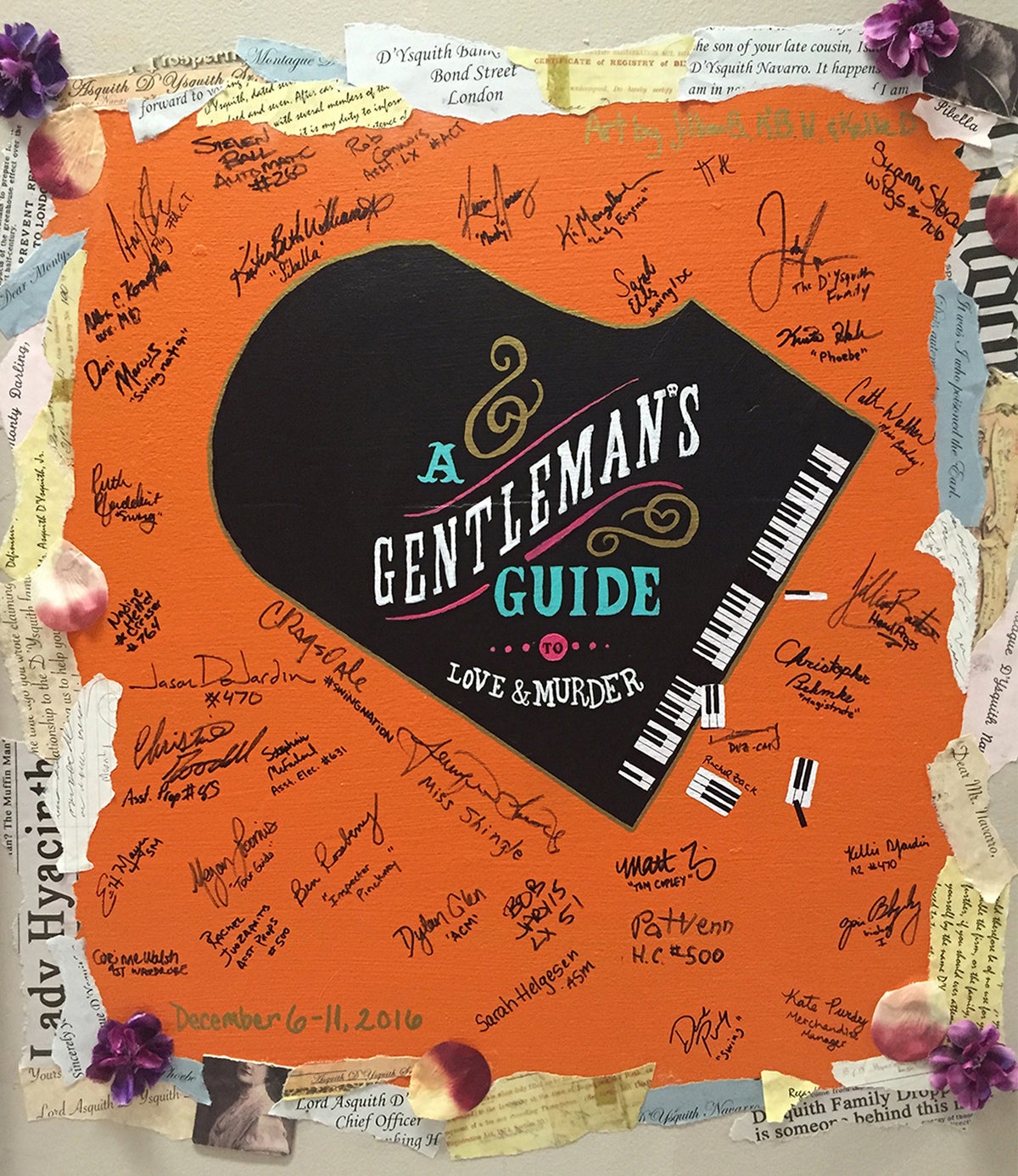 A Gentleman's Guide to Love & Murder
December 6 - 11, 2016
Part of the Taco/White Family Foundation Broadway Series
Getting away with murder can be so much fun… and there's no better proof than the knock-'em-dead hit show that's earned unanimous raves and won the 2014 Tony Award® for BEST MUSICAL—A GENTLEMAN'S GUIDE TO LOVE & MURDER!
GENTLEMAN'S GUIDE tells the story of Monty, an heir to a family fortune who sets out to jump the line of succession by—you guessed it—eliminating the eight relatives (all played by one fearless man) who stand in his way. All the while, Monty has to juggle his mistress, his fiancée and the constant threat of landing behind bars! Of course, it will all be worth it if he can slay his way to his inheritance… and be done in time for tea. The Hollywood Reporter raves, "GENTLEMAN'S GUIDE restores our faith in musical comedy."

Ghost
October 21 - 27, 2013
Adapted from the popular film of the same title, GHOST is a romantic story between main characters Sam and Molly. When Sam dies, he becomes caught between the living world and the dead; the story surrounds Sam's communications to Molly through a medium.
GHOST was a part of the Taco/White Family Foundation Broadway Series.
Go, Diego, Go Live!
February 15 - 17, 2008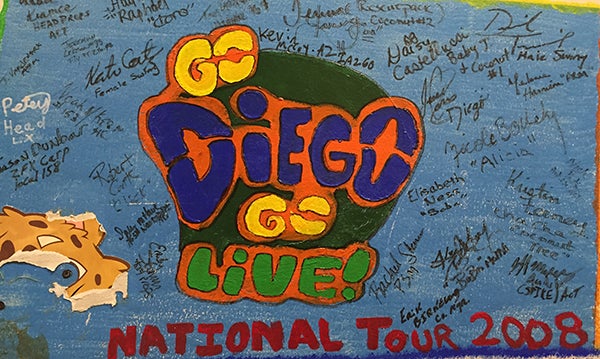 Go Diego, Go Live! is a family experience; children see their favorite television characters, Diego and Alicia as they set out on their adventure to get Baby Jaguar's growl back.
Grease
April 29 - May 1, 2003
December 2 - 7, 2008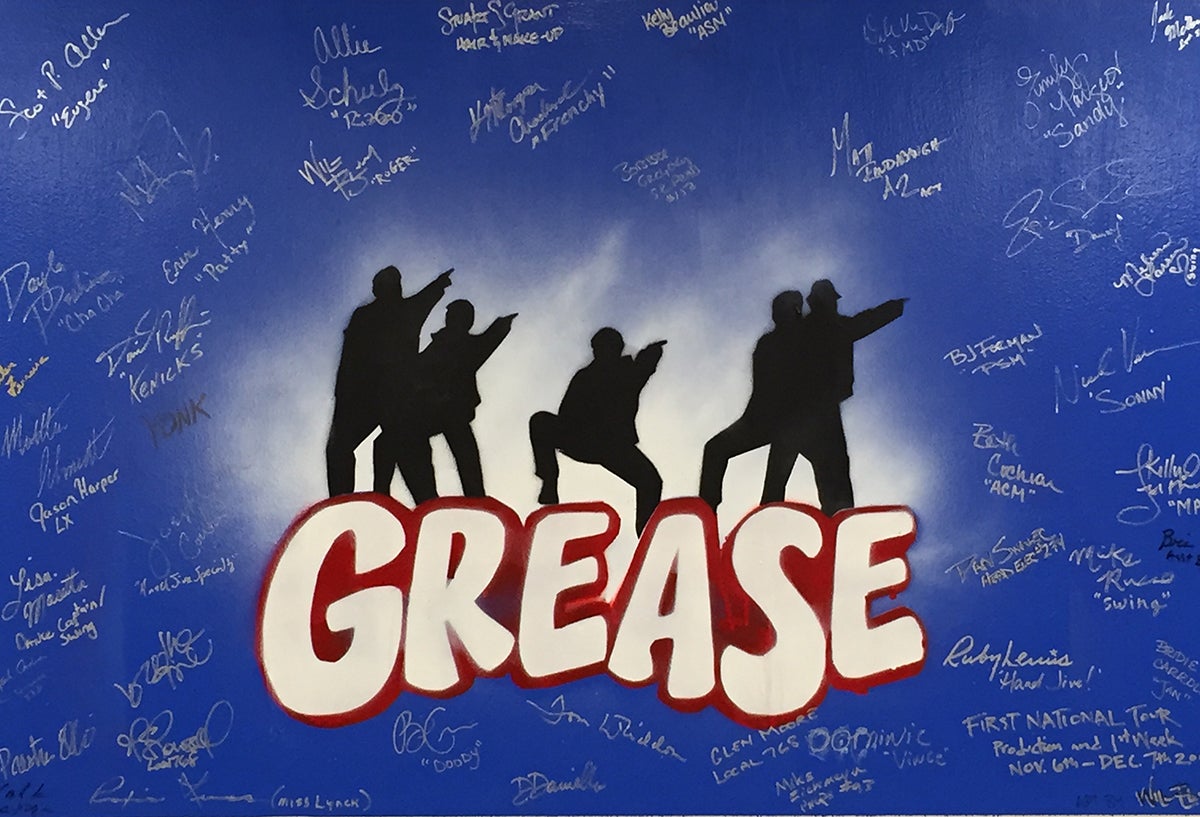 Grease is the word! GREASE is a feel-good 1950s musical full to the brim with catchy tunes, high energy dances, and high school drama. The story follows Danny and Sandy as they fall in love at Rydell High and test their personal core values against intense peer pressure.

Hairspray
November 4 - 16, 2003
HAIRSPRAY is a Tony Award winning Best Musical, with a vibrant, upbeat story based in a controversial and progressive time. This musical with memorable songs like, "You Can't Stop the Beat," and "Good Morning Baltimore," coupled with iconic dance moves from the 1960s made for stunning performances. The HAIRSPRAY cast had the audiences up on their feet applauding by the end of each show!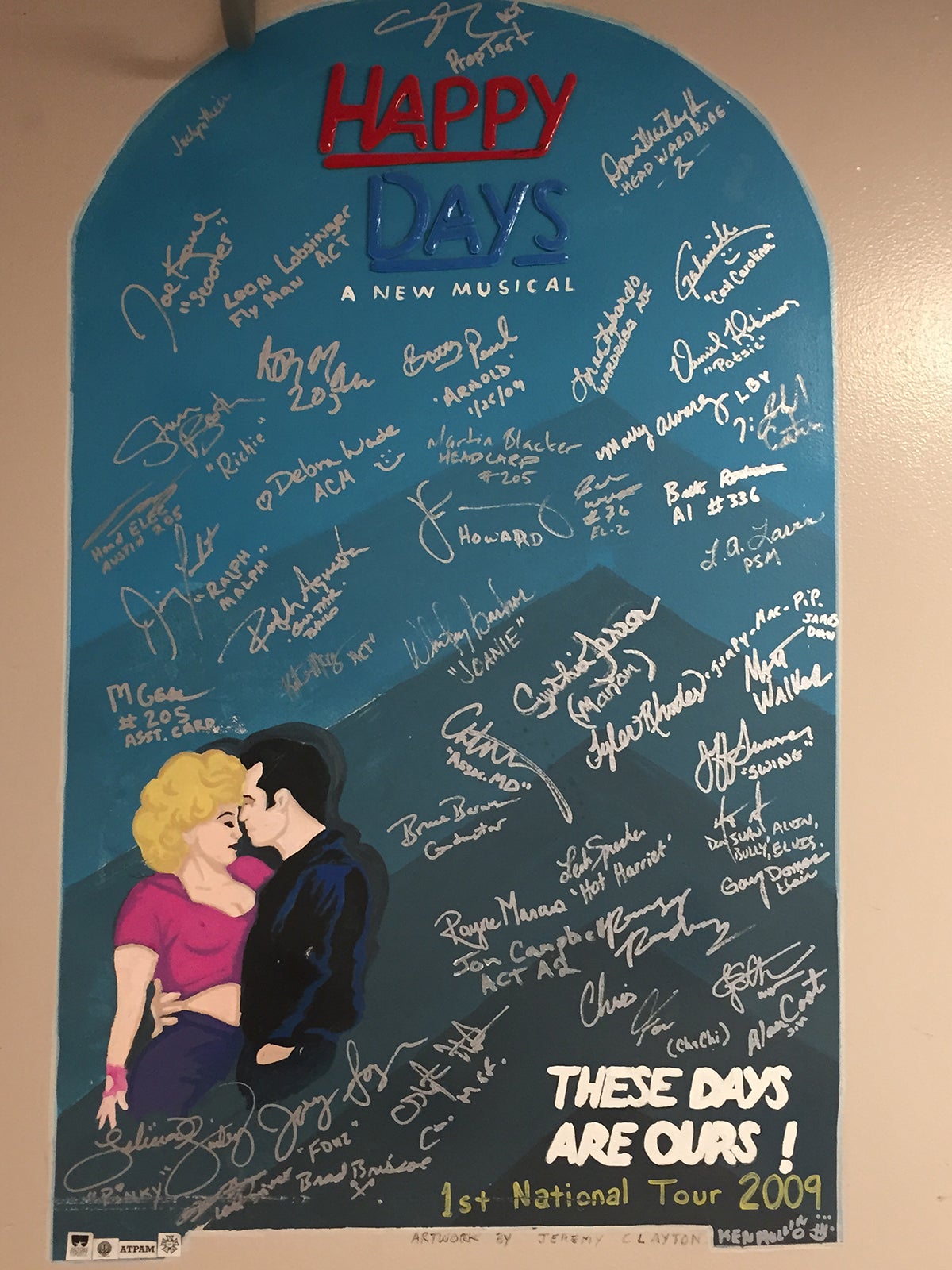 Happy Days
January 23 - 25, 2009
The nostalgic 1950s "time capsule" show called HAPPY DAYS kicked off the CVS Caremark Contemporary Classics Series. Based on the hit Paramount Pictures' television series, HAPPY DAYS reintroduces one of America's most beloved families, the Cunninghams, and the days of 1959 Milwaukee. This musical featured a book written by the TV series's legendary creator, the late Garry Marshall, with music and lyrics composed by Academy Award-winning composer Paul Williams. The five-show engagement was perfect family entertainment for its PPAC audience.
Disney's High School Musical on Tour!
November 20 - 25, 2007
Disney's HIGH SCHOOL MUSICAL ON TOUR! is based on the Emmy Award-winning Disney Channel Original Movie. Audiences followed the stories of each character as they surfed the tricky tides of high school, defied expectations, and took chances on their dreams. This show included a live orchestra, a cast of 34 talented theatrical performers, and amazing sets and costumes that brought the show to life!
Dr. Seuss' How the Grinch Stole Christmas! The Musical
November 15 - 20, 2011
A family holiday classic, Dr. Seuss' How the Grinch Stole Christmas! The Musical has consistently proved to be a heart warming standard of the holiday. The musical featured well-known songs such as 'You're a Mean One, Mr. Grinch.' Stefan Karl starred as "The Grinch." The Icelandic actor has performed as the creature whose "heart is three sizes too small" since 2010.

I Love Lucy! Live on Stage
February 24 - March 1, 2015
Part of the Taco/White Family Foundation Broadway Series
I LOVE LUCY® LIVE ON STAGE brought PPAC audiences back to 1952 and onto the Desilu Playhouse soundstage, where two I LOVE LUCY® episodes are being filmed. A charming hosts entertains and enlightens you to the behind-the-scenes filming process, the 1950s hi-fidelity technology, and this brand new thing called "television." The Crystaltone Singers perform live advertising jingles of the show's "newest sponsors" in pitch perfect 1950s style harmony.

If/Then
June 14 - 16, 2016
Part of the Taco/White Family Foundation Broadway Series
The National Tour of IF/THEN starred original Broadway cast members Anthony Rapp (Rent) as Lucas and Jackie Burns (Wicked, Hair) as Elizabeth, and also featured American Idol alumna Tamyra Gray as Kate. From the Pulitizer Prize and Tony Award-winning creators of Next to Normal, IF/THEN simultaneously follows one woman's two possible life paths, telling a deeply moving portrait of one's life, as well as the other lives that one might lead. IF/THEN was the final installment in PPAC's 2015/2016 Season.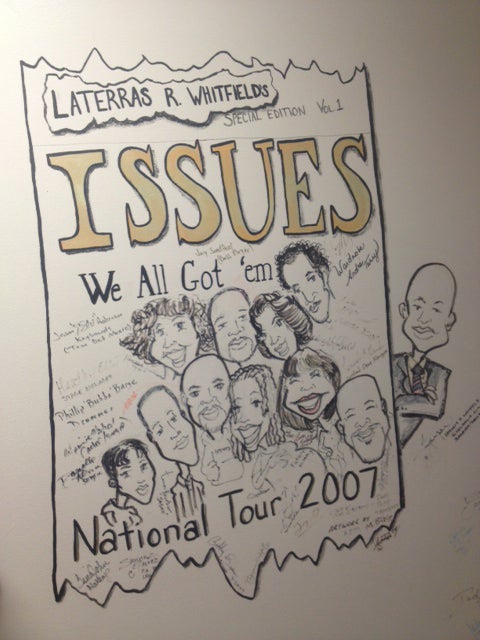 Issues…We All Got 'Em
March 25, 2007
Dallas-based playwright Laterras R. Whitfield's play delved into the lives of seven individuals as they confront their own "issues" concerning marriage, fidelity, money, and parenthood.

Irving Berlin's White Christmas
December 8 - 13, 2015
Part of the Taco/White Family Foundation Broadway Series
IRVING BERLIN'S WHITE CHRISTMAS arrived just in time for the holidays at PPAC. WHITE CHRISTMAS tells the story of a song-and-dance team putting on a show in a magical Vermont inn and falling for a stunning sister act in the process. WHITE CHRISTMAS is based on the classic 1954 romantic comedy film, which starred Bing Crosby, Danny Kaye, Rosemary Clooney, and Vera-Ellen.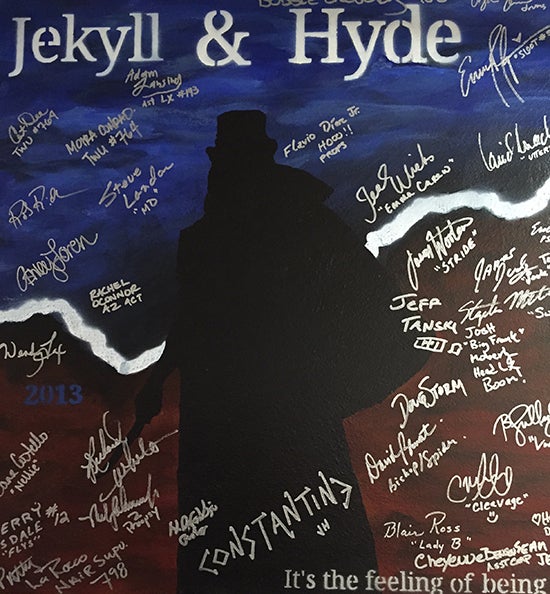 Jekyll & Hyde
January 1 - 6, 2013
Part of the Taco/The White Family Foundation Broadway Series,this four time Tony Award-nominated musical wowed the PPAC audience with its dark and dangerous love story. Tony Award-nominated Constantine Maroulis starred as Dr. Jekyll and Mr. Hyde, alongside Grammy Award-nominee and R&B superstar Deborah Cox as Lucy. This revival of JEKYLL & HYDE toured nationally before opening on Broadway in the spring of 2013.
Jersey Boys
May 12 - June 6, 2010
August 15 - September 2, 2012
April 26 - May 1, 2016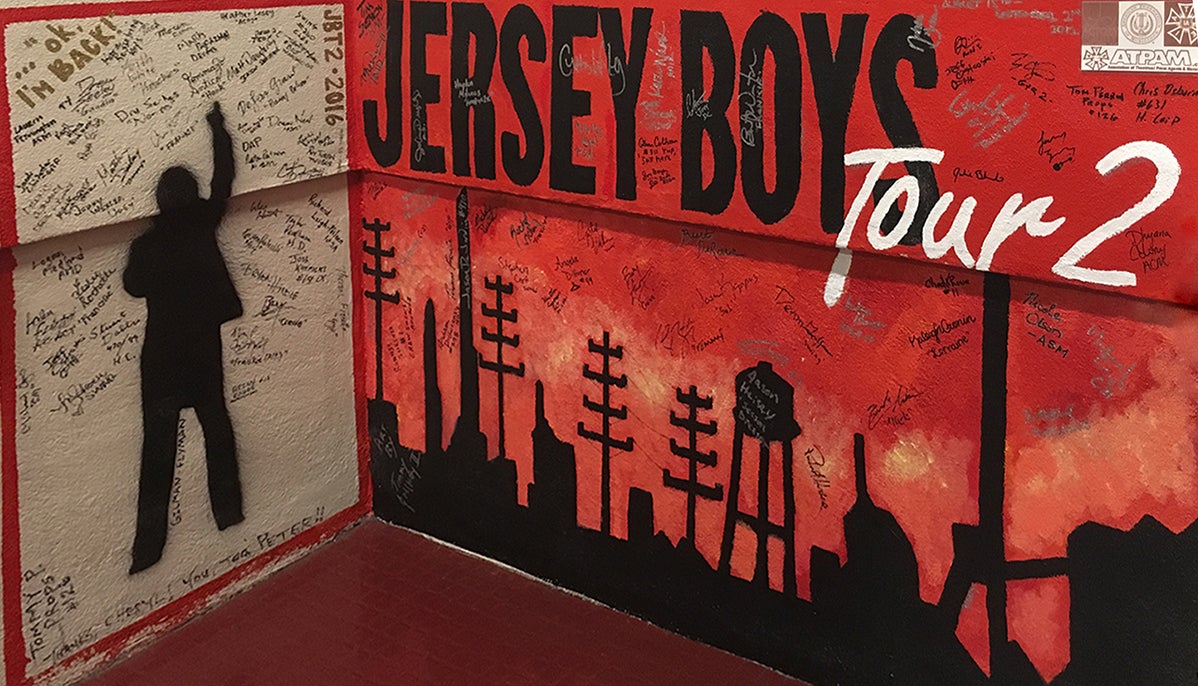 JERSEY BOYS is the 2006 Tony, Grammy and Olivier Award-winning hit musical about Frankie Valli and the Four Seasons: Frankie Valli, Bob Gaudio, Tommy DeVito, and Nick Massi. This is the true story of how a group of blue-collar boys from the wrong side of the tracks became one of the biggest American pop music sensations of all time. They wrote their own songs, invented their own sound and sold 175 million records worldwide - all before they were thirty. The show features all their hits including "Sherry," "Big Girls Don't Cry," "Oh What A Night," "Walk Like A Man," "Can't Take My Eyes Off You" and "Working My Way Back To You."
The show was under the direction two-time Tony Award-winner Des McAnuff, and previously written by Academy Award-winner Marshall Brickman and Rick Elice.
Jesus Christ Superstar
January 14 - 16, 2005
April 14, 2009
JESUS CHRIST SUPERSTAR is an Andrew Lloyd Webber and Tim Rice collaboration. The storyline of this rock opera loosely follows the story of Jesus' last week of life but includes several contemporary references and emotional and political layers. Considered a groundbreaking and controversial work when it debuted in 1971, it has proven to be an enduring and popular musical, and is now considered a classic.
Joseph and the Amazing Technicolor Dreamcoat
February 7 - 11, 2006
November 4 - 9, 2014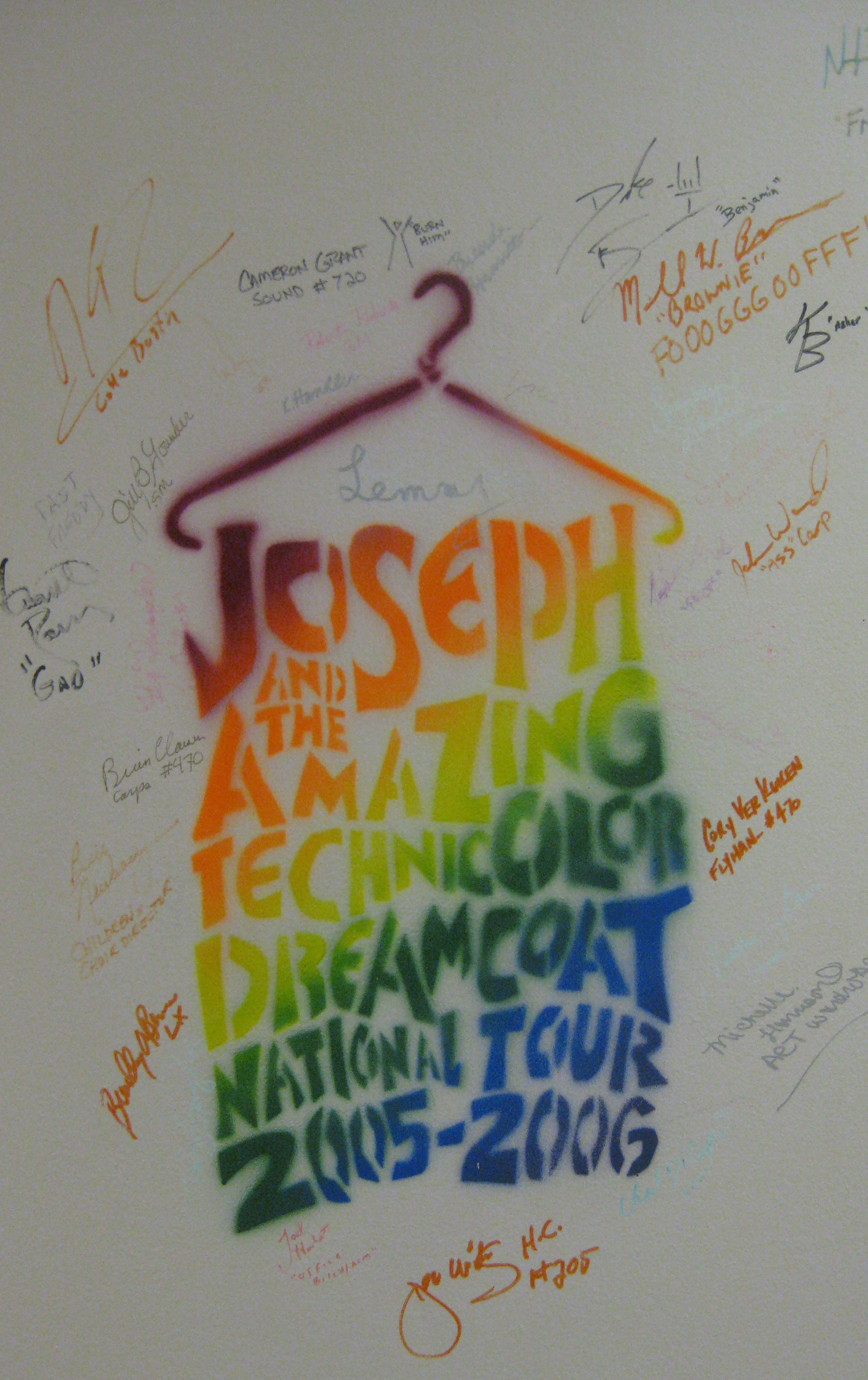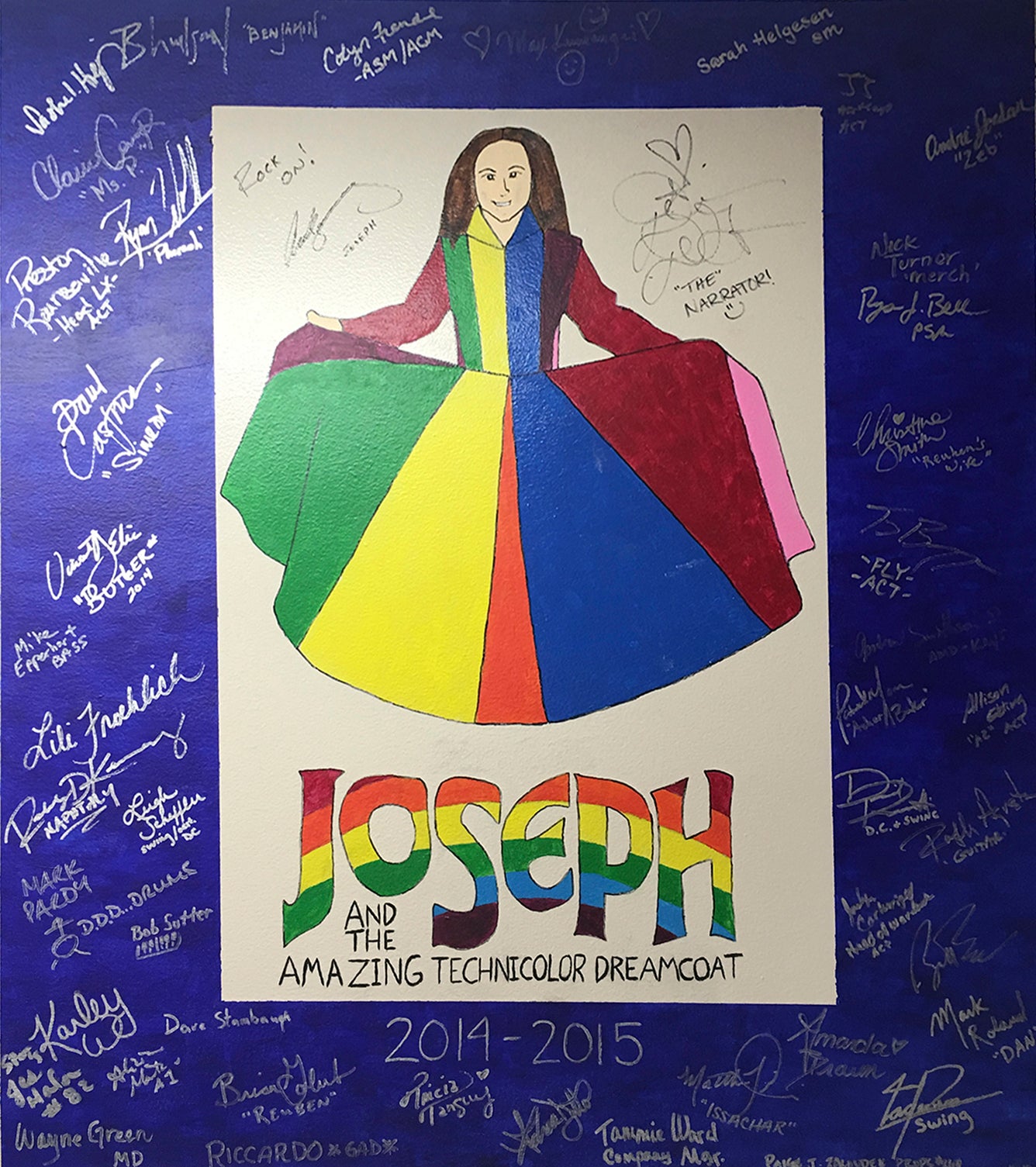 A Tim Rice and Andrew Lloyd Webber collaboration, JOSEPH AND THE AMAZING TECHNICOLOR DREAMCOAT is a completely sung- through musical based on the Bible story of Joseph and the Coat of Many Colors. The catchy music and lighthearted story line have made this musical a favorite for children and adults alike.

The 2014 tour starred the real-life married couple and American Idol contestants Ace Young and Diana DeGarmo. Young starred as Joseph and DeGarmo starred as The Narrator.

Legally Blonde the Musical
September 21 - 28, 2008 National Tour Launch!
Based on the 2001 film of the same name, LEGALLY BLONDE THE MUSICAL is a fun-filled comedy following California-girl Elle Woods and her endeavors at Harvard Law School. Packed with lighthearted entertainment, Legally Blonde delighted audiences around the country after launching at PPAC in 2008.
Les Misérables
November 1 - 6, 2011
September 21 - 30, 2017- National Tour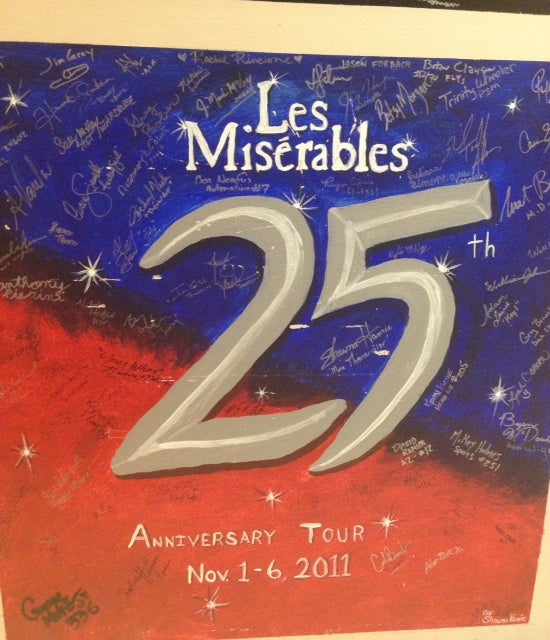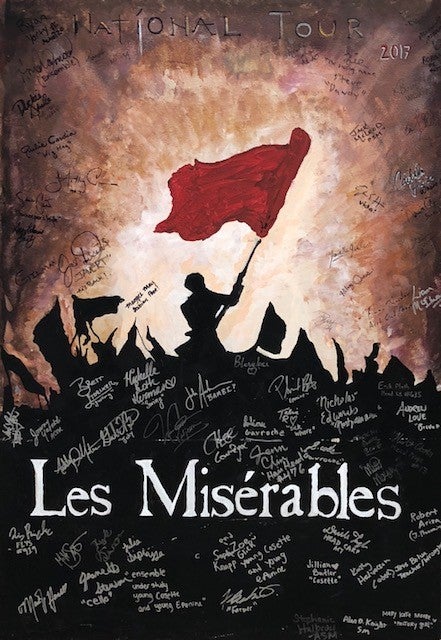 One of the most beloved musical tales of all time, Les Misérables is based on the classic novel by Victor Hugo. The intense story follows several characters during the French Revolution who are made to question love and loyalty in their actions.

The production premiered in Paris in 1980 and has run continuously in London since 1985. The National Tour of Les Misérables launched at PPAC September 21 – 30, 2017 as part of the 2017/2018 Encore Series.

Lord of the Dance
May 5 - 6, 2009
LORD OF THE DANCE, an Irish dance spectacular, has performed across the globe due to its smashing success. Michael Flatley, creator of both Riverdance and Lord of the Dance, challenged the bounds of Irish dance with this produciton. The show broke numerous box office records and wowed Providence audiences for two nights in 2009.

Love Never Dies
December 26 - 31, 2017
A captivating sequel to The Phantom of the Opera, Webber's Love Never Dies sees the return of the mysterious phantom ten years later, living off his music among the side shows of Coney Island. Unfulfilled and yearning for his lost love Christine, the Phantom lures the renowned soprano to New York to sing in his opera house and realize their haunting romance.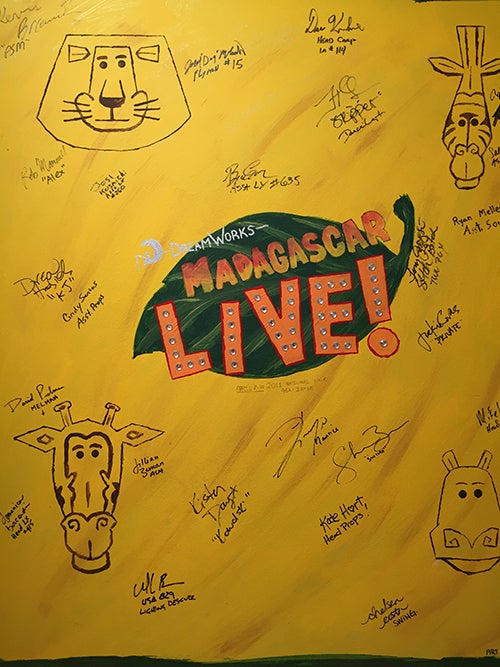 DreamWorks' Madagascar Live!
April 8 - 10, 2011
In 2011 DreamWorks Theatricals embarked on its first ever live family touring show, Madagascar Live! The production ran for three days with a grand total of seven performances, each time engaging its audiences with phenomenal dancing, singing and acting performances. These live 90-minute shows were delightful family shows.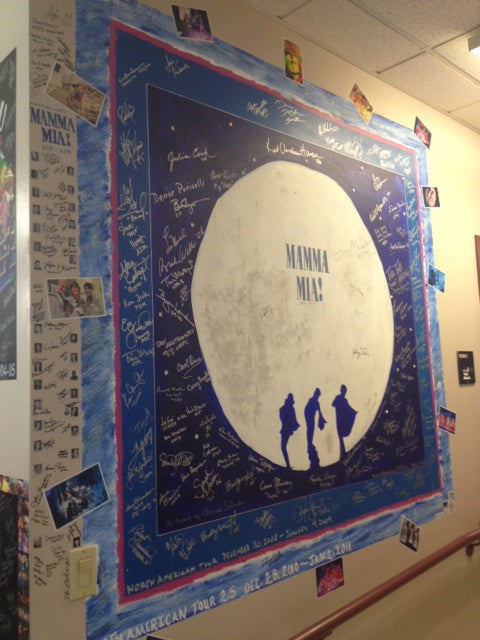 Mamma Mia!
December 28, 2010 - January 2, 2011
An extremely popular "feel-good" show, Mamma Mia! debuted on Broadway in 1999 and has since been performed world-wide. The musical is set to the music of the ABBA album. The story centers on Donna Sheridan's daughter, Sophie, as she seeks to find the identity of her true father before her wedding day; all control is lost on the tiny Greek island as three possible candidates emerge and are forced to revisit their past in order to discover the truth.
Man of La Mancha
March 27 - April 1, 2007 February 14 - 16, 2014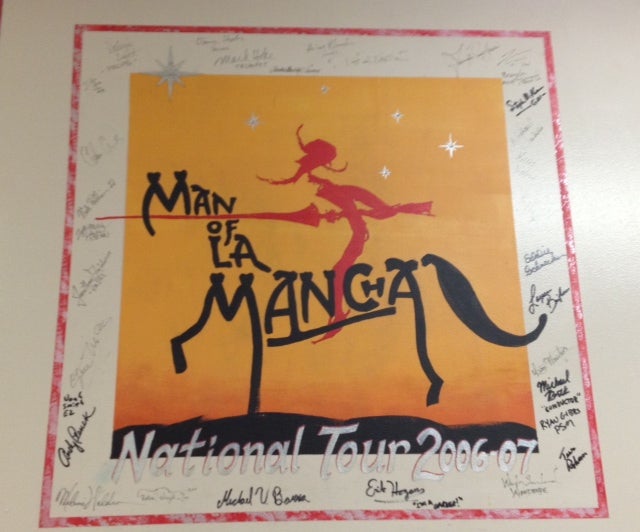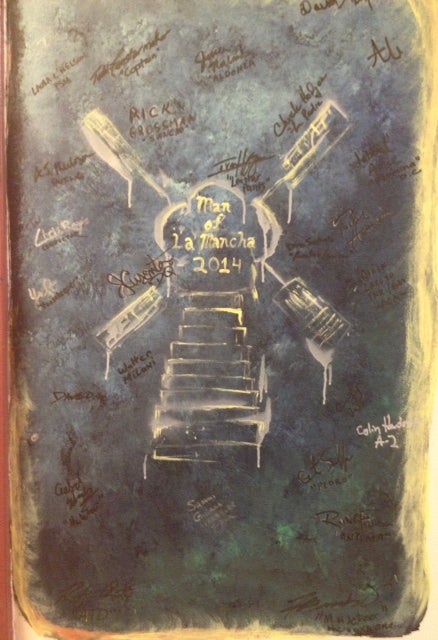 Indirectly inspired by the classic novel Don Quixote, Man of La Mancha follows Cervantes and fellow prisoners as they perform a play within a play about the infamous knight, Don Quixote. National touring productions have visited Providence several times.
The original Broadway production won five Tony Awards. The song "Impossible Dream" has become a Broadway standard. Other songs include "Man of La Mancha" and "Dulcinea."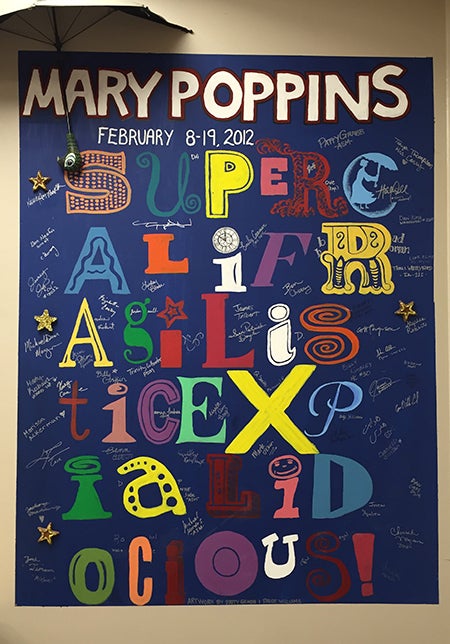 Mary Poppins
February 8 - 19, 2012
Based on P.L. Travers' children's series and the 1964 Disney film of the same name, Mary Poppins touched audiences with its tale of love, patience, and a little bit of magic. Mary Poppins arrives at the Banks' household and subsequently creates a loving bond with young Jane and Michael. With bits of magic around every corner, this show captured audiences in Providence in 2012. Amica sponsored Mary Poppins.

Mary Poppins' score features classic songs like "Supercalifragilisticexpialidocious," "Feed the Birds," "Practically Perfect," and "Let's Go Fly a Kite."

Matilda The Musical
May 17 - 21, 2017
Part of the Taco/White Family Foundation Broadway Series

Winner of 70 international awards, including four Tony Awards®, MATILDA THE MUSICAL is the story of an extraordinary girl who, armed with a vivid imagination and a sharp mind, dares to take a stand and change her own destiny.
Based on the beloved novel by Roald Dahl, MATILDA thrilled sold-out audiences of all ages on Broadway and continues to wow on London's West End. The Wall Street Journal says, "The makers of MATILDA have done the impossible – triumphantly! It is smart, sweet, zany and stupendous fun."
Memphis
December 4 - 9, 2012
Memphis is a high-energy critically acclaimed musical. The show follows a DJ and a club singer as they make their way through the 1950s Memphis music and radio scene. This show enjoyed a successful run on Broadway, extended National Tours, and a stay in London's West End as well. Memphis won Tony Awards for Best Musical, Best Orchestrations, and lead performances in 2010. Memphis is inspired by the life of Memphis DJ Dewey Phillips, one of the first white DJs to play Black music.
Million Dollar Quartet
January 15 - 20, 2013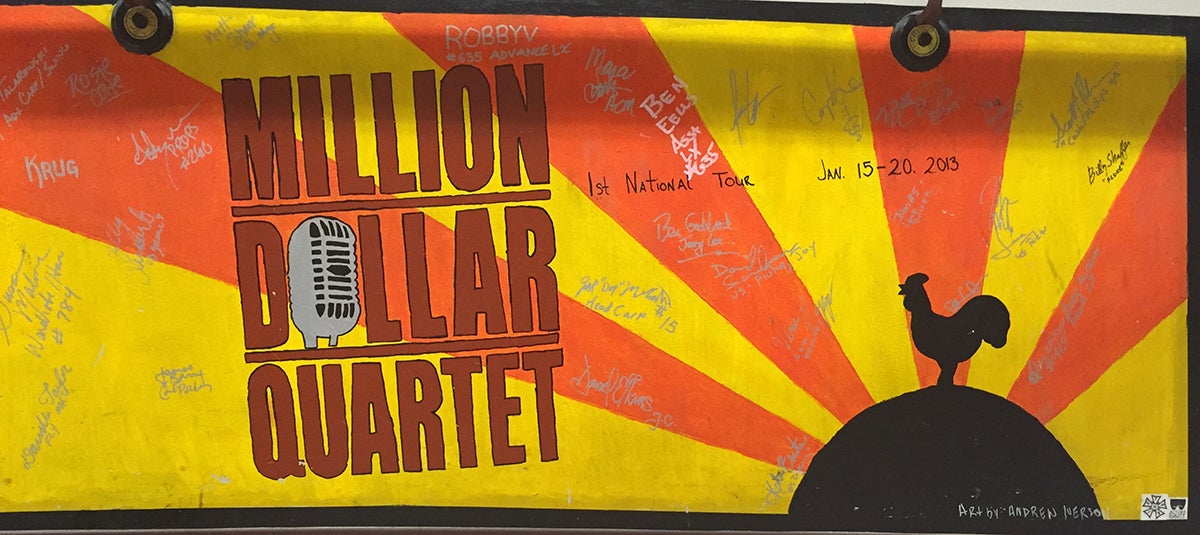 Based on a true story, Million Dollar Quartet follows the events that unfold during the one and only recording jam session with four rock and roll superstars: Elvis Presley, Johnny Cash, Jerry Lee Lewis, and Carl Perkins. The musical features some of each artist's greatest hits. Songs include "Great Balls of Fire," "Blue Suede Shoes, "Folsom Prison Blues," and "Riders in the Sky." The Broadway production was nominated for three Tony Awards and the tour enjoyed a successful run at PPAC in 2013.
Motown The Musical
November 3 - 8, 2015

Part of the Taco/White Family Foundation Broadway Series
MOTOWN THE MUSICAL tells the life story of Motown founder Berry Gordy, beginning with his career as a featherweight boxer and charting the course of his rise in the music industry. Gordy launched the careers of Diana Ross, Michael Jackson, Smokey Robinson, Marvin Gaye, and so many more. MOTOWN features 66 songs that shaped a generation, like "What's Going On?", "Ain't No Mountain High Enough," and "Where Did Our Love Go?".

Movin' Out
May 10 - 15, 2005
Five-time Grammy Award-winner Billy Joel and legendary director/choreographer Twyla Tharp joined forces and presented a shimmering portrait of an American generation in Movin-Out. Packed with amazing dance routines and captivating vocals of classic songs, all based around a heartwarming story of growing up, this dance musical mesmerized PPAC audiences.
My Fair Lady
September 5 - 11, 2005
Nicknamed the "perfect musical," My Fair Lady has been a hit since its Broadway debut in 1956. Cockney flower girl Eliza Doolittle is taught speech lessons by Professor Henry Higgins and together they teach each other many important life lessons. The original Broadway production won numerous Tony Awards including Best Musical; since then, the show has been revived multiple times on Broadway and the story was also made into a successful feature film. The 2005 National Tour performed eight shows at PPAC.
My Little Pony Live! The World's Biggest Tea Party
November 22 - 26, 2006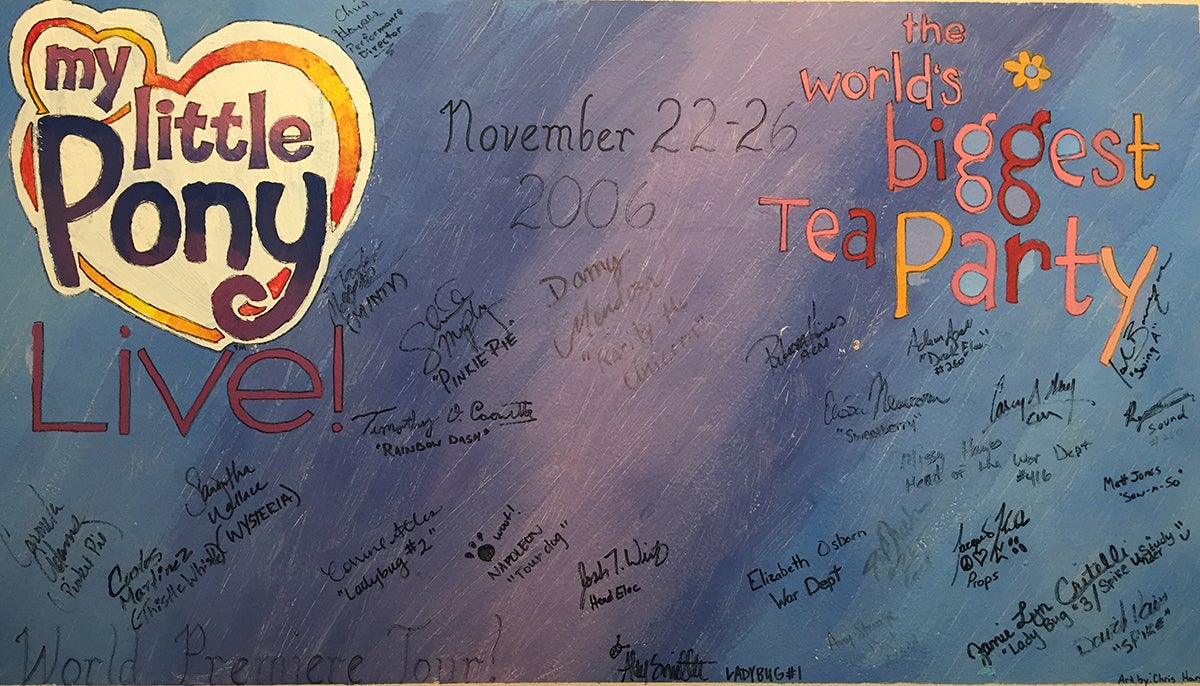 The seven performances of My Little Pony Live! at PPAC were colorful and memorable. These playful ponies taught children lessons, such as the true meaning of friendship, through a wholesome, loving and magical performance. These 90-minute shows were part of a two-year tour, which stopped at 80 cities.
Next to Normal
March 22 - 27, 2011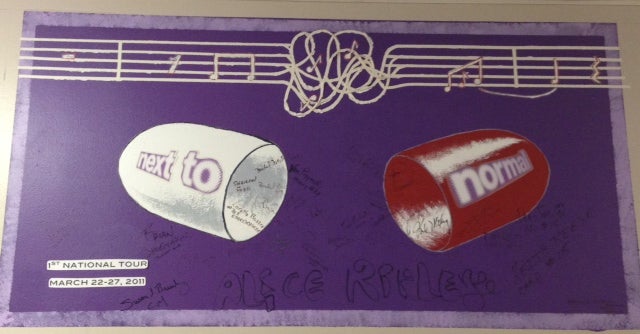 A Pulitzer Prize and Tony Award-winning show, Next to Normal was anything but bland and normal. Part of the Taco/The White Family Foundation Broadway Series this eight-show engagement was an emotional powerhouse. Alice Ripley received a 2009 Tony Award for her portrayal of Diana and reprised her role in this National Tour. The plot centered on a family trying to take care of themselves and each other. Consisting of a thrilling contemporary score, PPAC audiences found this show to be phenomenal! With an outstanding cast and great score, it proved to be a unique, deeply-touching theatrical experience.
Nunsense
February 17 - 22, 2004
So good that the Boston Globe called it "Zany, Beguiling Fun!", this 20th anniversary tour of Nunsense was a hilarious production through and through! The award-winning hit musical comedy directed by its creator, Dan Goggin, consisted of comedy, upbeat dance routines, and an outstanding score perfectly executed. The all-star cast included Kaye Ballard, Georgia Engel, Mimi Hines, Darlene Love, and Lee Meriwether.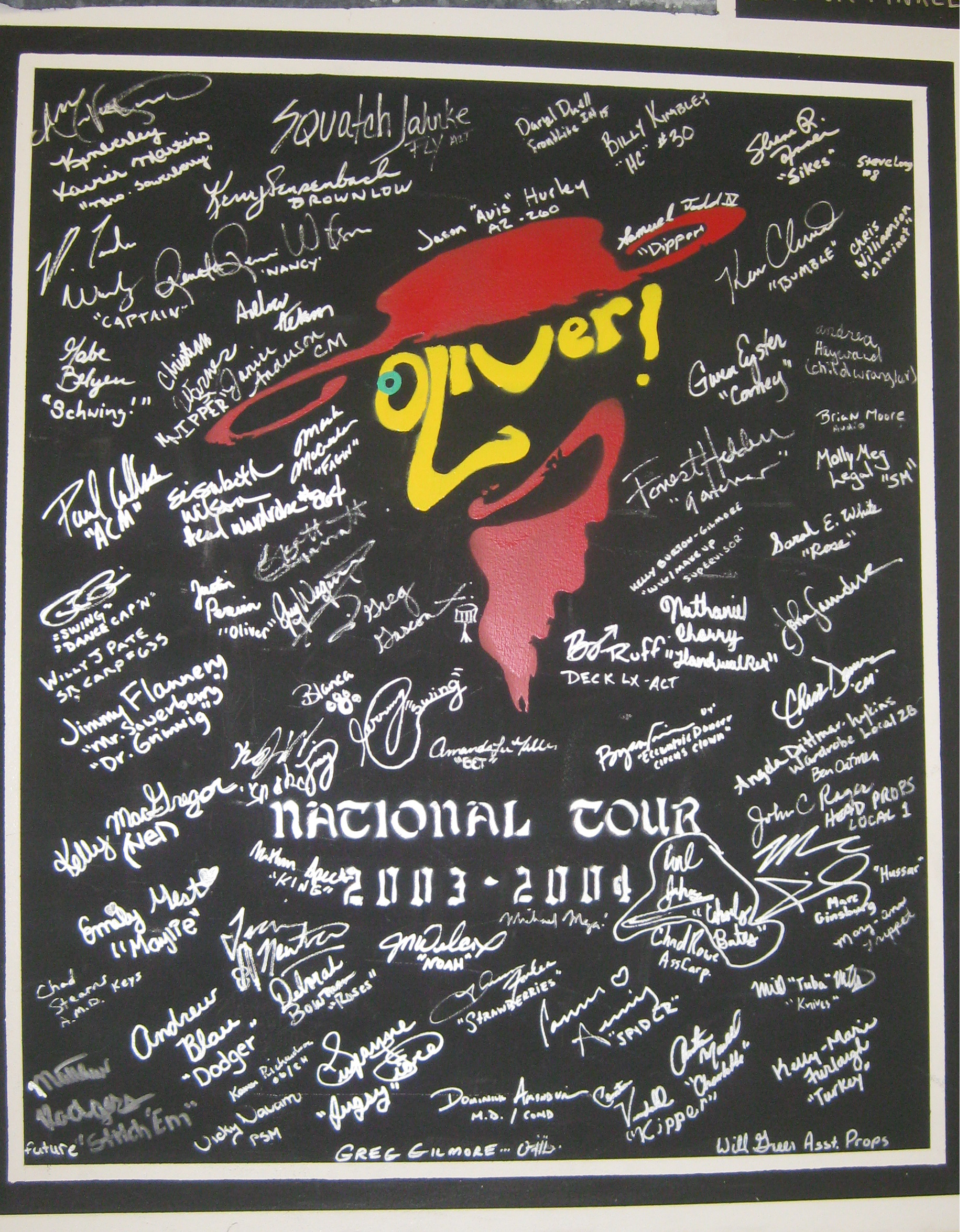 Oliver!
March 9 - 14, 2004
The British show Oliver! has been a long- time family favorite. The show opened on the West End in 1960 and has since experienced numerous revivals and world tours. Audiences follow the lonely boy pickpocketer Oliver through various adventures. The show is famous for several songs including "Consider Yourself," "Where is Love" and "Food Glorious Food"
Once
October 1 - 6, 2013 National Tour Launch!
December 2 – 4, 2016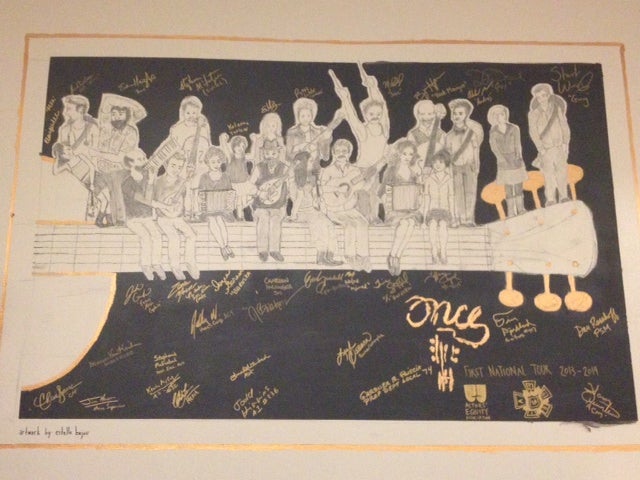 Winner of eight 2012 Tony Awards® including BEST MUSICAL, ONCE is a truly original Broadway experience. Featuring an impressive ensemble of actor/musicians who play their own instruments onstage, ONCE tells the enchanting tale of a Dublin street musician who is about to give up on his dream when a beautiful young woman takes a sudden interest in his haunting love songs. As the chemistry between them grows, his music soars to powerful new heights... but their unlikely connection turns out to be deeper and more complex than your everyday romance. Emotionally captivating and theatrically breathtaking, ONCE draws you in from the very first note and never lets go. It's an unforgettable story about going for your dreams... not living in fear... and the power of music to connect us all. Once made its way back to PPAC December 2 – 4, 2016 as part of the 2016/2017 Encore Series.
On Your Feet!
January 30 - February 4, 2018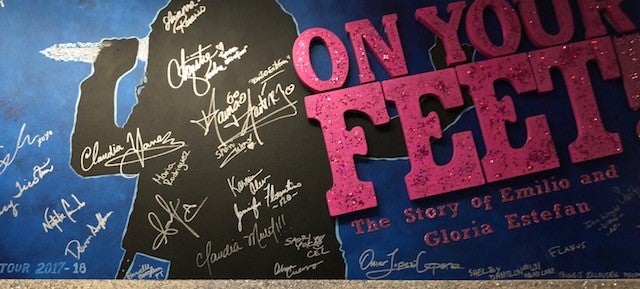 26-time Grammy Award-winning husband-and-wife team Gloria and Emilio Estefan broke barriers and rose to international stardom in the pop music industry before nearly losing it all. On Your Feet! tells the true story of the remarkable duo, from their modest beginnings in Cuba to worldwide fame to epic tragedy. This inspiring show is not just about a powerful couple- it is about powerful dreams.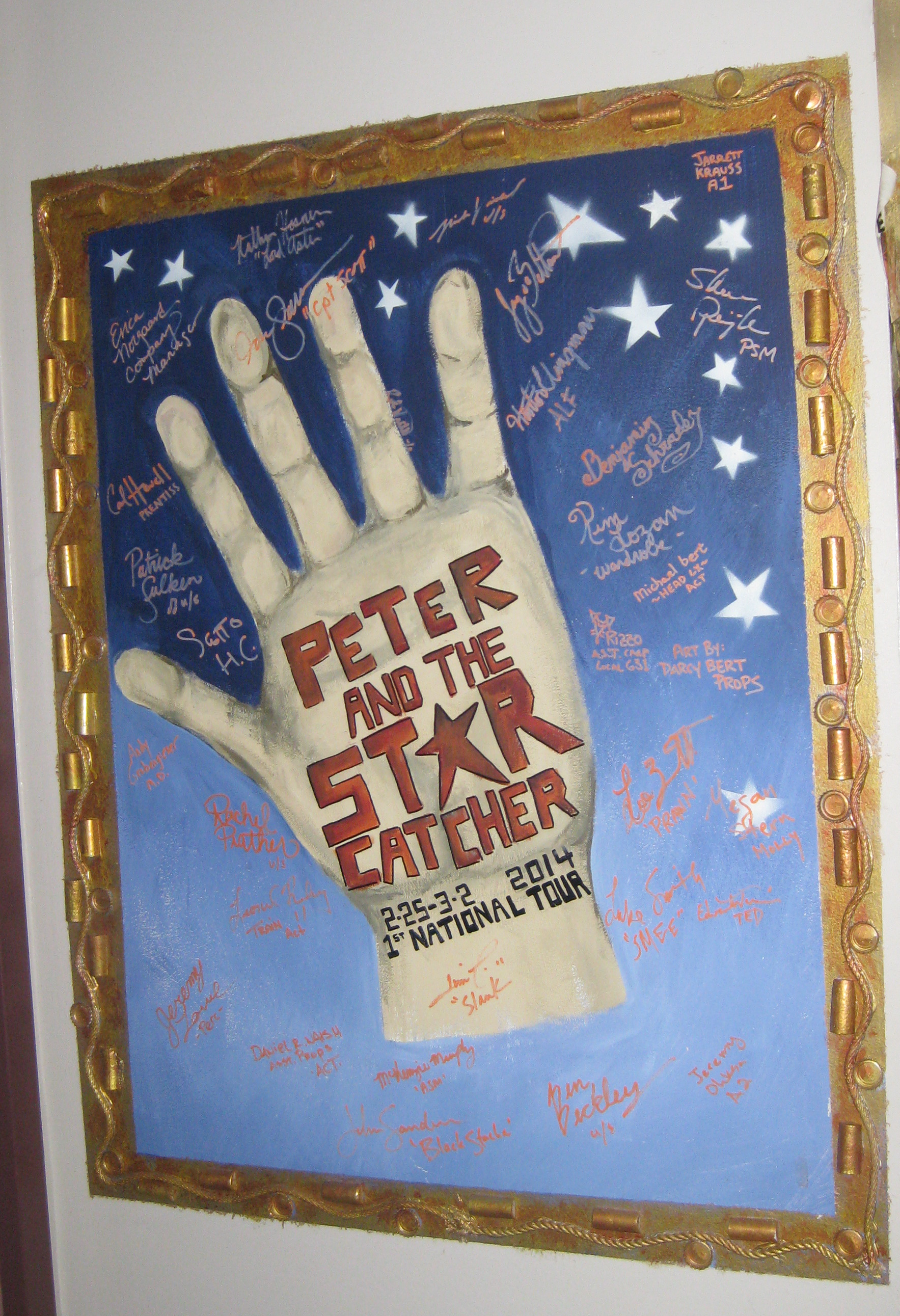 Peter and the Starcatcher
February 25 - March 2, 2014
Peter and the StarCatcher is a prequel to the Peter Pan story. Based on the 2006 novel, the play was written by Rick Elice. Peter won 5 Tony Awards in 2010. The play was the first on Broadway to have a "green" set by Dongale Werle; Werle used all recycled iems to construct the set, the same was true of the National Touring set.
Peter Pan
April 19 - 24, 2005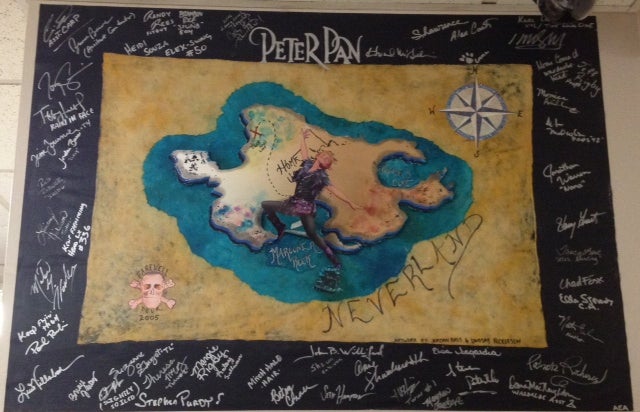 Audiences felt the desire to "never grow up" when watching the Peter Pan tour as it stopped in Providence. The story follows the three Darling children and their adventures in Neverland led by the fearless Peter Pan.
Disney's Phineas and Ferb TheBest Live Tour Ever! November 21, 2011
November 18, 2012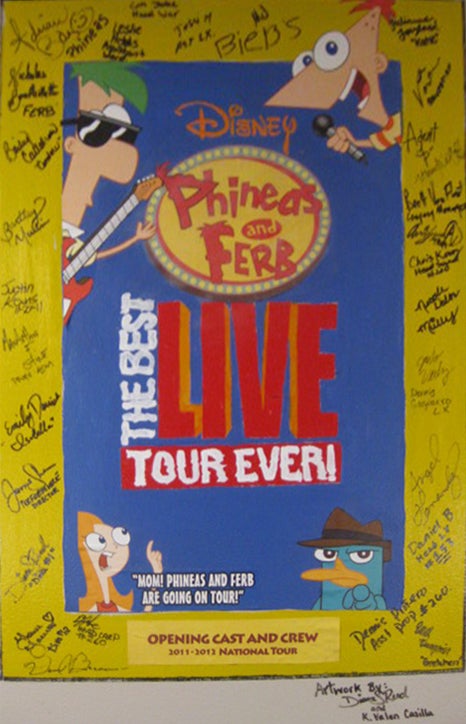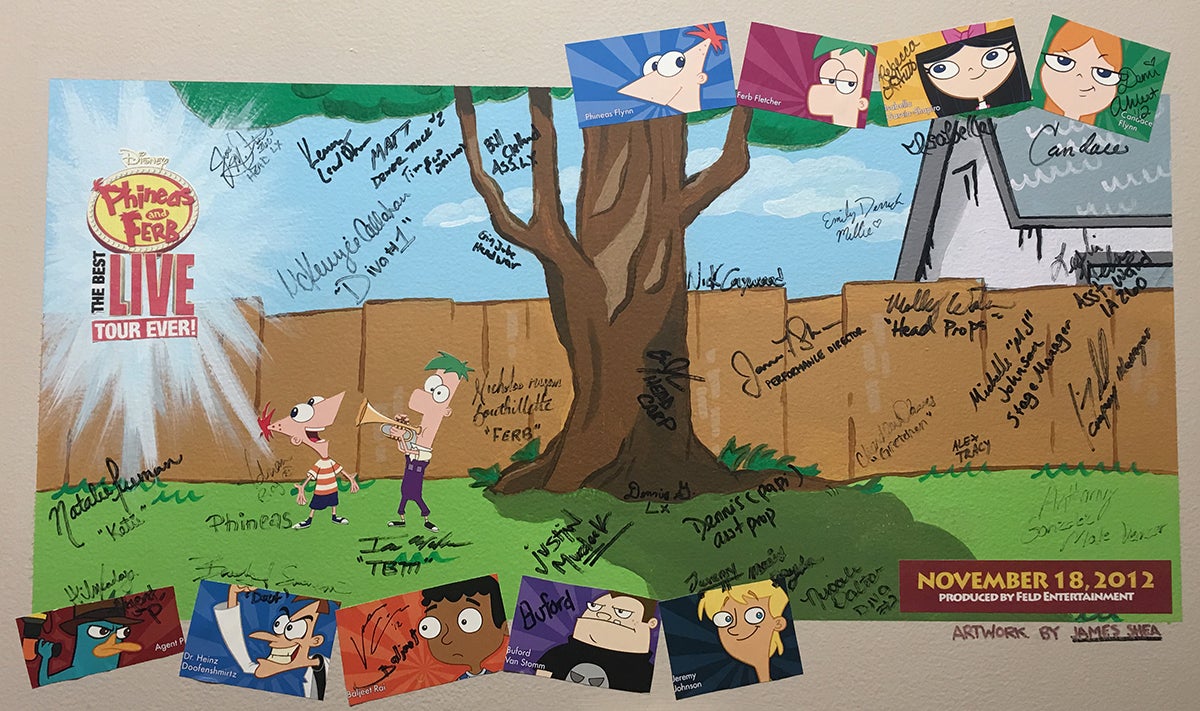 School's out for summer and anything is possible as Phineas and Ferb create their biggest invention yet -- Disney's Phineas and Ferb: The Best LIVE Tour Ever! Phineas, Ferb, and the whole tri-state area gang embark on a bold escape jumping out from behind your TV and onto the stage in a live action adventure – right in your hometown!

Pippin
February 16 - 21, 2016
Part of the Taco/White Family Foundation Broadway Series
Winner of four 2013 Tony Awards, including Best Revival of Musical, PIPPIN is full of awe-inspiring acrobatics, wondrous magical feats, and a score from the composer of WICKED. Following its acclaimed run at Boston's A.R.T., this captivating production comes straight from Broadway, directed by Tony winner Diane Paulus (HAIR, THE GERSHWIN'S PORGY AND BESS). The revival of PIPPIN features choreography in the style of Bob Fosse and breathtaking acrobatics by Les 7 Doigts de La Main, the creative force behind the show "Traces."
Rent
October 24 - 26, 2003
January 18 - 20, 2008
November 17 - 22, 2009
April 7 – 9, 2017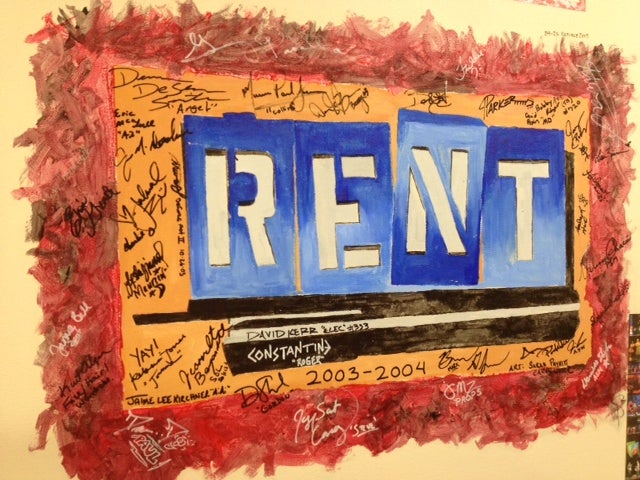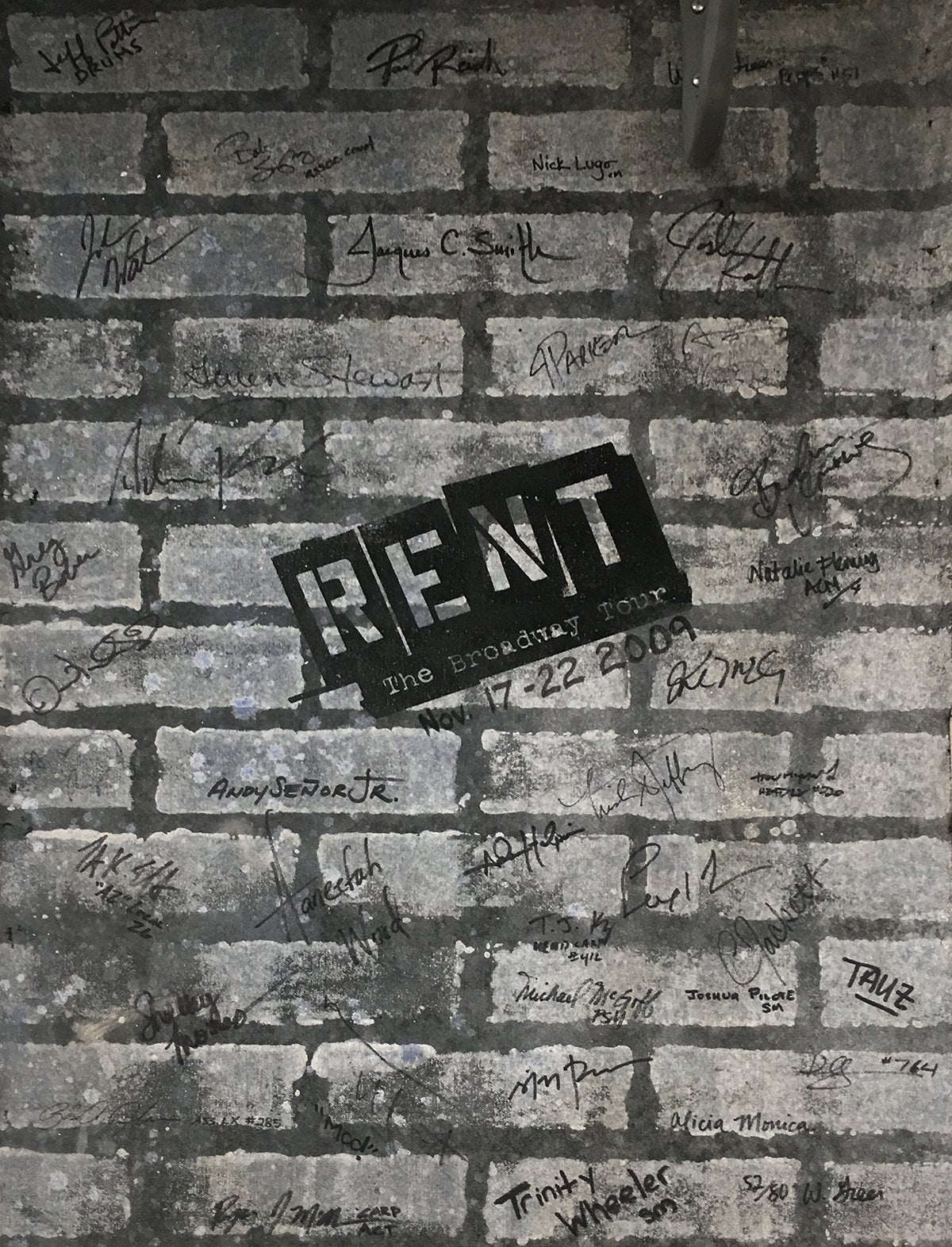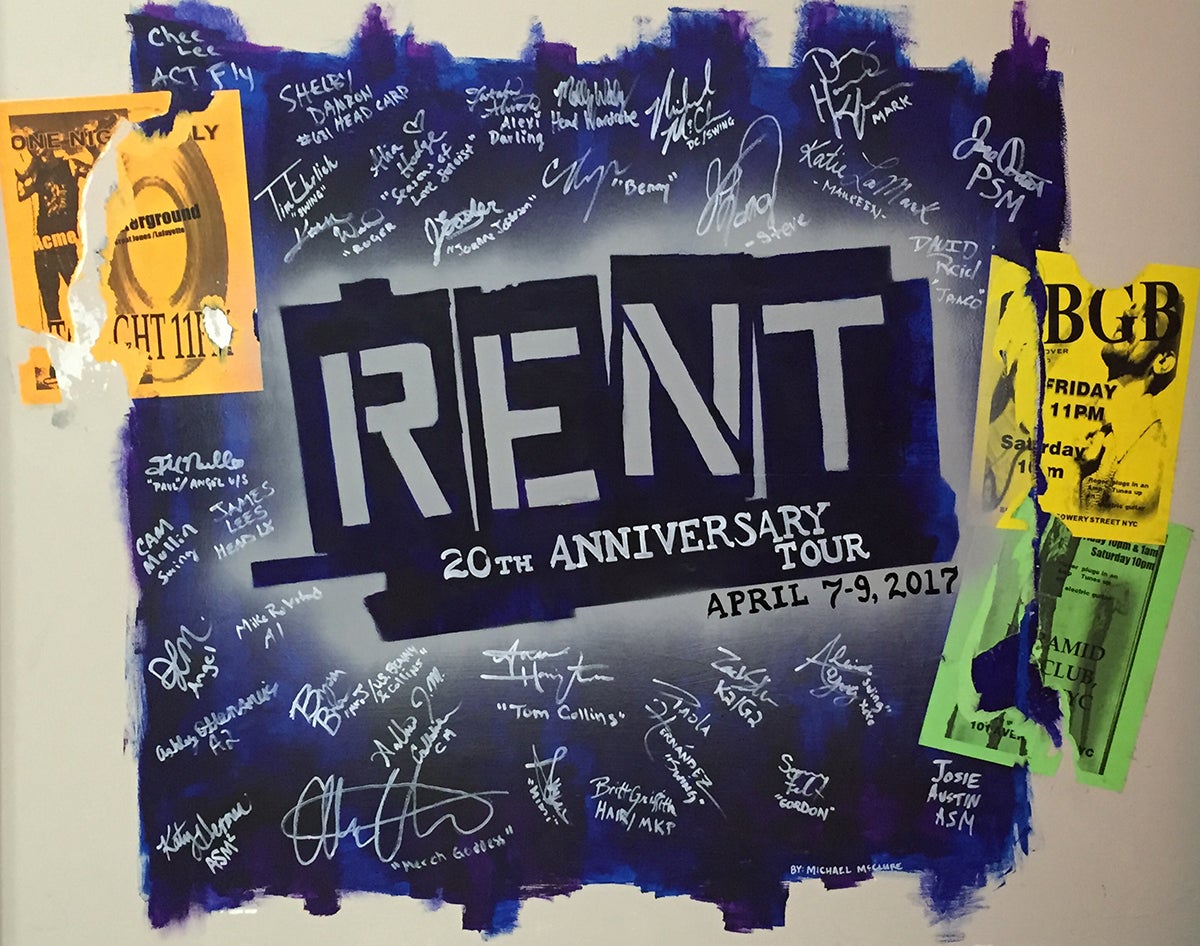 RENT is a rock musical written by Jonathan Larson and is based on the opera La Bohème. It tells the story of a group of young artists struggling to survive in New York City in the late 1980s. Larson died suddenly at the age of 36 the day before RENT's first preview performance.

The Broadway production won 1996 Tony Award for Best Musical among others, and the Pulitzer Prize for Drama.
The 2003 tour of RENT starred Constantine Maroulis as Roger.
The 2008 production starred South African Idol Winner Heinz Winckler and American Idol Finalist Anwar Robinson.
The 2009 Broadway Tour starred original Broadway cast members Anthony Rapp (Mark) and Adam Pascal (Roger).
RENT – 20th Anniversary Tour made a stop at PPAC April 7 – 9, 2017 as a Broadway special.
Riverdance
March 28 - 30, 2008
June 2 – 4, 2017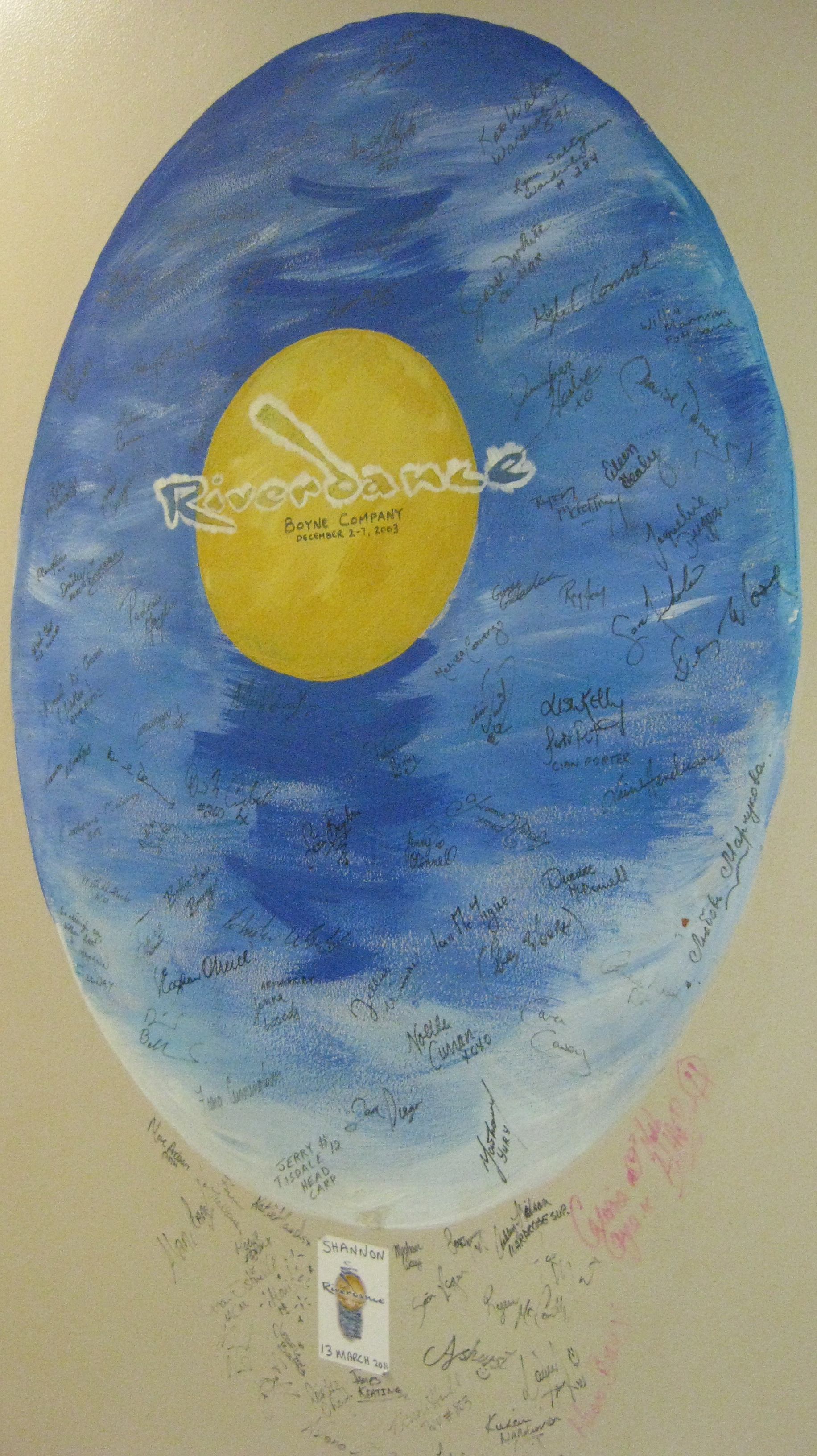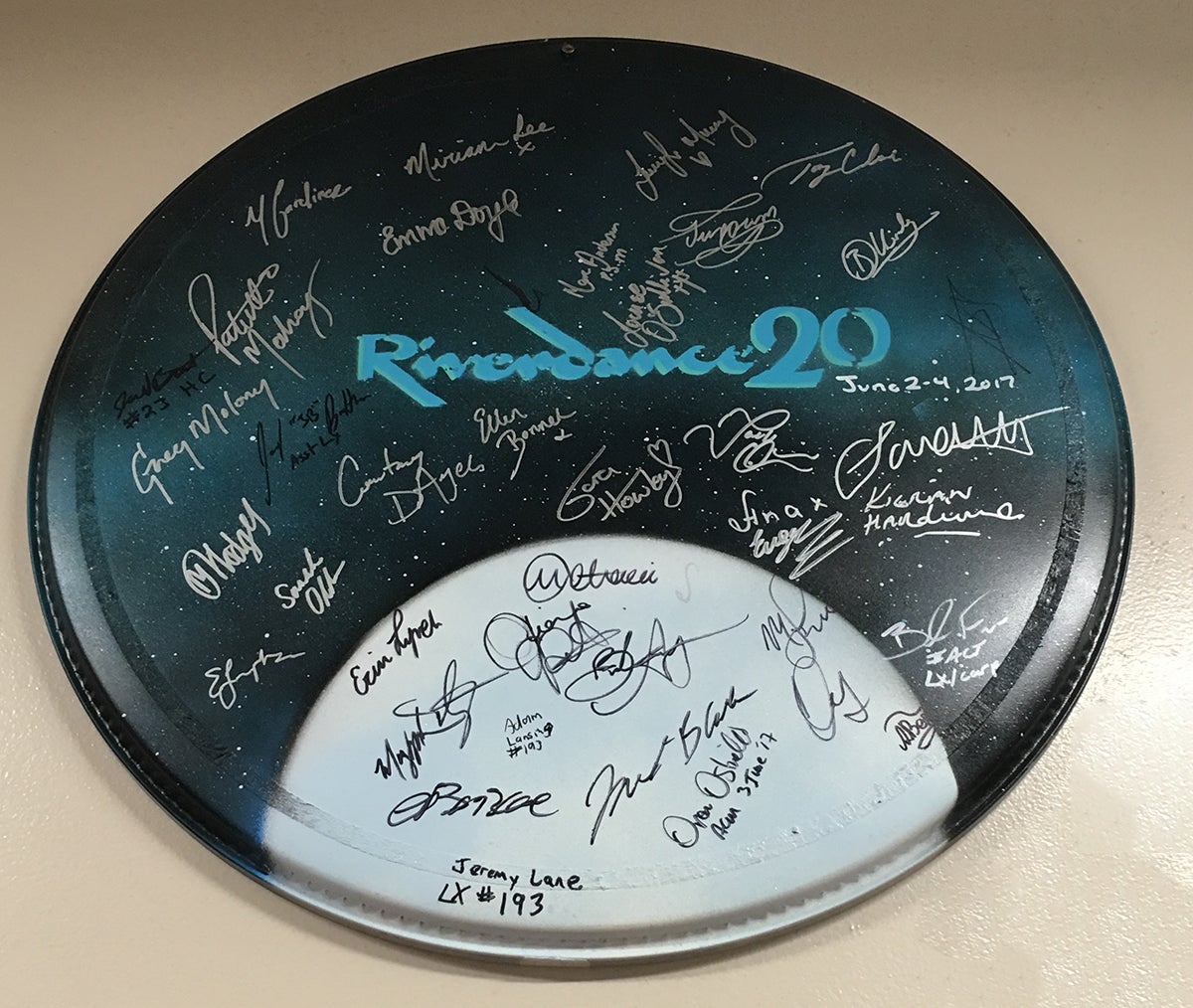 Riverdance is an Irish dancing spectacular that has held critics' acclaim for numerous years. The success of Riverdance has led the show to become an international phenomenon. A record breaker in Dublin, the show had an extremely positive response from audiences in America, and the North American tour continued for over sixteen years! Multiple times at PPAC!
Riverdance – The 20th Anniversary World Tour ran from June 2 – 4, 2017 as part of the 2016/2017 Encore Series.
Rock of Ages
October 4 - 9, 2011
January 29, 2014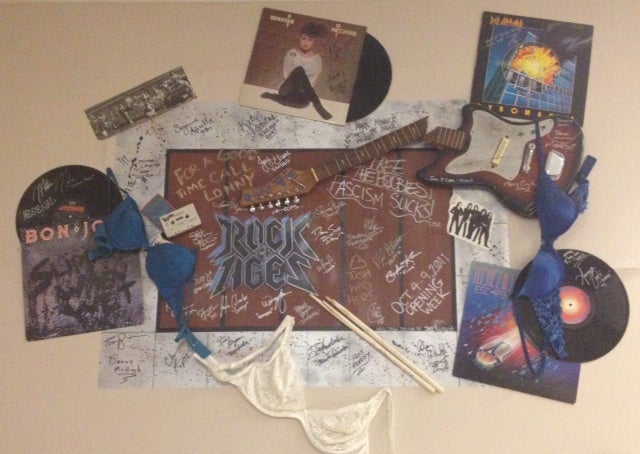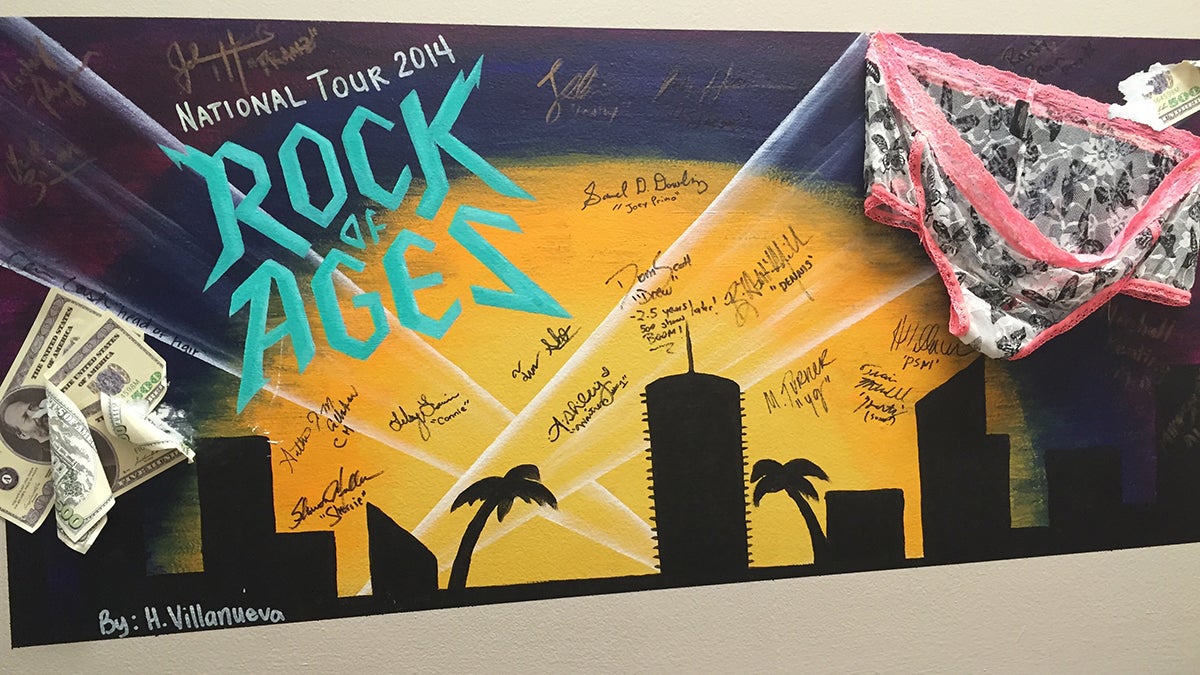 The worldwide phenomenon Rock of Ages features twenty-eight iconic classic rock songs from the 1980s including "Don't Stop Believin'", "We Built This City", and "The Final Countdown". Under the direction of Tony Award-nominee Kristin Hanggi, this show truly "rocked" the building, and left the audience with memories of a unique theatrical "concert" experience.
Radio City Christmas Spectacular
Starring The Rockettes
November 12 - 28, 2010
A Christmas tradition for many, the Rockettes Radio City Christmas Spectacular dazzled Providence audiences with the Rockettes' famous high-kicking, high- energy performance. This iconic show included a variety of holiday vignettes and a live nativity scene. The audience, along with the cast, provided a true"Christmas in NYC" experience for all ages.
Ragtime The Musical
April 8 - 10, 2016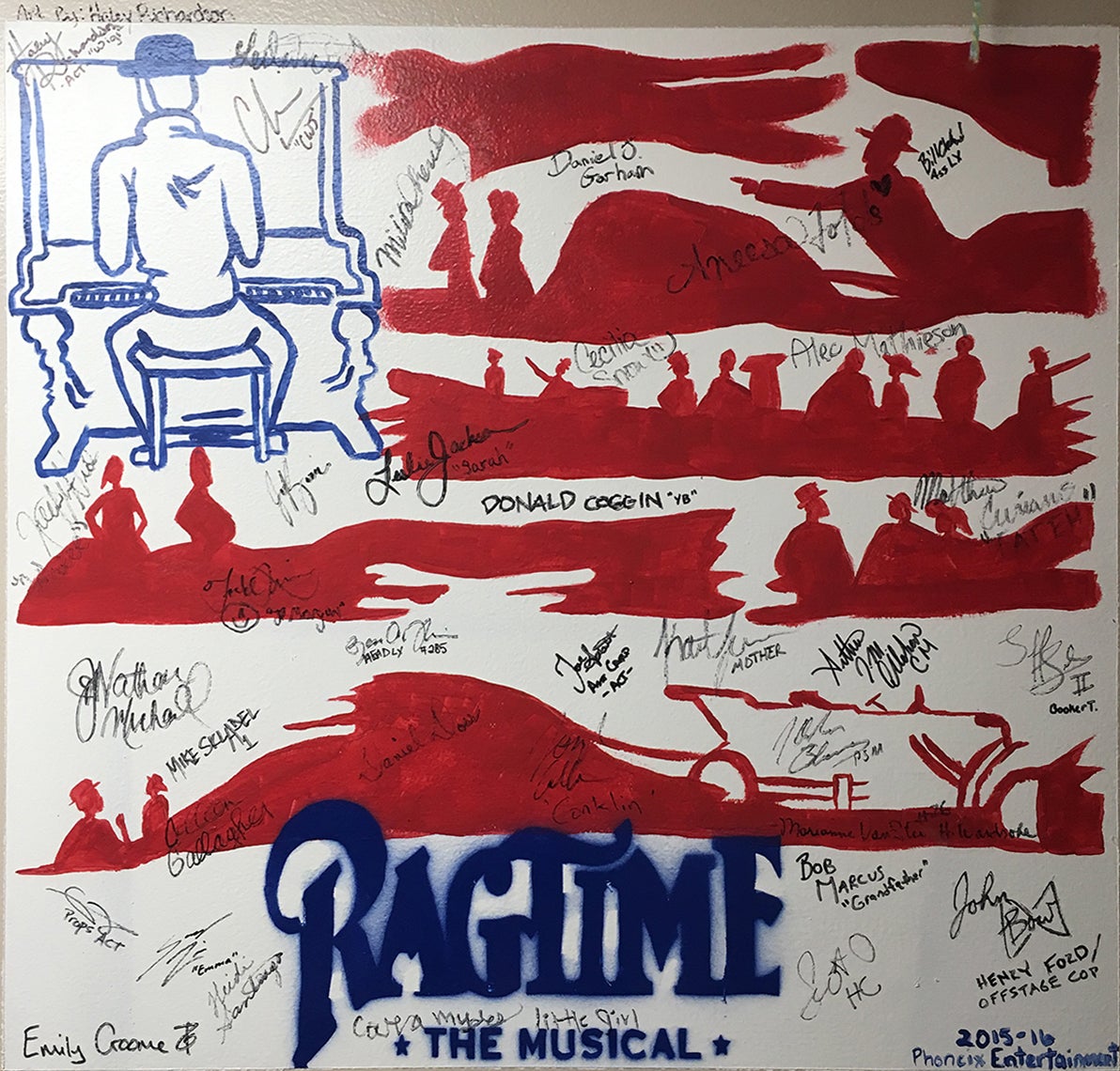 Saturday Night Fever
January 9 - 11, 2004
Saturday Night Fever is a family musical adapted from the 1977 eponymous film, which starred John Travolta. The story is originally from a 1975 New York Magazine article entitled "Tribal Rites of the New Saturday Night." The characters discover the enchanting disco world and use disco as an escape from other issues in their lives.

Saturday Night Fever features music and lyrics by the Bee Gees. Songs include "Stayin' Alive," "Night Fever," "More Than a Woman," and "How Deep Is Your Love."
Scooby Doo Live! Musical Mysteries
February 17, 2013
The whole Scooby Doo Gang appeared onstage for this fun family show. In the show, Daphne, Fred, Shaggy, Velma, and Scooby-Doo travel to England to solve the mystery of a troublesome ghost making mischief in a West End theatre.

Sesame Street Live! Super Grover: Ready for Action
January 25 - 28, 2007
Sesame Street Live! Super Grover: Ready for Action is produced by VEE Corp. When S.G. loses his "superness," Elmo, Zoe, Rosita, and Telly Monster cover for him with their own super hero alter egos.
Shen Yun
February 5, 2013,
February 22 - 23, 2014
February 4, 2017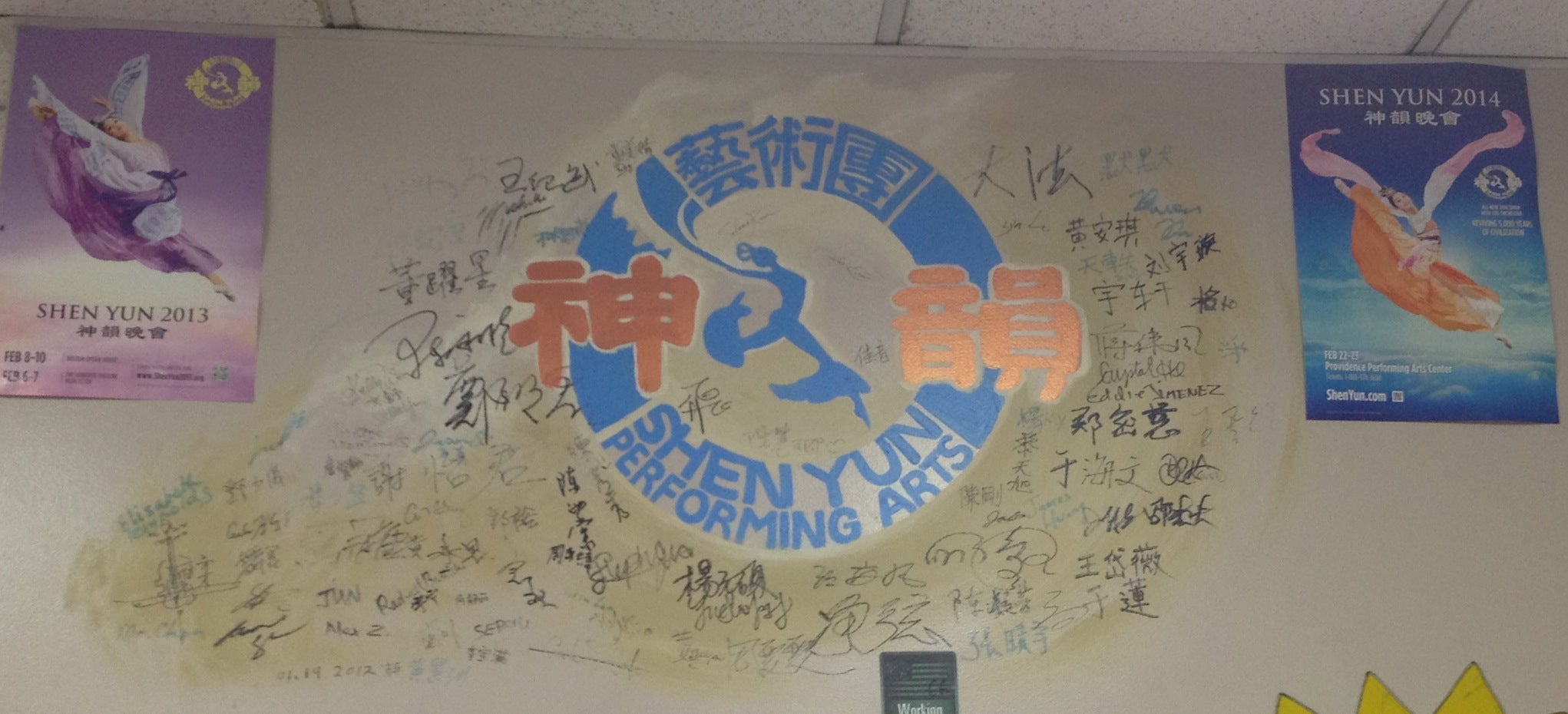 Shen Yun performs classical Chinese ethnic and folk dances with orchestral accompaniment. Through their music and dance, the audience is taken on a beautiful journey through 5,000 years of Chinese culture.
Shrek the Musical
January 3 - 8, 2012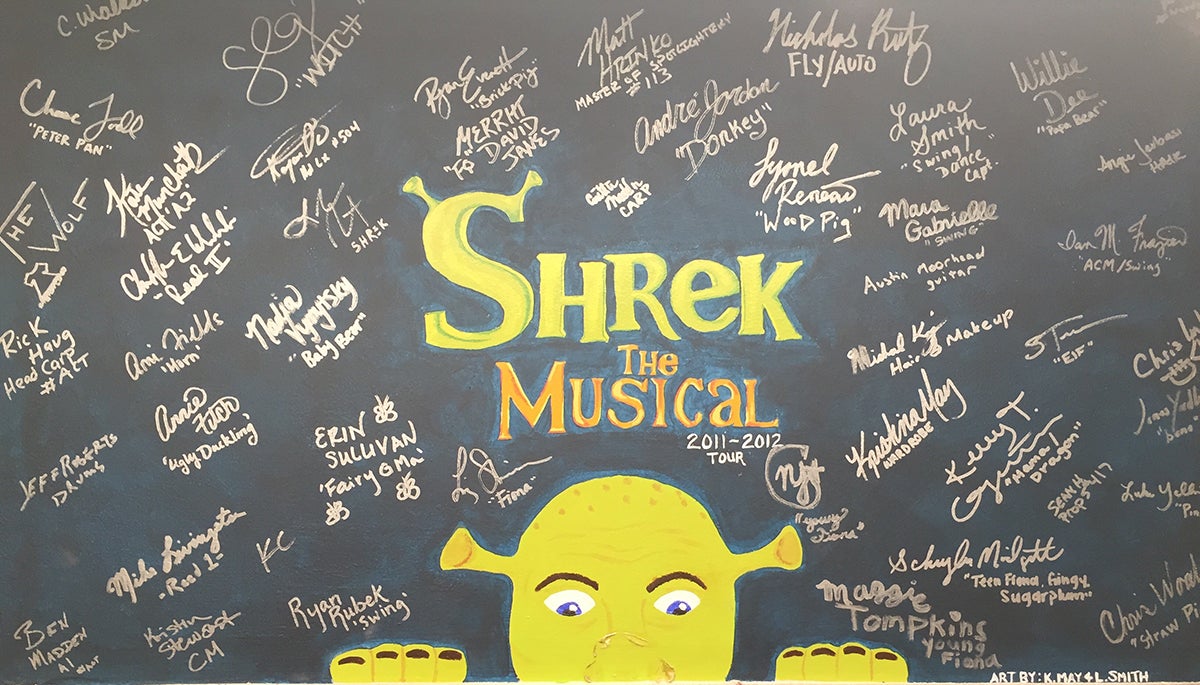 An adaptation of the family film of the same name, Shrek the Musical shared its meaningful, yet funny story complete with popular fairytale characters in Providence. The show completed several National Tours and ran on Broadway for well over a year.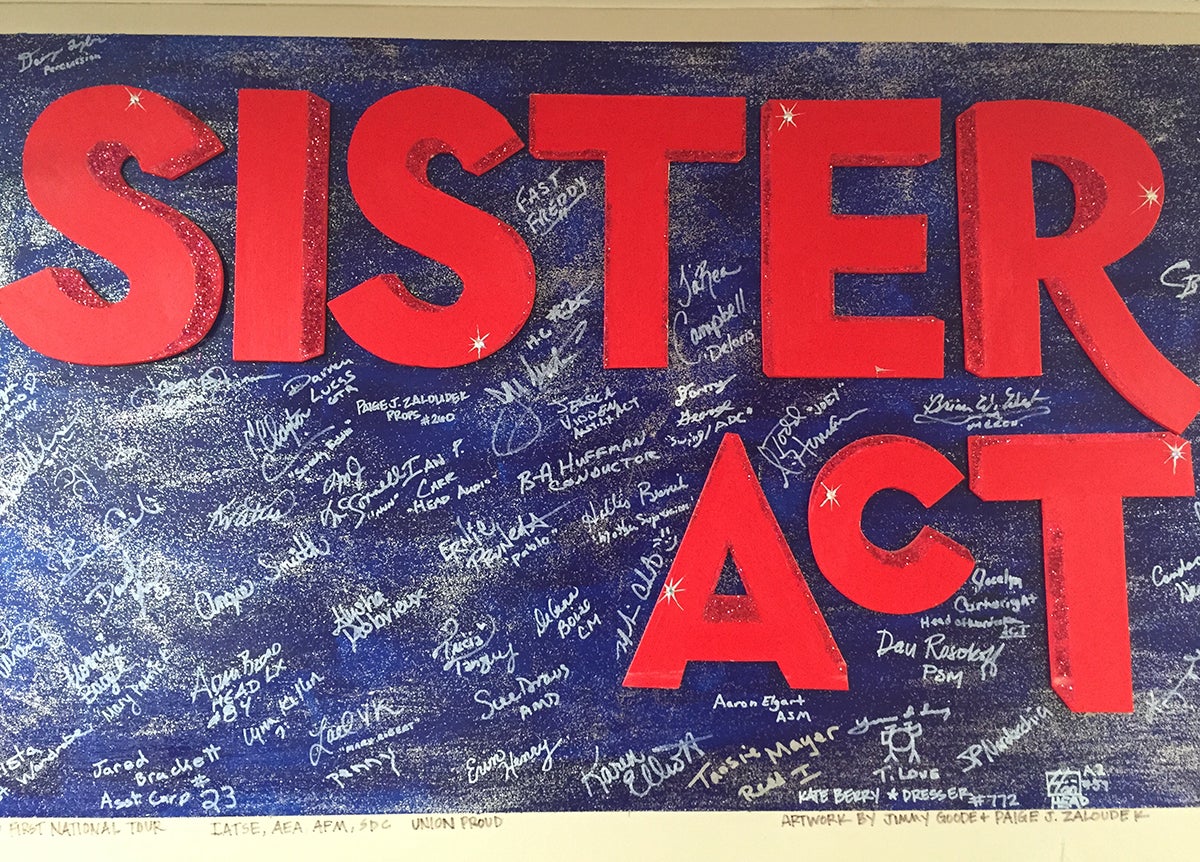 Sister Act
April 9 - 14, 2013
Sister Act opened in the spring of 2013, as part of the Taco/The White Family Foundation Broadway Series. Ta'Rea Campbell starred as Deloris in the lead role and received rave reviews. The show was a great success in Providence providing laughs and lots of good music!

Smokey Joe's Café: The Songs of Leiber and Stoller
May 1, 2005
With two unforgettable performances packed into one day, this musical showcased the greatest hits of the 1950s and 1960s. All electrifying creations of legendary songwriters Jerry Leiber and Mike Stoller, this revue focused on the golden age of American culture. Smokey Joe's Café is also the longest running Broadway revue in history.

Something Rotten!
May 15 - 20, 2018
Struggling through the 1590s, brothers Nick and Nigel Bottom attempt to write plays but find it impossible to surpass the Bard until it is revealed that the future of theatre includes singing, acting, and dancing all at once. Thus inspired, the Bottoms create the world's very first musical, their absurd and comedic journey becoming the underdog tale that is Something Rotten!
Something Rotten! earned ten Tony nominations in 2015, including Best Musical. The tour starred three of the principal cast members from the Broadway production: Rob McClure as Nick Bottom, Adam Pascal as Shakespeare, and Josh Grisetti as Nigel Bottom.
Something Rotten! was a part of the Taco/White Family Foundation Broadway Series.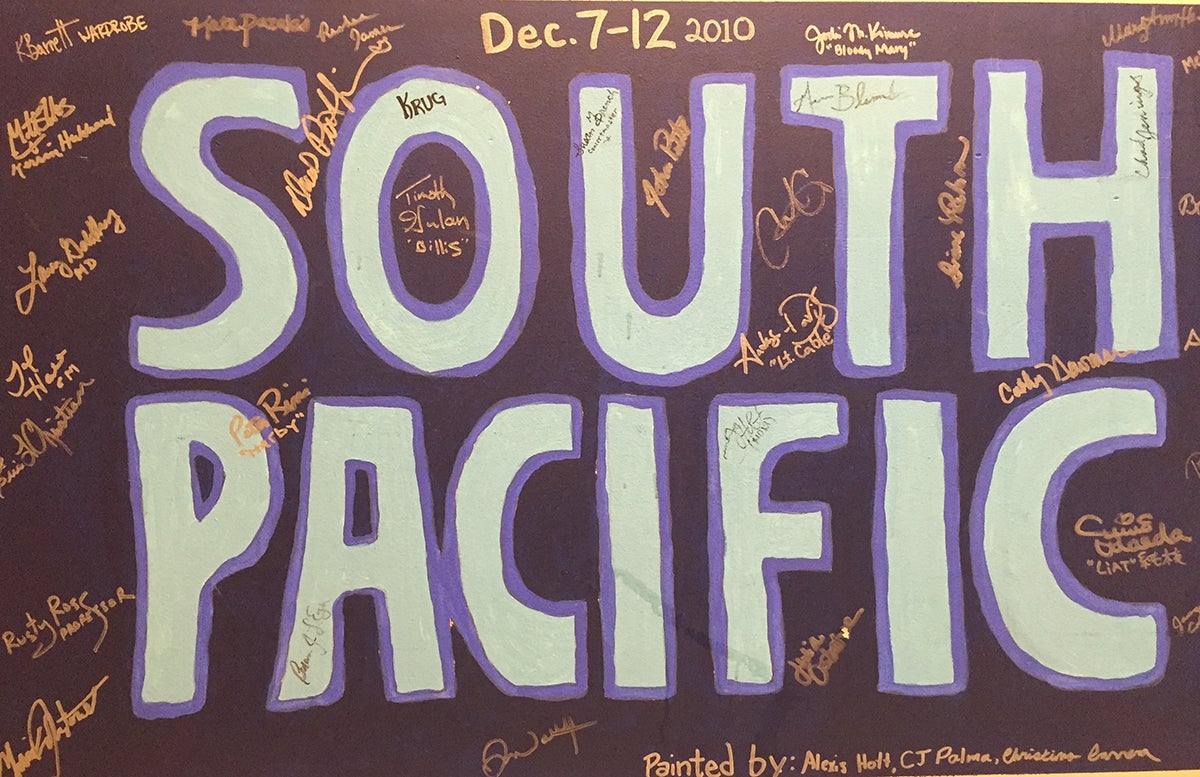 Rodgers & Hammerstein's
South Pacific
December 7th - 12th, 2010
Earning raving reviews and sold-out breath-taking performances on Broadway, this Lincoln Center Theater production of Rodgers & Hammerstein's South Pacific was truly a treat for every audience member at PPAC. Under skillful direction of Bartlett Sher, this 2008 winner of seven Tony Awards delivered as promised.

Although well known for its extraordinary score -- the songs include "Some Enchanted Evening", "Younger Than Springtime", "Bali Ha'i", "There Is Nothin' Like A Dame", and "A Wonderful Guy" -- SOUTH PACIFIC is also a deeply felt drama. Its portrayal of Americans stationed in an alien culture in wartime is as relevant today as when it first thrilled audiences in 1949
Monty Python's Spamalot January 29 – February 3, 2008 National Tour Launch! April 15 - 17, 2011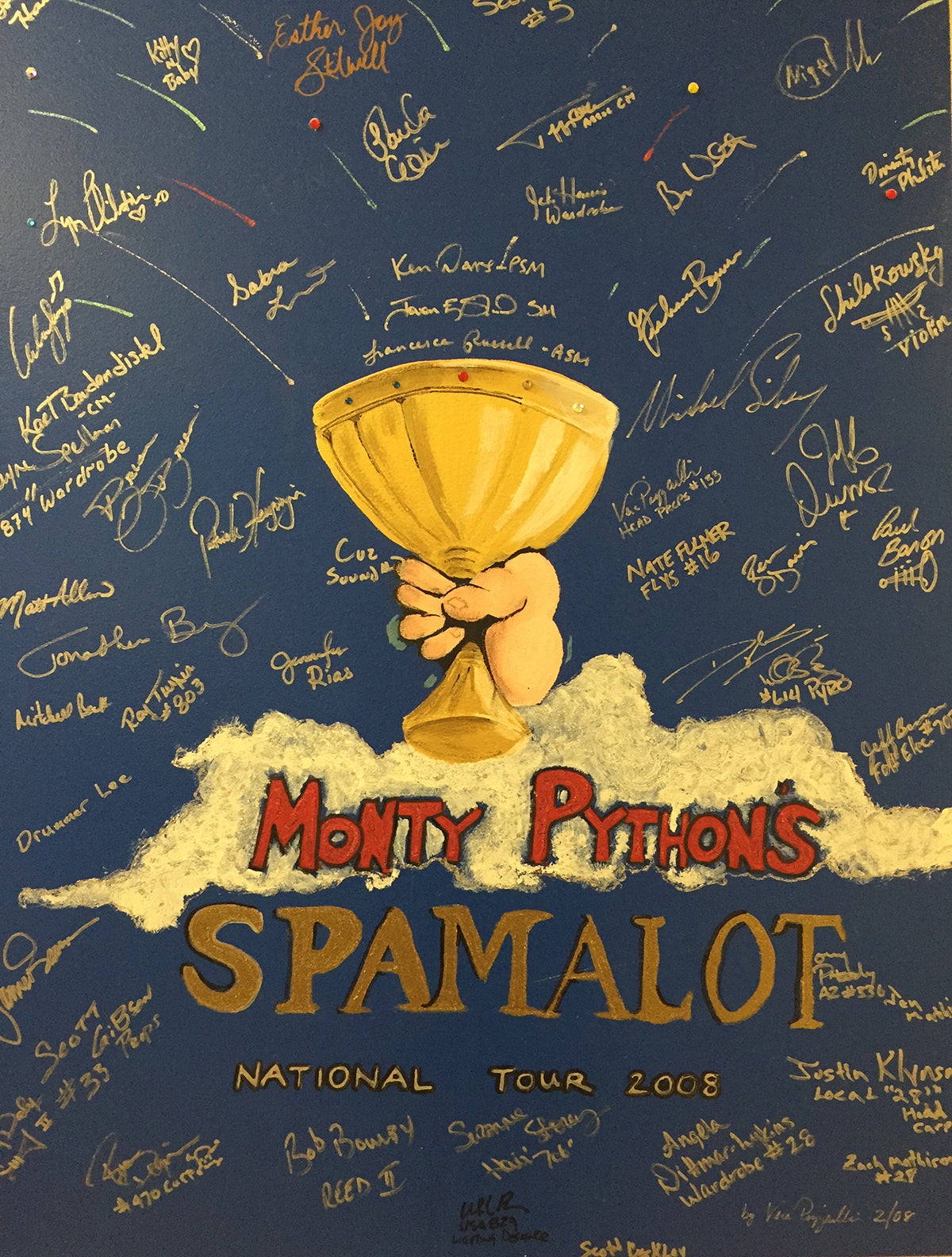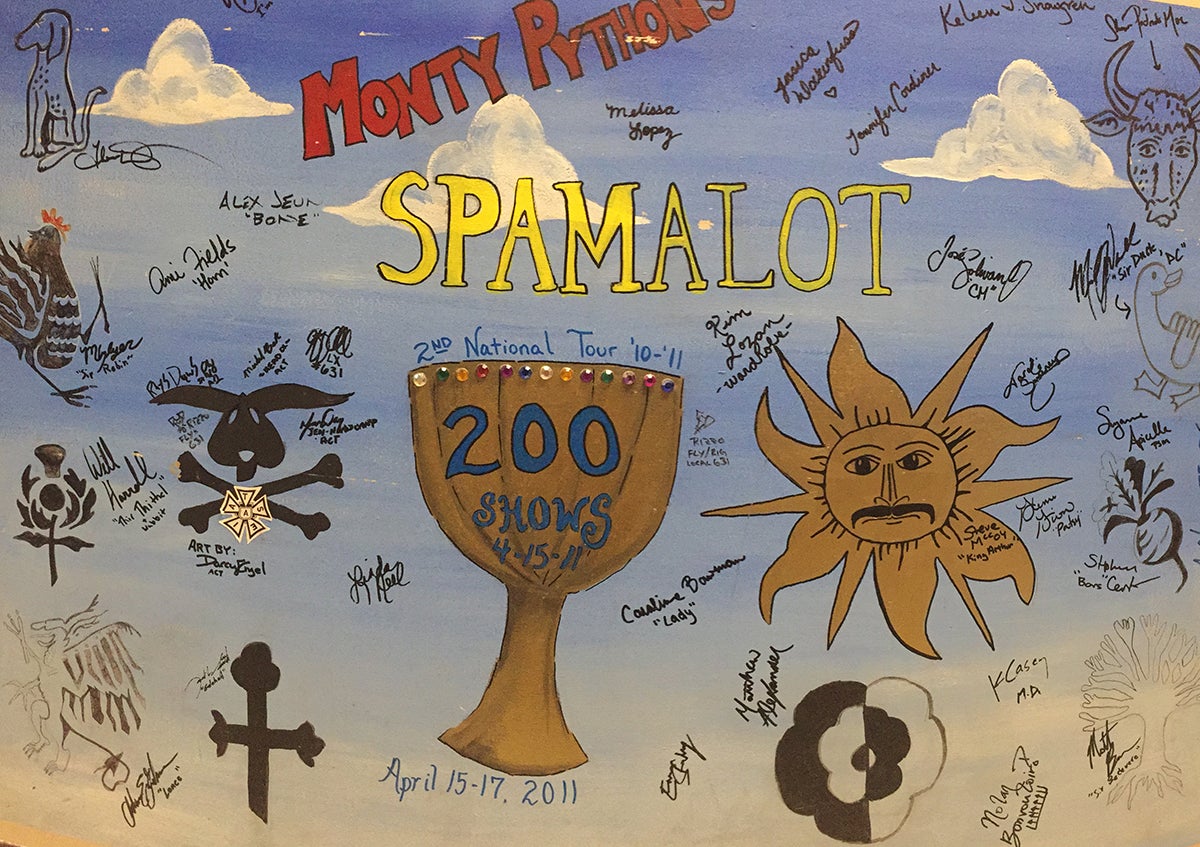 Part of the Taco/The White Family Foundation Contemporary Classics Series this Tony Award-winning musical rerurned to PPAC for a five-show engagement in 2011. Lovingly "ripped-off" of the popular motion picture Monty Python and the Holy Grail, Monty Python's Spamalot was great fun for all audiences. Monty Python's Spamalot won two Tony Awards and two Drama Desk Awards, and has been nominated for a number of other awards.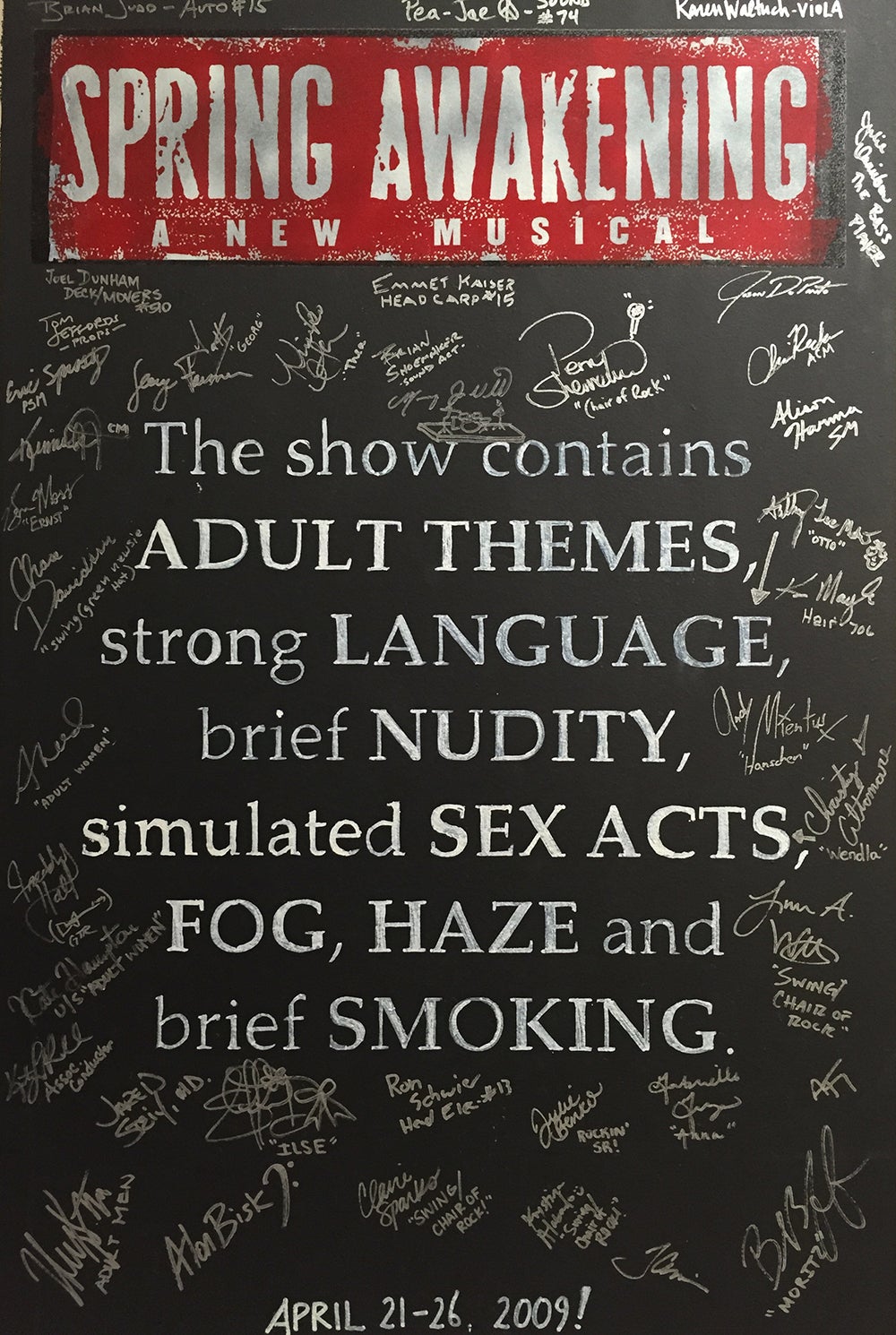 Spring Awakening: A New Musical
April 21 - 26, 2009
Hailed as the best musical of the year in 2007, this eight-time Tony Award-winning musical was brought to life on the PPAC stage eight times in 2009.

With a slew of award-winning creative team members, cast members and crew members, as well as producers such as Tony Award-winners Tom Hulce, Ira Pettleman and Bill T. Jones, this timeless story of teenage self-discovery celebrated the unforgettable journey from youth to adulthood with a power, poignancy, and passion that will never be forgotten by PPAC audiences.
Starlight Express
May 17 - 21, 2004
A rock musical by the well-known Broadway composer Andrew Lloyd Webber, Starlight Express follows the dreams of a child. In the show, the child's train set comes to life and various engines compete to become the "Fastest Engine in the World." The show is famous for having actors on roller skates during the performance. Starlight Express was incredibly popular in Europe, especially in the West End and Germany.

Starlight Express evolved from its Broadway production while touring nationally. The first National Tour, which ran from 1989 - 1991, featured some of the same cast and costumes, and scaled down so it could accomodate theatres. The second National Tour notably used digital video to produce high-definition race footage, instead of live racing.
Webber's score features "I am the Starlight," "Only You," and "Light at the End of the Tunnel".
STOMP // The Aluminum Show
May 20 - 22, 2011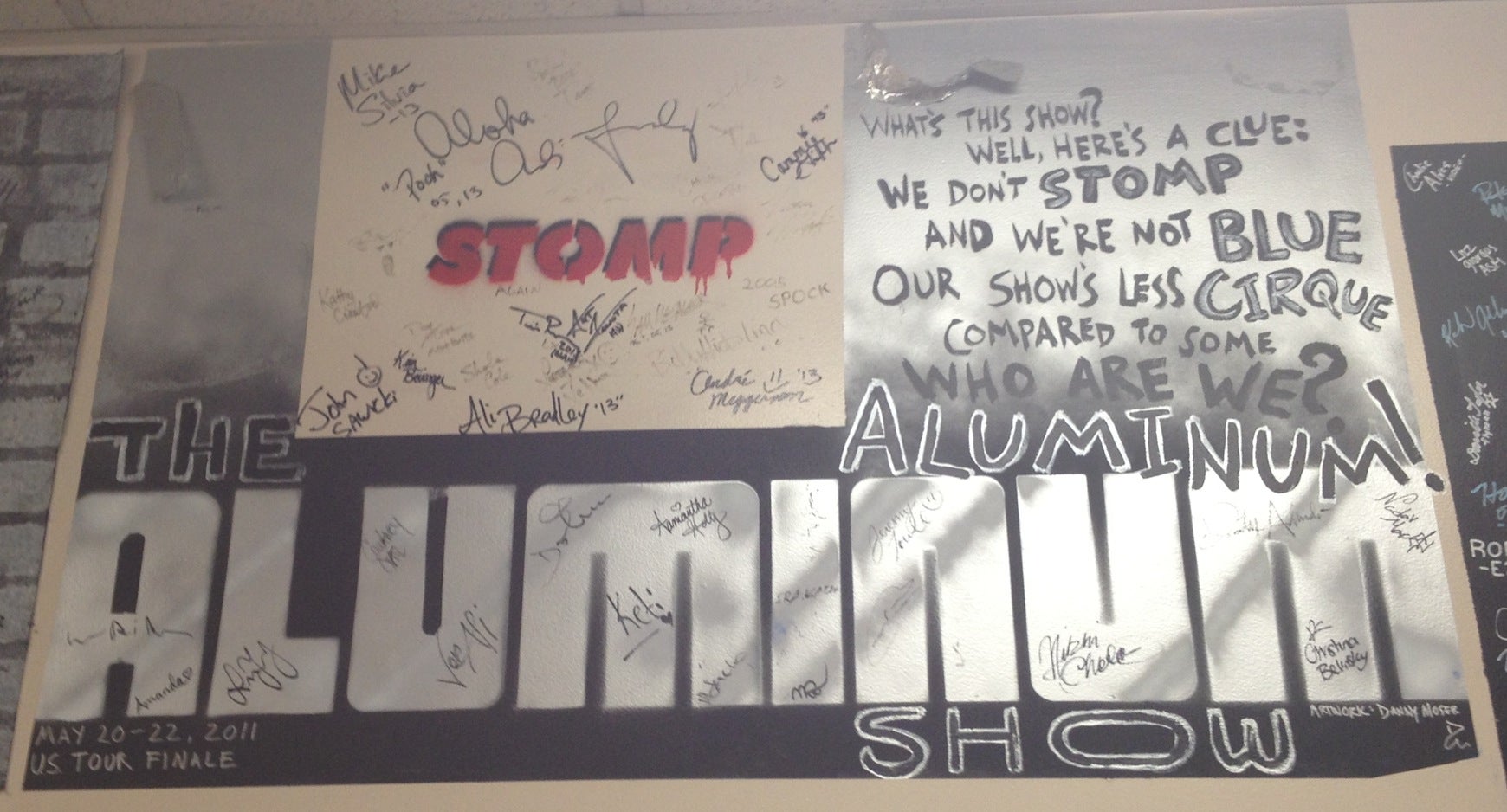 STOMP brought all kinds of energizing rhythms to the stage in Providence. In the show, performers use their bodies and everyday objects to create percussion beats.
THE ALUMINUM SHOW was unlike any production that has come to PPAC, but was reminsicent of STOMP, which is probably why the cast chose to "sign" near the STOMP signature. THE ALUMINUM SHOW combined dance, puppetry, and illuision to make inanimate industrial materials come to life.

Swing
June 3 - 8, 2003
Nominated for six Tony Awards, Swing tells a story of human relationships while simultaneously paying tribute to the dances of the '30s and '40s. With eight performances at PPAC this all-singing, all-dancing show features a mix of new and classic songs and over 30 tour-de-force dance numbers. Loved by the PPAC audience this show received great reviews and constant praise.

The Addams Family
March 20 - 25, 2012
This family-friendly musical based on the art by cartoonist Charles Addams, was a smash hit on the PPAC stage. With actors like Tony Award-nominee Douglas Sills and Sara Gettelfinger (as Gomez and Morticia, respectively), this musical was immensely entertaining. A combination of comedy, song, and dance, left the audience practically "dying" to get more!

THE ADDAMS FAMILY features an original story, and it's every father's nightmare. Wednesday Addams, the ultimate princess of darkness, has grown up and fallen in love with a sweet, smart young man from a respectable family. A man her parents have never met. And if that weren't upsetting enough, she confides in her father and begs him not to tell her mother. Now, Gomez Addams must do something he's never done before — keep a secret from his beloved wife, Morticia. Everything will change for the whole family on the fateful night they host a dinner for Wednesday's "normal" boyfriend and his parents.
The Bodyguard
January 9 - 14, 2018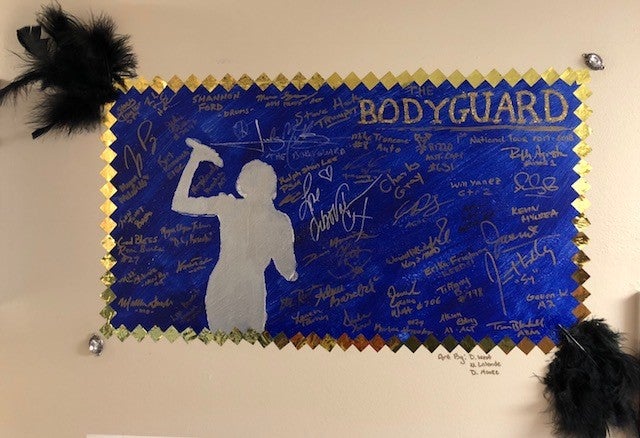 Based on the blockbuster film, The Bodyguard stars Grammy Award nominee and R&B singer Deborah Cox as a superstar with a serious stalker. A former secret service agent, Frank Farmer, is hired to protect her, sparking romance in unexpected places. The soundtrack features numerous Whitney Houston classics such as "Saving All My Love", "I Wanna Dance with Somebody", and the wildly popular "I Will Always Love You."
The Book of Mormon
April 29 - May 11, 2014
November 17 - 22, 2015

​Hello!
The New York Times calls it "the best musical of this century." The Washington Post says, "It is the kind of evening that restores your faith in musicals." And Entertainment Weekly says, "Grade A: the funniest musical of all time." Jimmy Fallon of The Tonight Show calls it "Genius. Brilliant. Phenomenal." It's The Book of Mormon, the nine-time Tony Award®-winning Best Musical.
This outrageous musical comedy follows the misadventures of a mismatched pair of missionaries, sent halfway across the world to spread the Good Word. Now with standing room only productions in London, on Broadway, and across North America, THE BOOK OF MORMON has truly become an international sensation.

The Curious Incident of the Dog in the Night-Time
February 7 - 12, 2017
Part of the Taco/White Family Foundation Broadway Series
Based on Mark Haddon's award-winning novel, THE CURIOUS INCIDENT OF THE DOG IN THE NIGHT-TIME tells the story of fifteen-year old Christopher Boone, who has an extraordinary brain; he is exceptionally intelligent but ill-equipped to interpret everyday life. When he falls under suspicion for killing his neighbor's dog, he sets out to identify the true culprit, which leads to an earth-shattering discovery and a journey that will change his life forever. CURIOUS INCIDENT is the recipient of five Tony Awards® including Best Play, six Drama Desk Awards including Outstanding Play, five Outer Critics Circle Awards including Outstanding New Broadway Play, and the Drama League Award for Outstanding Production of a Broadway or Off-Broadway Play.

The Full Monty
February 10 - 15, 2004
Struggling steelworkers discover an unlikely new profession that strengthens their bonds with each other and their families. The Full Monty is a musical based off the 1997 British film of the same title.

The musical was directed by Jack O'Brien and choreographed by Jerry Mitchell. It was nominated for 10 Tony Awards in 2001.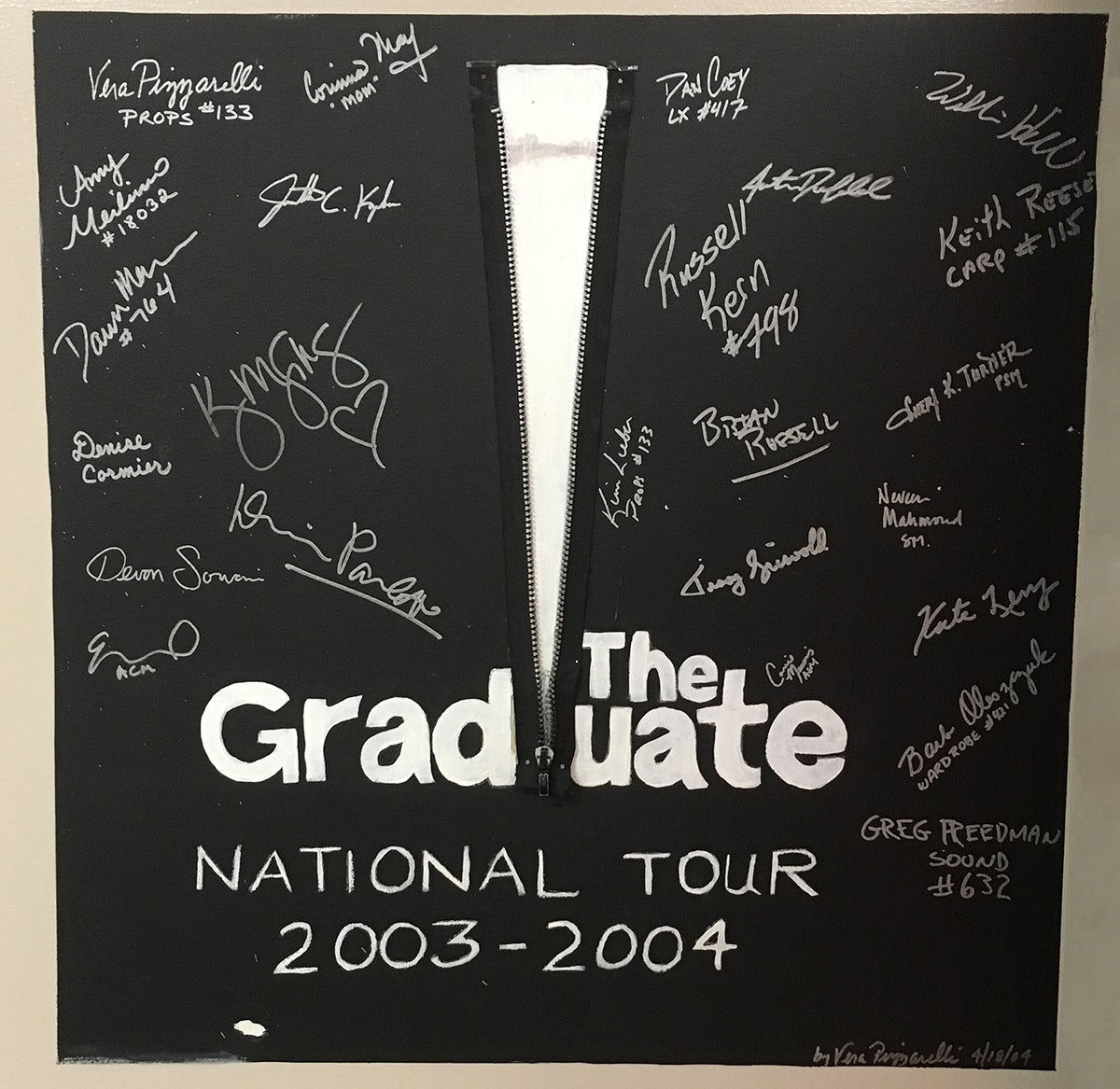 The Graduate
April 13 - 18, 2004
Based on the 1967 film, starring Dustin Hoffman and the play follows a recent college graduate as he comes of age in the 1960s and engages in an affair with an older woman, Mrs. Robinson, the role was played by Kelly McGillis on tour. Considered risque at the time of the films debut, the play stands the test of time and examines complex adult relationships.

The Illusionists January 16 - 18, 2015 January 19 - 21, 2018
THE ILLUISIONISTS –WITNESS THE IMPOSSIBLE showcases the talents of seven extraordinary magicians. Breaking box office records around the globe since its inception in 2012, THE ILLUSIONISTS dazzles audiences of all ages with a powerful mix of outrageous acts and sophisticated magic.
Rodgers & Hammerstein's The King and I
October 19 - 24, 2004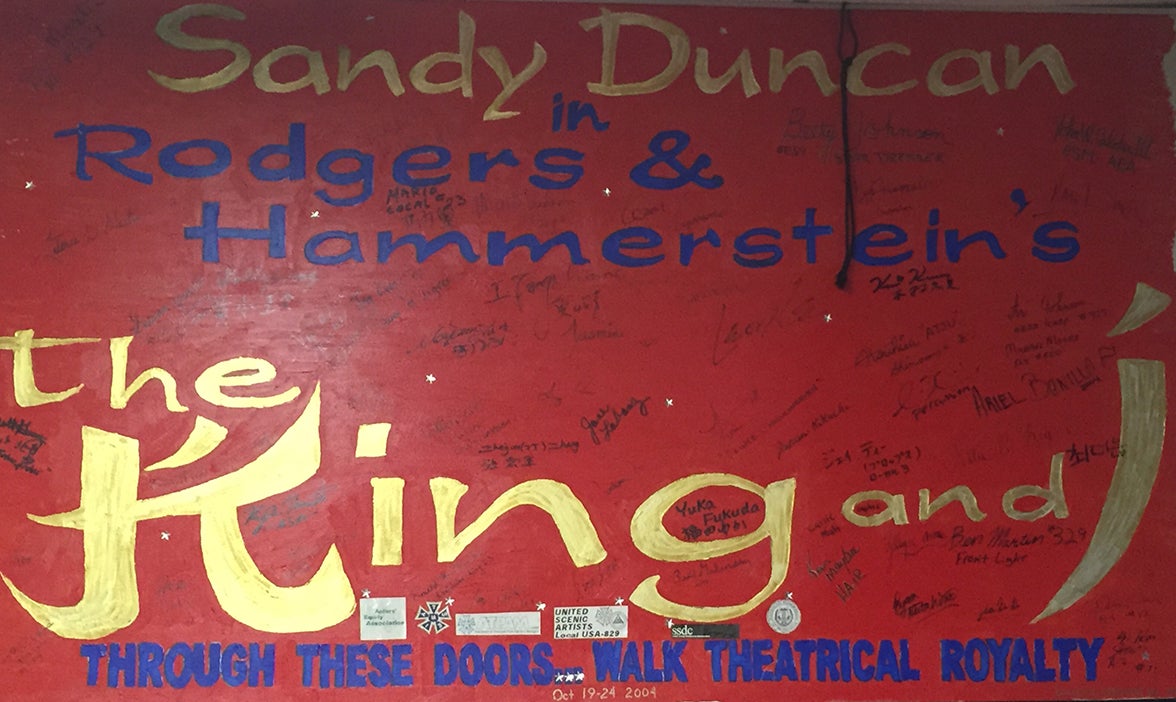 The King and I is a Rodgers and Hammerstein classic based on the 1944 book, "Anna and the King of Siam". One of Rodgers & Hammerstein's finest works, THE KING AND I boasts a score which features such beloved classics as "Getting To Know You," "I Whistle a Happy Tune," "Hello Young Lovers," "Shall We Dance," and "Something Wonderful." Set in 1860's Bangkok, the musical tells the story of the unconventional and tempestuous relationship that develops between the King of Siam and Anna Leonowens, a British schoolteacher whom the modernist King, in an imperialistic world, brings to Siam to teach his many wives and children.

Rodgers & Hammerstein's The King and I
November 1 - 6, 2016 National Tour Launch!
Lincoln Center Theater's critically acclaimed production of Rodgers & Hammerstein's The King and I, directed by Tony Award® Winner Bartlett Sher, won four 2015 Tony Awards®, including Best Revival of a Musical.
One of Rodgers & Hammerstein's finest works, THE KING AND I boasts a score which features such beloved classics as "Getting To Know You," "I Whistle A Happy Tune," "Hello Young Lovers," "Shall We Dance," and "Something Wonderful." Set in 1860s Bangkok, the musical tells the story of the unconventional and tempestuous relationship that develops between the King of Siam and Anna Leonowens, a British schoolteacher whom the modernist King, in an imperialistic world, brings to Siam to teach his many wives and children. In this production, Laura Michelle Kelly portrayed Anna and Jose Llana reprised his role as The King of Siam.

THE KING AND I was a part of the Taco/White Family Foundation Broadway Series.
Disney's The Lion King
October 20 - December 4, 2005
February 1 - 20, 2011
February 28 - March 19, 2017
Giraffes strut. Birds swoop. Gazelles leap. The entire Serengeti comes to life as never before. And as the music soars, Pride Rock slowly emerges from the mist.
More than 80 million people around the world have experienced the awe-inspiring visual artistry, the unforgettable music, and the uniquely theatrical storytelling of this Broadway spectacular – one of the most breathtaking and beloved productions ever to grace the stage.
Winner of six Tony Awards®, including Best Musical, THE LION KING brings together one of the most imaginative creative teams on Broadway. Tony Award®-winning director Julie Taymor brings to life a story filled with hope and adventure set against an amazing backdrop of stunning visuals. THE LION KING also features the extraordinary work of Tony Award®-winning choreographer Garth Fagan and some of Broadway's most recognizable music, crafted by Tony Award®-winning artists Elton John and Tim Rice.
Disney's The Lion King made a triumphant return to PPAC February 28 – March 19, 2017, as part of the 2016/2017 Taco/White Family Foundation Broadway Series.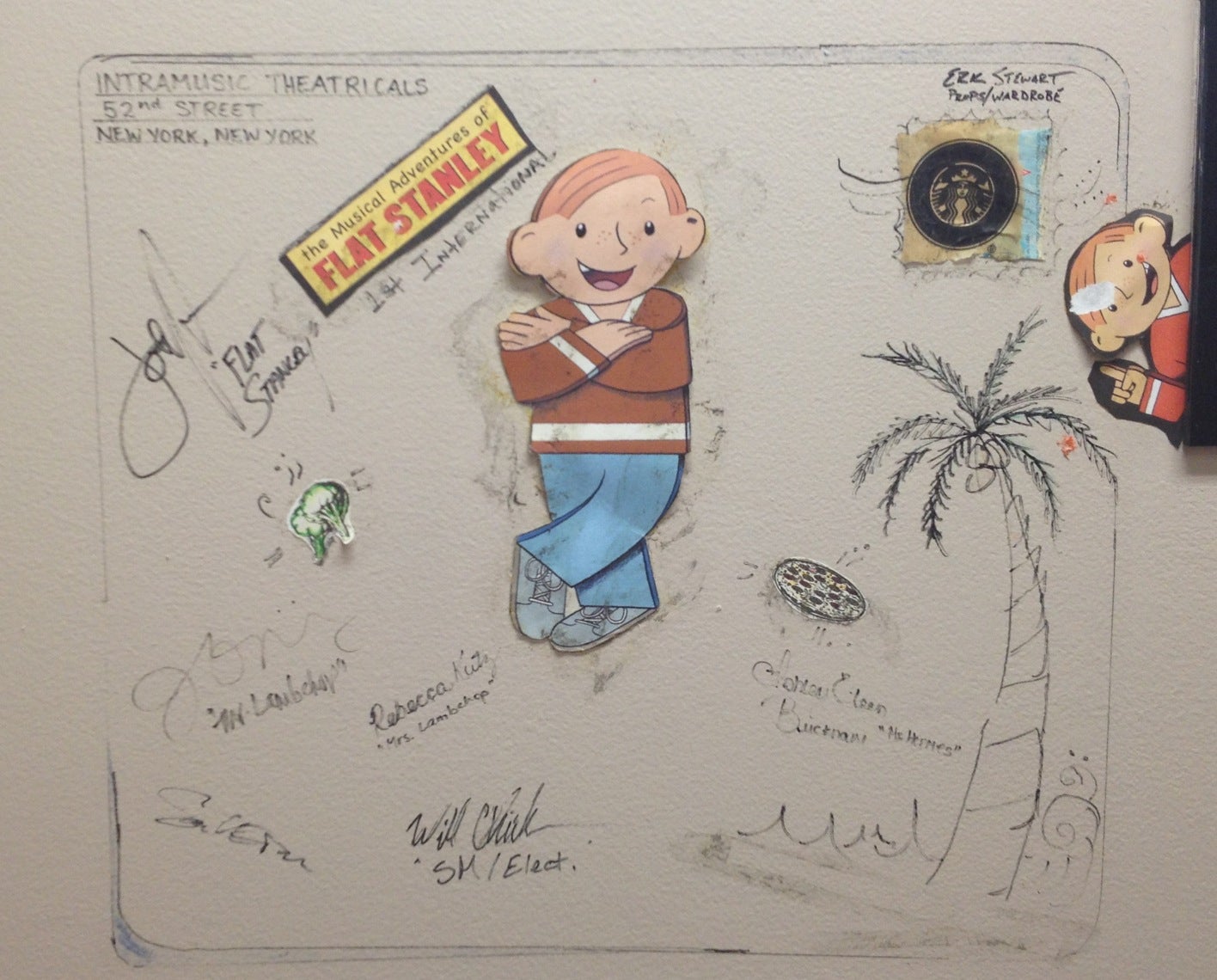 The Musical Adventures of Flat Stanley
December 1, 2007
Based on the Flat Stanley TV series, this one-night musical followed the adventures of Flat Stanley as he traveled the world as a human letter! Composer/lyricist Bryan Louiselle wanted to send out an important message to this new generation of viewers: "Our goal was not only to tell the story of how Stanley became flat, but to show the rich experiences open to him by being different". This engaging musical educated the children in the audience while encouraging them to explore the wonderful world that they live in.
Festival Ballet Providence's
The Nutcracker
Has performed annually at PPAC since 2000!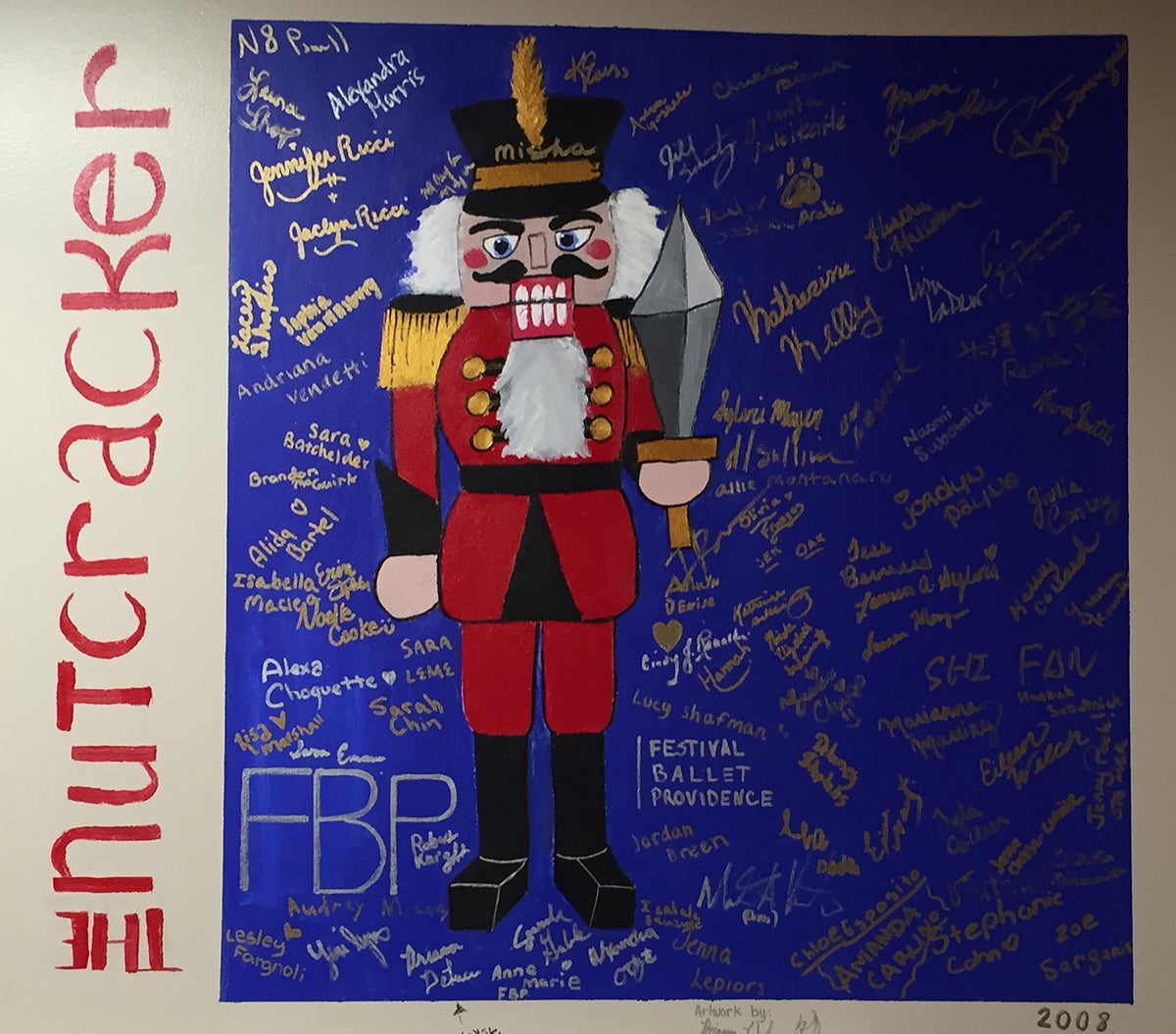 A beloved annual ballet tradition at PPAC during the month of December since 2000, Festival Ballet Providence's The Nutcracker features flawless ballet routines and enchanting score by Tchaikovsky, kept the audience spellbound and engaged throughout each and every performance. Since 2000, the ballet has featured cameo appearances by Archie the Nutcracker Dog, a Yorkshire terrier.

The ballet begins with a grand Christmas party, complete with puppet theater, dancing dolls and a tree that grows 25 feet in height. A Nutcracker doll given to Clara by her Uncle Drosselmeyer sends the young girl into a midnight battle between life-size toy soldiers and giant mice lead by the Mouse Queen. Clara survives the ordeal, only to find that her protector, a life-sized Nutcracker soldier, has been transformed into a handsome human prince. He leads her through a dozen dancing snowflakes to the luscious Kingdom of Sweets, where the Sugar Plum Fairy and her Cavalier introduce the couple to brightly costumed dancers from around the world. They celebrate the victory over the Mouse Queen with cultural dances from around the world, culminating in a grand finale.

The Phantom of the Opera
November 27 - December 7, 2013 National Tour Launch!
Following an acclaimed sell-out tour of the United Kingdom, Cameron Mackintosh's spectacular new production of Andrew Lloyd Webber's phenomenal musical success, THE PHANTOM OF THE OPERA, made its North American premiere at PPAC in 2013.
Hailed as "Stunning, intense and spectacular" by the Sunday Express, this production features a brilliant new design by Paul Brown, costumes by the much missed Maria Björnson, a new staging by Laurence Connor – director of the recent acclaimed 25th anniversary celebration at the Royal Albert Hall – and new choreography by Scott Ambler. The production is overseen by Matthew Bourne and Cameron Mackintosh.

Mr. Mackintosh attended performances and even Andrew Lloyd Webber sent PPAC a tweet, wishing us a successful opening!

In 1995, The Phantom of the Opera was the first production to perform at PPAC after the major backstage expansion project was completed.

The Producers: The New Mel Brooks Musical
Performed at PPAC Multiple Times!
The Producers won a record breaking twelve Tony Awards and three Olivier Awards in 2001. The show is directed and choreographed by five-time Tony Award-winner Susan Stroman and was hailed by TIME Magazine as "A gift from the showbiz Gods!" The musical comedy is an adaptation of the eponymous 1963 film and tells the story of the two producers who plot to get rich by overmarketing a Broadway flop. Much to their surprise, the musical becomes a tremenous success. The score, which is written by Brooks, features the songs "Springtime for Hitler" and "I Wanna Be a Producer."
Rodgers & Hammerstein's
The Sound of Music
May 4 - 5, 2004
March 9 - 13, 2016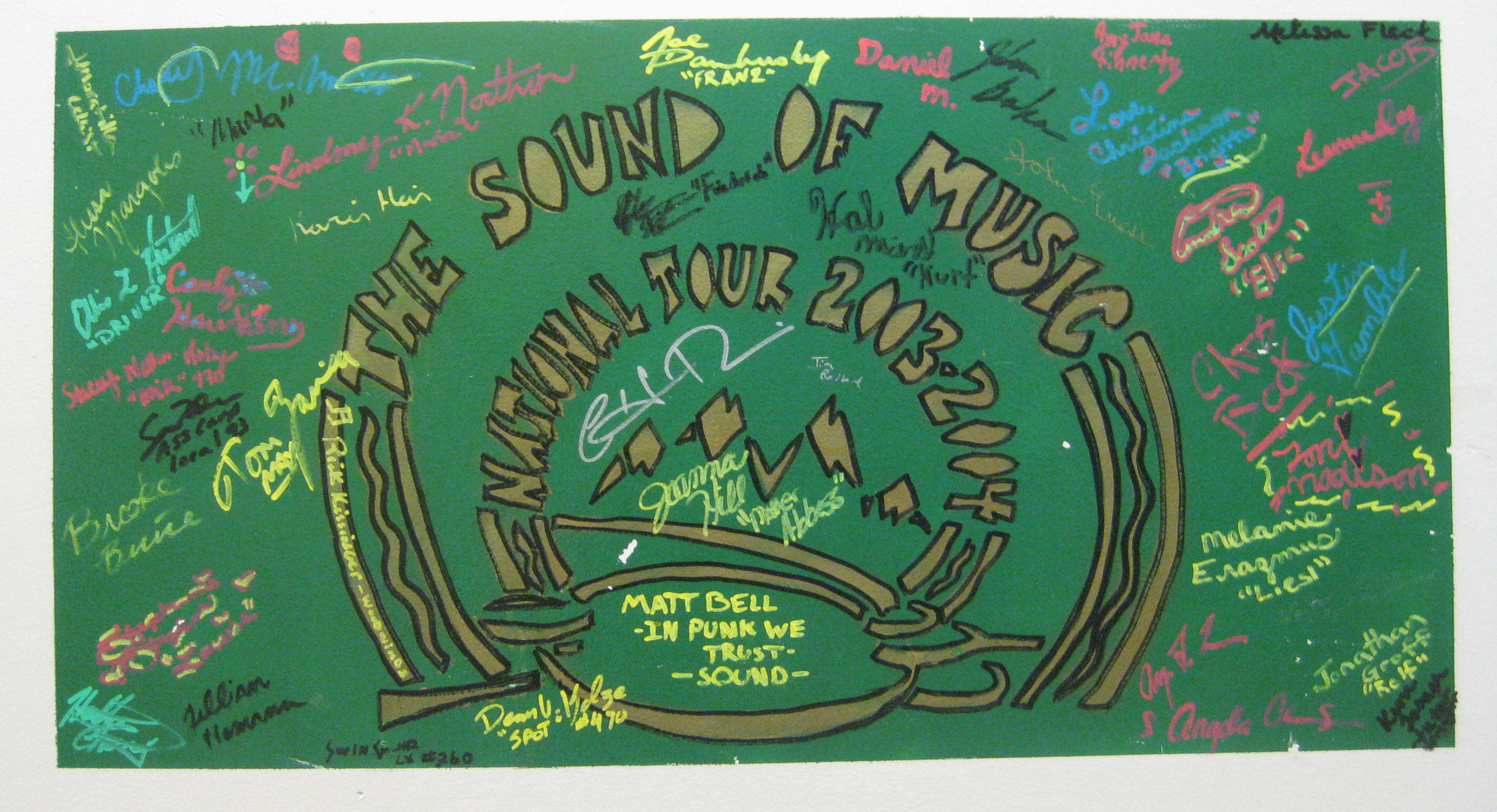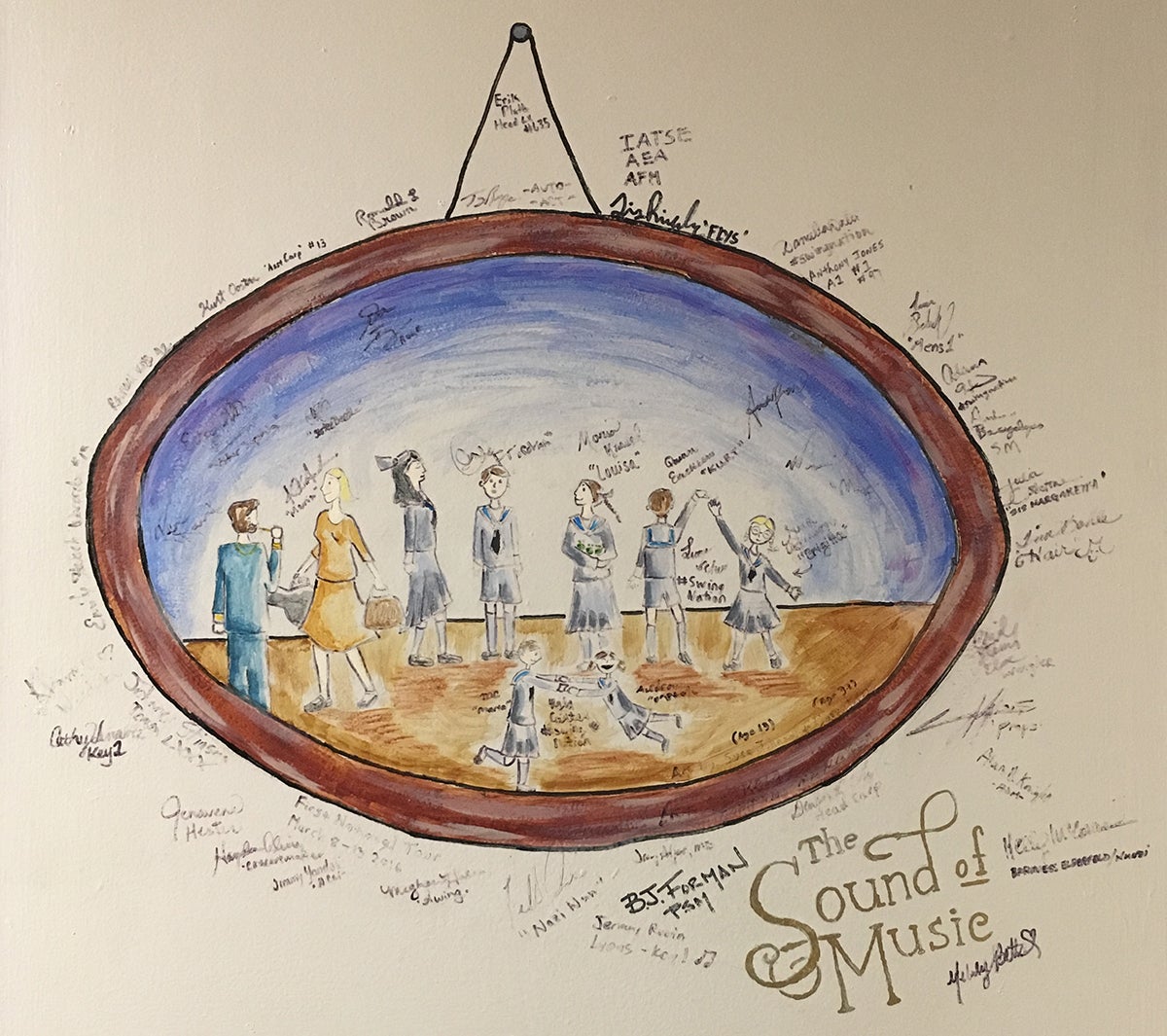 Rodgers & Hammerstein's The Sound of Music opened on Broadway in 1959 and has become a timeless and beloved classic. The Tony, Grammy, and Academy Award winning Best Score, written by Richard Rodgers, includes "My Favorite Things, "Do-Re-Mi," "Climb Ev'ry Mountain," and "Edelweiss." Set in pre-World War II Austria, the musical tells the story of Maria, a postulant (nun-in-training) who becomes a governess to the Von Trapp family. Maria teaches the Von Trapp children and their widowed father, Captain Von Trapp, to live again after loss. As the story unfolds, Captain Von Trapp is ordered to accept a commission from the Nazis, whom he opposes.

In 2013, NBC aired "THE SOUND OF MUSIC Live!" - the show was seen by over 44 million people.

The Wedding Singer
February 19 - 24, 2008
The Wedding Singer was on stage at PPAC in 2008 for eight shows. Under the direction of Tony Award-winner John Rando, the new and completely original score was nominated for a Tony Award for Best Original Score. With a Tony Award-winning choreographer and set designer, this romantic musical comedy became an instant hit with audiences on tour.

The Wizard of Oz
February 27 - March 1, 2009
The Wizard of Oz is based on the classic 1939 film, with a book adapted by Andrew Lloyd Webber and Jeremy Sams. The show featured songs from the original movie and additionals songs written by Webber and Tim Rice.

Dorothy Gale takes her life granted in Kansas with Auntie Em and Uncle Henry and her dog Toto. A surprise twister wisks her and Toto away to the Land of Oz, where she accidentally kills the Wicked Witch of the East. After being praised by Glinda the Good, she is set on a journey along the yellow brick road to meet with the Wizard so she can go home to Kansas. Along the way, she meets the Scarecrow, Tin Man, and Cowardly Lion. They ban together to fight the Wicked Witch of the West.
War Horse
June 5 - 9, 2013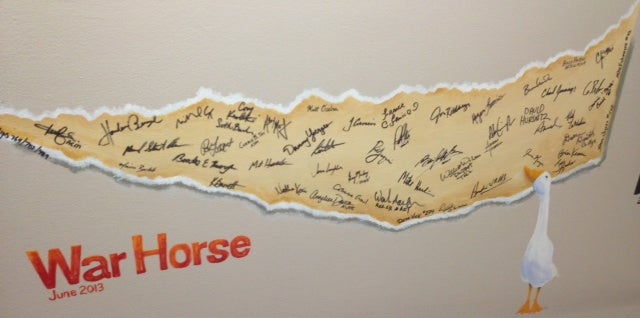 This 2013 PPAC engagement of War Horse was the closing show in the 2012/2013 Taco/White Family Foundation Broadway Series.

Winner of 5 Tony Awards, including Best Play, WAR HORSE is a emotionally powerful show that features astonishing life-sized horses, designed by South Africa's Handspring Puppet Company. Although the horses were puppets, they were so life-like that they galloped, charged, and emoted on stage. WAR HORSE is set at the start of World War I and follows Joey, a young horse who has been sold into battle. He's soon caught up in enemy fire, and fate takes him on an extraordinary journey, serving on both sides before finding himself alone in no man's land. His original owner, Albert, who has remained on his parents' Devon farm, cannot forget Joey. Though still not old enough to enlist he embarks on a treacherous mission to find him and bring him home.

WAR HORSE is based on the children's novel by Michael Morpurgo and highlighted the heartbreaking effects of war on both humans and animals.

We Will Rock You
April 15 - 20, 2014
We Will Rock You is a musical composed of the classic hits from the band Queen, including "Radio Ga-Ga," "Somebody to Love," "We Will Rock You," "We Are the Champions," and "Bohemian Rhapsody."

Set in a world where conformity is the norm, the story follows a group of free thinkers (known as "Bohemians") fighting for culture and free thought. This musical ran on the West End for many years and graced the PPAC stage during its 2013-2014 North American Tour.

West Side Story
April 26 - May 1, 2011
West Side Story is a revered Broadway musical known for its thrilling choreography, initially created by Jerome Robbins, high-energy score by Leonard Bernstein, and lyrics by Stephen Sondheim. The iconic score features songs "Something's Coming," "Somewhere," "Tonight," and "I Feel Pretty."

The story follows two rival gangs, the Sharks and the Jets, and demonstrates how this rivalry limits other parts of the gang's lives. West Side Story is based on the story of Romeo & Juliet. This production celebrated the show's 50th Anniversary. It included Spanish dialogue and lyrics written Lin-Manuel Miranda.

Wicked
January 3 - 21, 2007
December 16, 2009 - January 10, 2010
December 26, 2013 - January 14, 2014
September 21 - October 8, 2016
WICKED, the Broadway sensation, looks at what happened in the Land of Oz, but from a different angle. Long before Dorothy arrives, there is another girl, born with emerald-green skin—smart, fiery, misunderstood, and possessing an extraordinary talent. When she meets a bubbly blonde who is exceptionally popular, their initial rivalry turns into the unlikeliest of friendships…until the world decides to call one "good," and the other one "wicked."
With a thrilling score that includes the hits "Defying Gravity," "Popular" and "For Good," WICKED has been hailed by The New York Times as "the defining musical of the decade." Time Magazine cheers, "if every musical had the brain, the heart, and the courage of WICKED, Broadway really would be a magical place."
WICKED flew back to PPAC September 21 - October 8, 2016, as part of the 2016/2017 Taco/White Family Foundation Broadway Series.

Xanadu
February 16 - 21, 2010
Xanadu follows the journey of a magical and beautiful Greek muse, Kira, who descends from the heavens of Mt. Olympus to Venice Beach, California in 1980 on a quest to inspire a struggling artist, Sonny, to achieve the greatest artistic creation of all time - the first roller disco! When Kira falls into forbidden love with the mortal Sonny, her jealous sisters take advantage of the situation and chaos abounds.

Xanadu is based on the eponymous 1980 cult classic film. Xanadu features a book by Douglas Carter Beane, costume design by David Zinn, and lighting design by Tony Award-winner Howell Binkley.

Young Frankenstein
September 29 - October 4, 2009 National Tour Launch!
This musical version of Mel Brooks's classic film had audiences laughing as they followed Dr. Frankenstein on his wild adventures in creating a monster. The show is composed of several catchy tunes including "Putting on the Ritz" and "Transylvania Mania." The National Tour launched at PPAC!