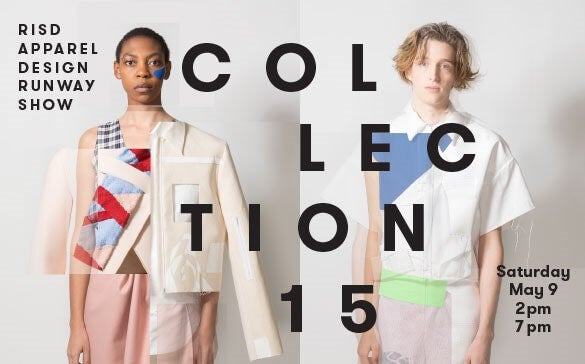 Rhode Island School of Design Apparel Design Department Presents Collection 2015
Each spring, after months of conceptual development, experimentation and meticulous construction, Apparel Design majors showcase their one-of-a-kind creations at a popular runway show called Collection. Held at the Providence Performing Arts Center this year, the fast-paced live show offers audiences a sneak peak at the fashion tastemakers and trendsetters of the future.
The work shown in each year's Collection is juried by a panel of guest critics—professional designers who carefully review and discuss the work together, give students critical feedback and select the best garments for the one-day show. Guest critics this year are:
o Derek Lam, designer/owner, Derek Lam
o Anne Slowey, Fashion News Director at ELLE
o Neil Gilks, senior projects manager, Council of Fashion Designers of America [CFDA]
o Simon Spurr designer and owner of Simon Spurr
Designs by seniors are selected from their year-long thesis collections—unified bodies of work that showcase professional-grade conceptual and technical skills; for juniors selections are made from their men's or women's tailored jacket looks and cut/sew knitwear projects; and sophomore work is selected from their textiles-collaborative print projects, as well as from the Re-Innovatives challenge—to construct a wearable piece out of recycled materials other than fabric.
Ticket Prices

Preview Show: $22-$15 Main Show: $65, $55, $45, $35

Availability

Ticket Prices

Preview Show: $22-$15 Main Show: $65, $55, $45, $35

Group Info

Discount available for groups of 10 or more.

Contact Paul Hiatt at (401) 574-3162

Ticket Info

Tickets are available for purchase online, by phone at (401) 421-2787 , or at the PPAC Box Office located at 220 Weybosset Street in downtown Providence.

The Box Office is open Monday through Friday, 10A to 5P; Saturday, 10A to 2P; and at least two hours prior to all curtain times.

To ensure the enjoyment of all patrons, children under the age of six are not permitted to attend performances unless it is designated as a family show. Please call the Box Office at (401) 421-ARTS (2787) to see which shows are appropriate for younger children. All persons regardless of age are required to have a ticket for family shows.

Ticket pricing subject to change without notice
May

9

, 2015

Preview Show: $22-$15 Main Show: $65, $55, $45, $35

Discount available for groups of 10 or more.

Contact Paul Hiatt at (401) 574-3162