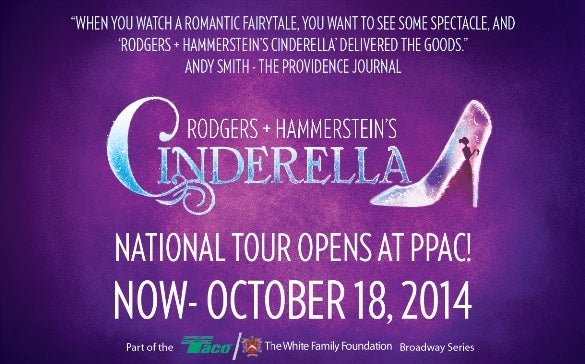 Rodgers + Hammerstein's CINDERELLA
Friday, October 10, 2014

at 7:30 PM

Saturday, October 11, 2014

at 2:00 PM

Sunday, October 12, 2014

at 7:30 PM

Tuesday, October 14, 2014

at 7:30 PM

Wednesday, October 15, 2014

at 7:00 PM

Thursday, October 16, 2014

at 7:30 PM

Friday, October 17, 2014

at 7:30 PM

Saturday, October 18, 2014

at 2:00 PM
The reviews are in! Get your tickets before it closes Saturday!
-The show looks fabulous! The on-stage transformations are amazing and the visuals are fairy-tale pretty. – Attleboro Sun Chronicle / Woonsocket Call
- Paige Faure makes a lovely, sweet-voiced Cinderella, Andy Jones is a dashing prince, and Kecia Lewis a strong, empowering Fairy Godmother. – The Providence Journal
CLICK HERE FOR DETAILS ON OUR FAMILY NIGHT PROMO AND ROYAL FAMILY NIGHT OUT!
With its fresh new take on the beloved tale of a young woman who is transformed from a chambermaid into a princess, this hilarious and romantic Rodgers + Hammerstein's CINDERELLA combines the story's classic elements – glass slippers, pumpkin, and a beautiful ball along with some surprising twists. More than just a pretty face with the right shoe size, this Cinderella is a contemporary figure living in a fairytale setting. She is a spirited young woman with savvy and soul who doesn't let her rags or her gowns trip her up in her quest for kindness, compassion, and forgiveness. She longs to escape the drudgery of her work at home and instead work to make the world a better place. She not only fights for her own dreams, but forces the prince to open his eyes to the world around him and realize his dreams too.
Ticket Prices

$80.00, $68.00, $63.00, $53.00

Availability

Ticket Prices

$80.00, $68.00, $63.00, $53.00

Group Info

10%-50% discounts available for 15 or more. Contact Paul Hiatt at (401) 574-3162

Ticket Info

Tickets are available for purchase online, by phone at (401) 421-2787 , or at the PPAC Box Office located at 220 Weybosset Street in downtown Providence.

The Box Office is open Monday through Friday, 10A to 5P; Saturday, 10A to 2P; and at least two hours prior to all curtain times.

To ensure the enjoyment of all patrons, children under the age of six are not permitted to attend performances unless it is designated as a family show. Please call the Box Office at (401) 421-ARTS (2787) to see which shows are appropriate for younger children. All persons regardless of age are required to have a ticket for family shows.

Ticket pricing subject to change without notice.
Oct

10 - 18

, 2014

$80.00, $68.00, $63.00, $53.00

10%-50% discounts available for 15 or more. Contact Paul Hiatt at (401) 574-3162